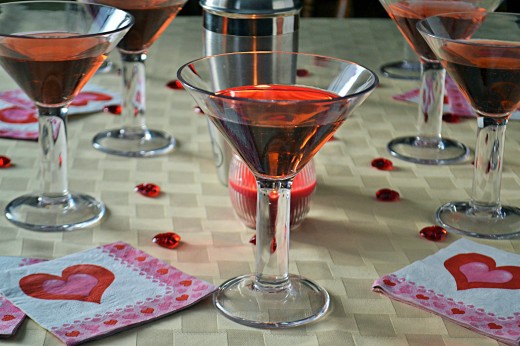 Valentine's Day is not just about romance. It's about friendship and love.  Why not throw a cocktail party where you can include everyone? Whether you're entertaining couples, having a girls' night in, or entertaining a group of single friends, it is a great excuse to have a party. With just a little bit of planning, your Valentine's Day bash can be fun for everyone.
I know quite a few people that do not love this holiday. Why? Because restaurants are often crowded and overpriced; buying flowers, cards and candy can be so overwhelming or someone might not have a better half.   Back in my single days, I remember there were times when this was not my favorite holiday. There were the years that I didn't have a significant other and there were other years where my boyfriend (now longtime turned husband) had to work so I was home by myself.
But then one year I decided to treat myself to a three pound lobster and eat it at home alone. After doing so, I thought it was pretty nice to indulge on this holiday. But how about inviting some friends over to share? Since then I have thought of Valentine's Day as an occasion to spread the love whether it be with my husband and some of our couple friends, my girlfriends or our family.
The first thing I think about when having a party is cocktails. By keeping some simple syrup in my refrigerator, my Valentine's drinks are a breeze to make.  Thanks to my KitchenAid® Microwave Hood Combination Oven, I whipped up this strawberry simple syrup in no time.  It is made right in a measuring cup in my microwave. I then strain the mixture into a mason jar and store it in my fridge.
Strawberry simple syrup is the base to my two signature Valentine's Day cocktails.  The Strawberry Pomegranate Martini is a drink that is both pretty and sweet.  Just like Valentine's Day should be.
If a really sweet cocktail  is not your thing, you can make a Strawberry Bellini using  a dry Prosecco or champagne. This drink will look beautiful on your table.
I love making simple syrup with strawberries but if you prefer raspberries or another berry, that can also be done. You can leave out the fruit altogether and make plain simple syrup too.  Here are some of my favorite cocktail recipes in which you can use your homemade simple syrup:
Sunlight on Snow by Three Many Cooks
Raspberry Clover Club Cocktail by Bellaimento
Basil Infused Blood Orange Cocktail by What's Gaby Cooking
Sidecar Fizz Cocktail by White on Rice Couple
Of course, I usually have a few bottles of wine and beer along with soda and water for my guests that prefer non-alcoholic drinks. Once my beverages are planned, it's time to think about food. I like to serve bite size appetizers that are easy to eat. The point of my food is to please the palate but get my guests mingling and not worrying about balancing a heavy plate of food along with a drink on their lap. I tend to arrange appetizers and snacks in various places such as the coffee table, my kitchen  island and countertops.   I like to have 5 to 7 different choices of appetizers for my guests to choose from which includes mini appetizers, cheese plates, and dips.  I also plan on having at least two sweets to serve as desserts.  Desserts can be as simple as chocolate covered nuts or small bowls of fruit served with whipped cream.
If you are in a time bind, don't be afraid to purchase frozen appetizers. You can get some really good ones in the freezer section of your grocery store. I love popping in mini frozen quiches, spring rolls or Spanakopita.  I  make a few but also buy a few varieties and arrange them on a pretty plate. This is also how I love to take advantage of my KitchenAid® Double Oven Range.  I can heat up various appetizers at two different temperatures and not have to worry about space.  There have been times when I pulled them out of the oven and my guests have asked for the recipes. No need to advertise that you didn't make all the appetizers yourself. I'll keep a secret if you can keep a secret.
If you have the time and want to make your own mini appetizers here are some easy-to-make favorites:
Camembert Marmalade Phyllo Cups via The Little Kitchen
Rosemary Roasted Almonds via Two Peas & Their Pod
Prosciutto, Swiss and Cucumber Appetizer via Eclectic Recipes
Artichoke Tapenade via Life's Ambrosia
We also want our tables to look festive for our party, right? I don't like to share too many secrets but I'll give you one more. You don't have to spend lots of money to make things look nice.  I frequent my local dollar store or party store looking for ways I can make my party table more festive. I purchased some pretty paper cocktail napkins, some glass hearts and a few small strawberry scented candles.  They are artfully placed on my table to create a light and fun atmosphere.
There has to be chocolate on Valentine's Day. I rely on my KitchenAid® Microwave Hood Combination Oven to melt some chocolate. I love the melt/soften feature because my chocolate is melted perfectly every time.  I place the melted chocolate in a little plastic snack bag and write out my guest's names on some parchment or wax paper. These go into the refrigerator to harden and then placed on individual napkins right before the guests arrive. It's a fun idea for an adult party but also a perfect idea for a kids' party.  The napkins get placed on my table and everyone looks for their names.
Now that the planning for your Valentine's Day cocktail party is done, it's time to relax and have fun. Invite some couples or girlfriends over and experiment with some new cocktails and appetizers. Have a good time and enjoy!
Strawberry Simple Syrup
Makes 1 1/4 cups
INGREDIENTS
1/2 cup chopped strawberries
1 cup water
1 cup fine sugar
DIRECTIONS
Place strawberries, water and sugar in a glass measuring cup or microwave safe container. Place in KitchenAid® Microwave Hood Combination Oven for 2 minutes. Remove from microwave and mix well.
Place back in microwave for another minute or two or until mixture comes to a boil. When done, mixture should be clear and all sugar dissolved.
Be careful removing from microwave as mixture can boil over if kept in the microwave too long.
Cool the mixture then strain into a glass jar.
Mixture can be stored in the refrigerator for at least a week.
Print
Strawberry Pomegranate Martini
Makes 2 servings
INGREDIENTS
1/2 cup crushed ice
2 ounces strawberry simple syrup
1 1/2 ounces Citron vodka
2 ounces pomegranate juice
A squeeze of lemon
DIRECTIONS
Fill the cocktail shaker with the ice. Add the syrup, vodka and pomegranate juice.
Mix the ingredients in the shaker. Strain and pour into a martini glass.
Add a squeeze of fresh lemon.
Enjoy!
Print
Strawberry Bellini
Makes  serving
INGREDIENTS
1 fresh strawberry, cored and chopped
1 ounce strawberry simple syrup
3 ounces dry Prosecco or champagne, chilled
DIRECTIONS
Place the chopped strawberry in the bottom of a champagne flute or small wine glass.  Add the simple syrup.
Pour the Prosecco or champagne in the glass.
Enjoy!
Print
*The Contributor of this post has been compensated by KitchenAid for this post, but this post represents the Contributor's own opinion.*