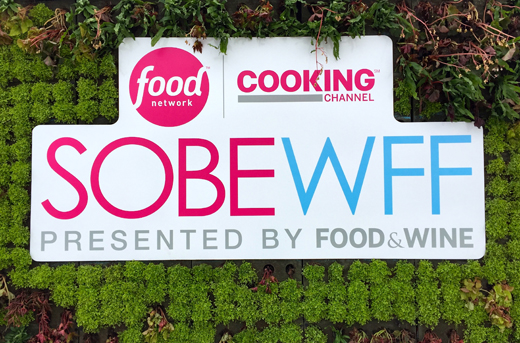 There was sun, sand, Stand Mixers and a whole lot of sipping and snacking at the 14th annual Food Network South Beach Wine & Food Festival. Hundreds of food and beverage enthusiasts attended the event, which featured celebrity chef demos, a grand tasting and cookbook signings on picturesque Miami Beach.
KitchenAid sponsored the four-day, food-filled extravaganza and showcased a variety of major and countertop appliances, including the iconic Stand Mixer, which was on display in a rainbow of colors. The Stand Mixer setup was matched in color and popularity by the lineup of KitchenAid® 5-Speed Diamond Blenders.
In addition to featuring the latest products on the market, KitchenAid gave festival goers a sneak peek at soon-to-be-released countertop appliances, including the Torrent™ Blender, which whipped up mango smoothies to help attendees beat the heat, as well as the crowd favorite KitchenAid® Precise Heat Mixing Bowl.
It was hard to miss the sleek design of the new Precise Heat Mixing Bowl, which will feature a variety of settings and functions, including the ability to perfectly temper chocolate and proof bread dough. The streamlined appearance of the countertop appliances mirrored the look and feel of the new Black Stainless Steel major appliance finish, which is a dark, rich twist on classic stainless.
Of course it wouldn't be a food festival without ample sips and snacks. Beverage purveyors and chefs from across the state of Florida gathered to dish up their favorite tastes, from short ribs and chorizo tacos to ceviche and ahi tuna sliders.
Spanish restaurant Xixón featured a multilayer stack of thinly sliced potatoes stuffed with codfish and finished with a dusting of paprika.
While nearby, chef Jeff O'Neill of Barton G. restaurants dished out duck confit crepes topped with candied kumquats, sour ginger and pistachio streusel.
And for a taste of something sweet, Kimy Desserts took quinoa from side dish to dessert with the Quinoa Explosion. The dessert featured a creamy blend of quinoa and passion fruit topped with passion fruit sauce and a crunchy quinoa tulip.
After guests sampled their way through the Grand Tasting tents, they could then sit back and snack while watching a few of their favorite all-star chefs in action.
Celebrity chef, cookbook author and restaurateur Giada De Laurentiis took the stage to prepare an Italian classic, carbonara pasta loaded with pancetta and eggs and topped off with a hearty grating of Parmesan cheese.
Just next door on a second stage, celebrity chef and host Andrew Zimmern treated audience members to a lively demo featuring pan-fried frog legs tossed in a tangy lime and lemongrass sauce. 
Festival attendees enjoyed a variety of tastes and endless entertainment at this year's Wine & Food Festival, no doubt exiting onto the beaches of Miami feeling well satiated, sun-kissed and ready to count down the days until they can do it all again next year.
*The Contributor of this post has been compensated by KitchenAid for this post, but this post represents the Contributor's own opinion.*