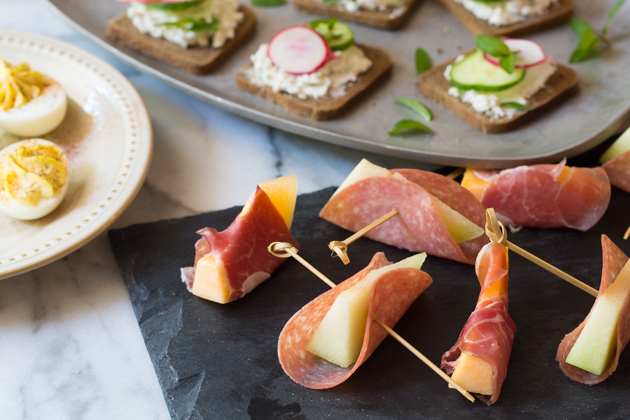 Summer is a wonderful time to pair wine with food. With farm stands and farmers markets bursting with fresh seasonal produce, local cheeses, and homemade breads, it's easy to pull together quick bites that complement summer wines.
Although there is no right or wrong choice when picking your favorite wines throughout the seasons, we tend to select fruity dry wines in the summer to offset the produce-heavy foods we eat.
Some of our favorite summer wines include: Prosecco, Riesling, Gewurztraminer, Rosé, Pinot Noir, and Shiraz. Today I'll highlight the four that are the easiest to find with the widest selection in most stores across the country.
Prosecco
Prosecco is Italy's version of white sparkling wine. It tends to be a touch sweeter and more effervescent than Champagne, yet good bottles should still have a light dry flavor. The overriding taste usually leans towards melon, apples, and honey, rather than the more distinct flavor of grape you'd find in Champagne.
Prosecco is generally less expensive than Champagne and pairs well with foods such as: Fresh summer fruit, cured meats, egg dishes, mild cheeses, desserts, rustic breads, salty snacks, lighter Asian dishes, and seafood
Here I've paired Prosecco with the classic Italian combination of cantaloupe and prosciutto. Feel free to play with salty-sweet bites, like honeydew melon wrapped in hard salami, as well!
Riesling
Riesling is a popular German white wine with strong notes of citrus and summer fruits. Dry Rieslings are considered one of the most universal white wines to pair with food because they enhance the flavors in everything from spicy dishes to comfort food. Riesling makes a wonderful summer picnic wine served with fried chicken, potato salad, and deviled eggs.
Try Riesling with: Heavy southern dishes, raw and cooked vegetables, chicken, seafood, pork, creamy pasta dishes, creamy soups, strong cheeses, citrus-based dishes, sushi and stir fry, pizza, and fruity desserts.
Avoid pairing Riesling with chocolate, one of the very few foods it doesn't play well with.
Pinot Noir
Pinot Noir is thought to be a "beginner's red wine," due to its light fruity essence. That's not meant to belittle Pinot Noir. In fact, Pinot Noir is one of the most prized wines in the world.
With a delicate red color and bold flavors of summer berries and cherry, Pinots tends to pair well with a variety of foods. It's often considered the red wine that goes with everything, especially spicy food!
Serve Pinot Noir with spicy dips and salsas, spicy cuisines such as Thai, Mexican, and Indian, cheese of any variety, cured meats, olives, mushrooms, salmon and other fatty fish, chicken, pork, beef, slow-cooked dishes, pasta, desserts, and chocolate.
Rosé
Can't decide between red or white? Rosé is the answer!
Rosé wine is made when red grape skin is soaked in the wine for only a few short hours, instead of a few weeks like in the process of making red wine. Rosé can be made from a variety of grapes, so the flavor tends to be somewhat diverse.
Rosé wine often has a very produce-heavy flavor with a light fresh essence. Make sure to look for dry Rosé so it's not overly sweet. Sugar often buries the true flavor of this wine, making it less friendly with food.
Dry Rosé pairs particularly well with summer produce and creamy cheeses, yet is quite versatile for wine pairing.
Drink Rosé with: salads, soft cheeses, fruit, bean dishes, antipasta, pork, beef, grains, deli sandwiches, vegetable-based soups, and spicy cuisines such as Thai, Mexican, and Indian.
Temperature is important when serving wine. Make sure to serve white wine, sparkling wines and Rosé between 40 – 50°F.  Red wines should be kept and served at 60 – 65°F.
We are just crazy over our KitchenAid® Wine Cellar, because it allows us to chill and keep our wine at just the right temperature!
This Wine Cellar holds 46 bottles and offers two temperature-controlled zones to store white and red wine at their optimal temperature.
This Wine Cellar's sleek drawers with SatinGlide® technology pull out easily to add and remove wine bottles.
Yet my favorite feature is the proximity-activated interior LED lighting that makes the Wine Cellar light up when you pass by. That makes it easy to find exactly what you are looking for, even when the overhead lights are off.
Enjoying summertime wines has never been easier than with this Wine Cellar. Impress your friends with your vast knowledge of wine pairings, and wow them with this gorgeous Wine Cellar in your kitchen.
*The Contributor of this post has been compensated by KitchenAid for this post, but this post represents the Contributor's own opinion.*