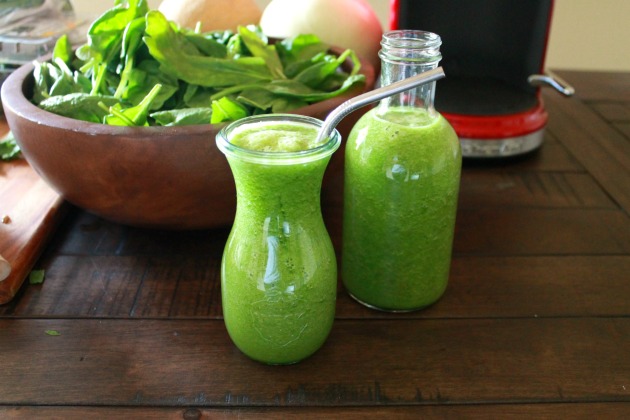 Summertime, to me, is smoothie time.
It has become incredibly hot and humid where I live in Mississippi, and time outside has become very scarce. Being pregnant and this heat certainly don't mix for me. Walks outside usually are followed by a sprint indoors to the air conditioning and a frantic search for something cold and delicious to drink.
I love the idea of creating summertime smoothies that make your home feel like a spa getaway; a reprieve from the heat. I think it's important to fill a smoothie with hydrating and nourishing ingredients, so they're not only a thirst-quencher but a true vitamin shot.
My Summer Spa Melon Smoothie is packed full of greens, but it doesn't taste green! It tastes like honeydew melon, local honey and a touch of bright herbs. I love mixing herbs into my smoothies to add a bit of dimension to what can be pure sweetness. For this smoothie, I've added giant basil leaves, but fresh mint would be amazing too.
I've used the new KitchenAid® Torrent™ Blender to blend up this beauty! This blender is such a powerful, fun tool to own. The blender canister is locked in place with just magnets and a lever-lock, making the base of the blender so easy to wipe down after use. And I love that there are so many different things you could make with the preset options, like dips and salsas, smoothies, milkshakes, soups and more!
My husband loves the bright red color, which reminds him of our alma mater. He has big plans to add this smoothie to his outdoor bar and kitchen ventures.
With this smoothie, I kept my fruits and veggies in quite large chunks, and the blender just sucked them down and blended them up, no problem. The result was a smooth and delicious Summer Spa Melon Smoothie, and endless inspiration for my next blend. I've included some fun optional ingredients to add to your Summer Spa Melon Smoothie in the notes. Have fun and stay cool!
Summer Spa Melon Smoothie
Makes 2 smoothies
INGREDIENTS
1/2 Galia Melon (or honeydew melon)
3 cups spinach
2 large basil leaves
2 mini cucumbers
1 cup filtered water
2 tablespoons up to 1/4 cup honey
DIRECTIONS
Make sure all of your produce is washed and the melon and cucumbers are cut into large chunks.
Place all ingredients into your Torrent™ Blender (start with only 2 tablespoons of the honey). Select the Smoothie function and blend. You may want to blend for additional time after the setting is over (30 seconds or so).
Taste the smoothie. If you'd like it sweeter, add more honey and blend until combined. Pour into two glasses, sip and enjoy!
Notes
Fun additions: 3 mint leaves, 1 tablespoon flaxseed, 4 kiwi berries, coconut water instead of filtered water.
All produce was provided by Melissa's Produce
Print
*The Contributor of this post has been compensated by KitchenAid for this post, but this post represents the Contributor's own opinion.*