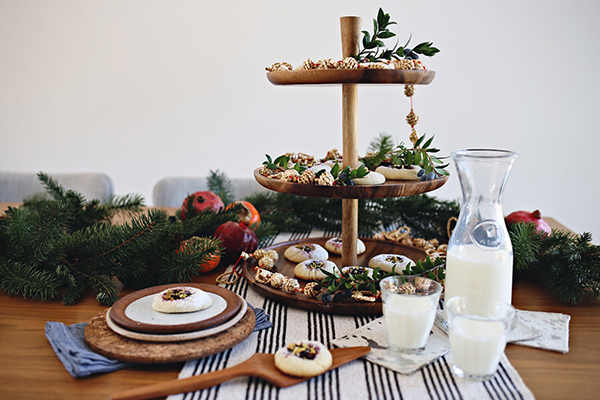 How is it that every year we find ourselves scratching our heads pondering the same question: Is it really already the holidays?! Yes they sneak up on us and sometimes that brings on the added stress, but this year we won't let that happen!
There will be parties, there will be festive décor… and there will be cookies! In fact, why not wrap all three together and throw a simple Scandinavian design-inspired cookie party!?
Making massive amounts of cookies is never daunting with the KitchenAid® Custom Metallic® Series Stand Mixer as your sidekick. It's as gorgeous as it is powerful and has turned my occasional, timid attempts of baking into a weekly joyful adventure. Not to mention it cleans up in a snap, which comes in handy if you're trying to bake up all the holiday classics in an afternoon spree.
So grab the flour, turn on those winter wonderland tunes – because here are four steps that will have you putting together a whimsical, yet simple cookie party that will be as uniquely delicious as it is designed.
1. Try infusing holiday spice into a classic
Thumbprint cookies are a holiday staple for my family. Where usually we fill these buttery pillows with peach or raspberry jam, this year I wanted to switch things up by infusing the spirit and the spices of the season.  Mulling is typically thought of with wine and cider, but did you know that you can mull those festive flavors into just about anything? The vibrant notes of cardamom, cinnamon and star anise sing perfectly with a simple homemade blackberry jam that will quickly become a tradition for your family for years to come.
2. Garland isn't just for the tree
Whether you're making all the cookies or you're conducting a holiday sweet swap, pull out your cake stands and put those little masterpieces on display. Simple straw garland and fresh branches from the yard are the perfect way to infuse Scandinavian style onto the table with ease.
3. Scandinavian design that is approachable
You don't have to break the bank to infuse Nordic décor onto your table. Simple textiles such as striped linen and chambray work perfectly when paired with natural materials such as wood, cork, and cowhide. By playing with a mix of textures in a complimentary color palette, you won't overwhelm the scene. You'll be building a casual, yet chic, spread that is more winter solstice than holiday kitsch.
4. Take the spice theme one step further
You can't have cookies without the milk! With flavor infusion being as easy as having a large tea ball and spices on hand, why not surprise guests with even more festive flavors? Try adding notes of cardamom to your milk. Simply let the whole spice pods sit in a carafe of milk for 15-20 minutes and you'll have a delightful sip to go along with your mulled cookies. You can also infuse warm milk for a latte that's out of this world!
Are we ready to party and leave the holiday stresses at the door?! I think it's safe to say that your butter is already softening and you're ready to bring on the winter solstice in Scandinavian style. Cheers to the holidays, friends!
Share your take on this Scandinavian holiday party design on Instagram using #MadeWithKitchenAid for a chance to be featured.
Mulled Blackberry Jam Thumbprint Cookies
Yields 24 cookies
INGREDIENTS
For the mulled blackberry jam
12 ounces of organic blackberries
1/2 cup sugar
2 tablespoons water
3-4 tablespoons mulling spice
For the cookies
1 3/4 cups all-purpose flour
1/2 teaspoon baking powder
1/2 teaspoon salt
3/4 cup unsalted butter
2/3 cup sugar
1 large egg
1/4 teaspoon pure vanilla extract
1/3 cup mulled blackberry jam (see recipe above)
Pistachios, chopped
Powdered sugar
DIRECTIONS
For the mulled blackberry jam
In a saucepan, add the berries and sugar. Mix well and allow the mixture to sit for 5 minutes. Add water and turn your stovetop to medium heat, stirring occasionally for about 4 minutes.
Add mulling spices with either a large tea infuser or cheesecloth and place into the center of the pan. Cover and allow to simmer for another 5 minutes.
Add apple cider vinegar and stir well uncovered until the berries fully break down. You can adjust the texture of the jam by mashing berries with a fork before storing in a clean air-tight container.
For the cookies
Preheat oven to 350° F. Whisk the flour, baking powder, and salt together in a bowl.
With your KitchenAid® Custom Metallic® Series Stand Mixer, whip the butter and the sugar on medium speed until fluffy, about 4 minutes. Add egg and vanilla until just combined. Slowly beat in the dry ingredients, mixing just until incorporated.
Make 1″ balls out of the cookie dough and place on a baking sheet lined with parchment paper. Press a thumbprint into the center of each ball and then fill each with mulled blackberry jam.
Bake for 10-12 minutes, until slightly golden. Once cooled, sprinkle with chopped pistachios and a dusting of powdered sugar.
Print
*The Contributor of this post has been compensated by KitchenAid for this post, but this post represents the Contributor's own opinion.*