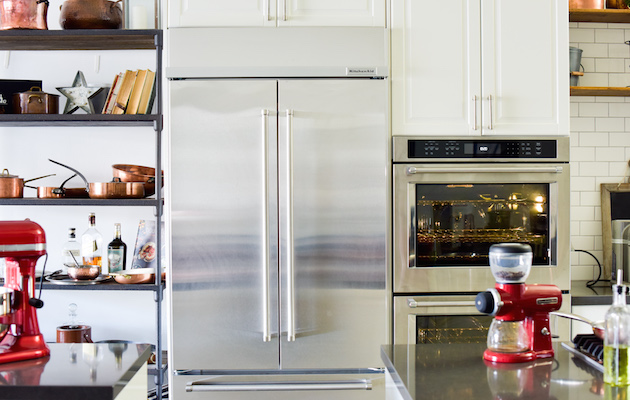 If you saw how we used our KitchenAid® French Door Refrigerator at the studio, you might chuckle a bit. It's definitely not used in the same way that a traditional family would use it to store food. Ours is a workhorse for all our studio needs, photo shoots and production projects. On the outside, it's a polished and sleek-looking stainless steel appliance but on the inside it houses precious cargo for everything we need in the studio.
We treat our French Door Refrigerator like a commercial kitchen refrigerator. But unlike any industrial refrigerator, ours is a stylish stainless steel and looks good without the clunky commercial design. The stylish french door design doubles as a perfect addition to the design of our staging and test kitchen. We design our studio kitchens to be modern for multiple uses. Practical for our day-to-day, and beautiful for when clients need a shot with a kitchen scene in the back. No one wants to shoot pretty lifestyle shots in a clunky commercial-industrial-grade-looking kitchen. That's why we love our French Door Refrigerator, because it looks great on the outside, but fulfills all our commercial storage needs on the inside.
One of the main functions of our French Door Refrigerator is to store and supply drinks for all our clients, team members, and shooting crews all day long. On our photoshoots, cold beverages are the perfect refreshing break for everyone on the team. Our French Door Refrigerator holds, on any given day, at least 100 bottles/cans of drinks. We love to store that much because it allows us to offer a large variety to everyone on-set, from the coconut water imbibers, to the iced tea sippers, to the soda drinkers. The spacious shelves in the French Door Refrigerator easily hold over 500 drinks, and the refrigerator maintains the cold temperature needed to keep everything chilly on hot days.
We also need it to house all the large amounts of bulk produce we need on-set for our food photography shoots. It's our valuable cold storage solution for housing the ingredients we frequently need in our recipes. Sometimes you'll see our whole French Door Refrigerator stocked with only broccoli or carrots!
Whatever produce we store in the drawers, it always stay fresh and crisp thanks to the Preserva® Food Care System. Our produce is kept fresh longer, and this wonderful feature also helps to prevent over-ripening. The vegetables always maintain their freshness and color, which is especially important for our shoots. The French Door Refrigerator has French doors that open smoothly, even with all the weight of the fully filled door shelves. In fact, the roomy door shelves hold more produce when we run out of produce drawer space! No space goes to waste in our refrigerator.
Another great feature is the cool LED lighting. The light makes everything look fresh and bright. There's no difficulty in finding even the smallest of vegetables hiding in the back or bottom of the baskets. When the French Door Refrigerator is packed for a big commercial photoshoot, we need all the lighting we can get to find and see our ingredients.
So yeah, it's a little unconventional when you open our French Door Refrigerator and see 25 pounds of vegetables stored on the doors and 100 drinks on the shelves, but it works beautifully for us while also being stylish for every photography shoot we do in our test kitchen.
*The Contributor of this post has been compensated by KitchenAid for this post, but this post represents the Contributor's own opinion.*