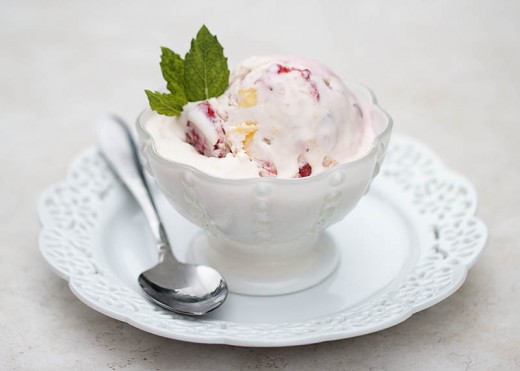 I love summer time! It's the perfect time of year to pull out your KitchenAid® Ice Cream Maker Attachment. It's so easy to use and makes a quick and yummy treat for friends and family.  We use it all the time!
Ice cream is my absolute favorite dessert, so I'm always in my kitchen developing new recipes. I usually start with a vanilla base and then add in different ingredients. Some days I'm craving chocolate and others I'm craving fruit. Last weekend I was on a mango kick and thought it would be fun to add some strawberries and mangoes in our ice cream. It ended up being the perfect combination. Everyone loved it!
Strawberry Mango Ice Cream
INGREDIENTS
2 cups heavy cream
1/2 cup milk
1 tsp vanilla
3/4 cup + 1 TB sugar
1 cup diced strawberries
1 mango diced
DIRECTIONS
Combine diced strawberries and mangoes in a large bowl. Pour sugar over top and stir together. You can also mash the fruit with a fork if you'd prefer not to have the fruit chunks.
Next combine the heavy cream, milk and vanilla.
Add the mixture into your ice cream maker and begin to churn the ice cream. Follow the instructions on the manual for set up. Continue mixing until you reach a desired consistency. Store ice cream in an airtight container until ready to serve.
My kids loved watching the ice cream maker go around and around.
*Tip: Keep your Ice Cream Maker Attachment in the freezer so you'll always have it ready for a tasty treat. *
Print
Enjoy!
What's your favorite flavor of ice cream?
*The Contributor of this post has been compensated by KitchenAid for this post, but this post represents the Contributor's own opinion.*