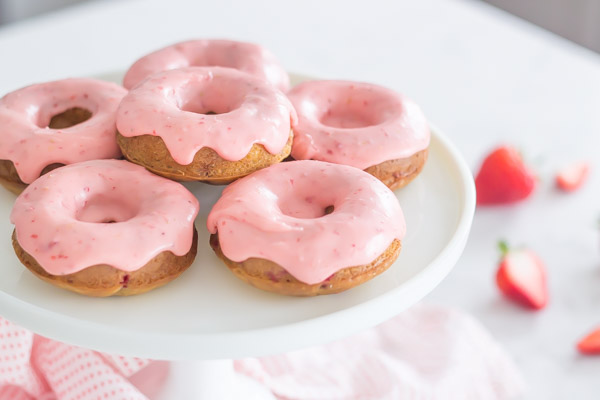 There's nothing quite as nice as a spring brunch! To gather with loved ones and linger over a simple, yet delicious late morning meal is one of life's great pleasures. And it's especially nice to celebrate the warmer weather with bright, sweet flavors like seasonal strawberries.
These baked Strawberry Doughnuts make a wonderful brunch offering, and thanks to the KitchenAid® Convection Microwave, you can make them effortlessly without even turning on the oven.
Start by preheating the Convection Microwave to 325° F. When you select "Convect Bake," the Convection Microwave prompts you to use the arrows to select "Manual Convection Bake." Set the temperature, press start, then open and shut the door to begin the preheating. Once the Convection Microwave is preheated, it will let you know with a gentle chime.
While the Convection Microwave preheats, you can start preparing the doughnut batter. Begin with flour, baking soda, and salt. Whisk together to combine.
Then stir the liquid ingredients together: sour cream, sugar, oil, egg, and vanilla. These ingredients will ensure a moist and flavorful cake doughnut.
Add this mixture into the dry ingredients, stirring together until just barely combined. The batter should look lumpy. It's okay if there are streaks of flour.
At this point, you can fold in the diced strawberries. Take care not to overwork the batter, so you don't end up with a tough doughnut! Just fold until the batter comes together, and you'll be sure to have a tender, melt-in-your-mouth result.
Transfer the batter to a lightly greased doughnut pan, and bake for 14 minutes in the Convection Microwave.
While the doughnuts are baking, you can whip up an easy strawberry icing. It's as simple as combining fresh strawberries and lemon zest with a bit of powdered sugar.
I love to use my KitchenAid® 5-Speed Hand Blender to create a smooth glaze. With this tool, the options are limitless; it's just so versatile.
Once the doughnuts have cooled, you can drizzle them with the glaze. Isn't it a gorgeous color?
Make these light, baked Strawberry Doughnuts for your loved ones this spring!
Share your take on these Strawberry Doughnuts on Instagram using #MadeWithKitchenAid for a chance to be featured.
Strawberry Doughnuts
Makes 6 doughnuts
INGREDIENTS
For the doughnuts
1 cup (120 grams) all-purpose flour
1/2 teaspoon baking soda
1/4 teaspoon kosher salt
1/2 cup (227 grams) sour cream
1/3 cup (33 grams) granulated sugar
1/4 cup (59 milliliters) vegetable oil
1 large egg
1/2 teaspoon vanilla extract
1/2 cup (82 grams) diced fresh strawberries
For the glaze
1 cup (125 grams) powdered sugar
2 tablespoons (20 grams) chopped fresh strawberries
zest of 1/2 a lemon
DIRECTIONS
Preheat the KitchenAid® Convection Microwave to 325° F, and lightly mist a doughnut pan with non-stick spray.
Place the flour, baking soda, and salt in a medium mixing bowl and whisk to combine.
Place the sour cream, sugar, oil, egg, and vanilla in a small mixing bowl, and whisk to combine.
Add the liquid ingredients to the dry, and fold together until just barely combined. Fold in the diced strawberries, and transfer the batter to the prepared pan.
Bake for 14 minutes, or until a toothpick inserted in the thickest part of a doughnut comes out clean or with a few moist crumbs. Cool completely.
To make the glaze, place the powdered sugar, strawberries, and lemon zest in the chopper attachment of the KitchenAid® 5-Speed Hand Blender and pulse to combine.
Top the cooled doughnuts with glaze.
Print
*The Contributor of this post has been compensated by KitchenAid for this post, but this post represents the Contributor's own opinion.*