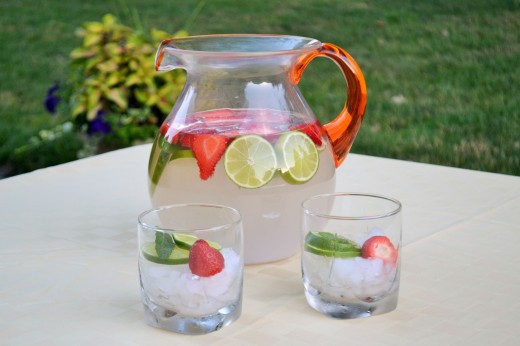 I have never been a soda drinker. While I enjoy an occasional tall glass of cola filled with plenty of crushed ice, I prefer to eat my calories rather than drink them. The problem is that I am not a water drinker either. I know that being hydrated is important and having a glass of water can cure all kinds of small ailments. So to make things a little more interesting, I like to make pitchers of what my family calls spa water. Basically, it is a pitcher of purified water with added ingredients to make it more interesting. Today my drink of choice is a pitcher of Strawberry Coconut Lime Spa Water.
Almost every year our family goes to New York City and we stay in a hotel that has pitchers of water infused with lemons and oranges. My kids just love it and started calling it spa water. It is funny as they think they invented this name. They take a small cup of water every time we go in or out of our hotel room. This always makes me happy as there is no extra sugar in this drink. It is just water and slices of fruit. It quenches their thirst so we can skip the other soft drinks. When I saw how much they liked this, I started making my own spa water.  I try to keep a pitcher of this in my refrigerator all summer. It is so refreshing.
My KitchenAid® French Door Refrigerator with Preserva® is perfect to both make and keep my spa water in. It has a filtered water and ice dispenser where I can even measure out the water I use. It also makes me feel good to know it is ENERGY STAR® qualified. This means it is 25% more efficient than minimum federal energy standards. I cannot remember what life was like before this awesome refrigerator!
Now that I have been making spa water for a while, I like to experiment with different fruits and herbs. Since coconut water is the new natural "sports drink," I thought it would go great with lime and some berries.  Mint is growing like crazy in my garden so I added some of that too. It really makes the water taste fresh. I would much rather drink this than a glass of plain water.
There are so many variations when making spa water.  I like to use seasonal ingredients that I have on hand. Spring and summer is a time to use melons, berries, stone fruits and fresh herbs. I also love adding cucumbers to my pitchers of water. In the winter months, I have plenty of citrus on hand.  Sliced lemons, grapefruits, oranges and limes all make great tasting water. Fall is a great time to use apples and pears. Whatever the season, there is always something to spice up your water.
The possibilities of making your own spa water are endless. It's refreshing and I never have to make sure I drink eight glasses of water a day. My family and I drink plenty of water automatically. Take a pitcher of water and add some fruit and herbs. You will be amazed at what a difference it makes!
Strawberry Coconut Lime Spa Water
Makes 8 servings
INGREDIENTS
32 ounces coconut water
3 limes, sliced and seeded
6 strawberries, cored and sliced
6 large mint leaves
32 ounces filtered water
DIRECTIONS
Pour the coconut water into a large pitcher.
Add the limes, strawberries and mint leaves to the pitcher.
Fill the pitcher with water and stir well.
Refrigerate a few hours before serving. Pour into glasses with ice and enjoy!
Print
*The Contributor of this post has been compensated by KitchenAid for this post, but this post represents the Contributor's own opinion.*