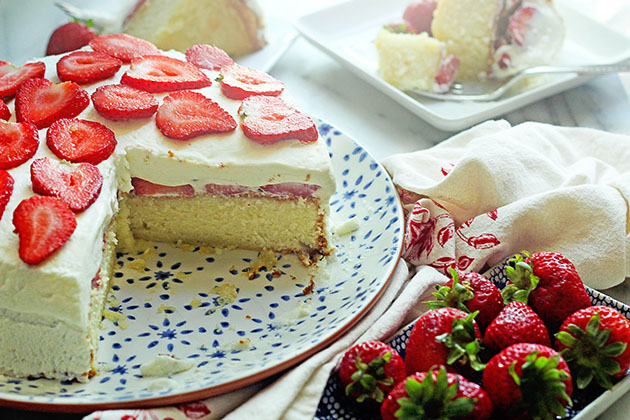 My favorite time of year is summer. For me, strawberries are synonymous with the warmth and fun of the season. Growing up, I remember when fresh berries would find their way to our kitchen for homemade strawberry shortcakes filled to the brim with their sweet natural juiciness. I recall how delicious and comforting it all was. It is definitely one of my favorite desserts.
This recipe encapsulates everything I remember about the shortcakes of my childhood but with a fun twist: cheesecake. The combination of the vanilla cake with the berries, whipped cream and cream cheese are a match made in heaven, and one you will make time and time again this entire season.
The recipe starts with the creation of the cheesecake layer. You add cream cheese, sour cream, sugar and vanilla extract to your KitchenAid® Stand Mixer and whip until completely blended. Then you freeze the cheesecake layer. I love using my KitchenAid® Ceramic Bowl for the creation of this cake because it is quite a powerhouse and can hold a lot of batter.
The yellow cake is next on the list. The batter process uses the traditional butter and sugar creaming method and creates a beautifully tender, sweet and moist cake layer that is also sturdy enough to stand up to the cheesecake.
The very last step is the simplest step, the creation of the whipped cream. You whip the cream until it reaches soft peaks, like above. Then add in your powdered sugar and beat until stiff peaks develop.
To assemble, you add whipped cream and strawberries to the top of the yellow cake.
Then finally add the cheesecake layer and whipped cream to the perimeter of the final delight. When I tell you that you will adore this cake, trust me, you will make it all summer.
Strawberry Cheesecake Shortcake
INGREDIENTS
For the no-bake cheesecake
1 1/2 (8 ounces) cream cheese packages, room temperature
1/2 cup sour cream, room temperature
1/3 cup granulated sugar
1 teaspoon vanilla extract
For the yellow cake
1 stick unsalted butter, room temperature
2 tablespoons vegetable oil
3/4 teaspoon salt
1 1/4 cup granulated sugar
3 large eggs
1 1/3 cup all-purpose flour
1/4 teaspoon baking powder
1/2 cup sour cream, room temperature
1 teaspoon pure vanilla extract
For the whipped cream
2 1/2 cups heavy whipping cream, cold
1/4 cup confectioner's sugar
Garnish: 1 1/2 cups chopped fresh strawberries
DIRECTIONS
For the no-bake cheesecake
Add cream cheese, sour cream, sugar and vanilla extract to KitchenAid® Stand Mixer and beat on high speed until well combined.
Spray a 9-inch baking pan with non-stick spray and evenly spread cheesecake batter in the pan. Freeze for at least 3 hours before assembling.
For the yellow cake
Preheat the oven to 350 degrees.
Prepare one 9-inch round baking pan at least 2 inches high on the sides with non-stick baking spray and put aside.
In the clean bowl of your KitchenAid® Stand Mixer, beat butter, vegetable oil, salt and sugar on high until fluffy and smooth (about 4 minutes).
Next, add eggs one at a time to the bowl and beat on medium until well incorporated.
In a separate large bowl, sift flour and baking powder together.
Turn the Stand Mixer to low and add half of the flour mixture to the Stand Mixer and fully incorporate.
Next add sour cream to the Stand Mixer and blend well and lastly finish with remaining flour mixture and mix well.
Finally add vanilla extract to the Stand Mixer and finish beating on low until everything is well mixed.
Make sure to scrape the bottom of the bowl as well.
Add cake batter to prepared baking pan and bake for 33-38 minutes or until a toothpick inserted into the center comes out clean.
Remove cake from oven and let rest in pan for 10 minutes.
Then remove layer from pan and place on cooling rack for 30 minutes.
Wrap the layer in plastic wrap and place in the refrigerator for 1 hour to make it easier to work with when assembling the cake.
For the whipped cream
Add heavy cream to clean KitchenAid® Stand Mixer and whip until soft peaks develop.
Slowly add in powdered sugar and continue to beat until stiff peaks develop.
For assembly
Remove yellow cake layer from refrigerator and place in center of serving plate.
Spread 1/3 of whipped cream on top of yellow cake layer and top with half of strawberries.
Next remove cheesecake layer from freezer and place directly on top of berries.
Frost entire cake with remaining whipped cream and decorate with remaining berry slices and serve.

Print
*The Contributor of this post has been compensated by KitchenAid for this post, but this post represents the Contributor's own opinion.*