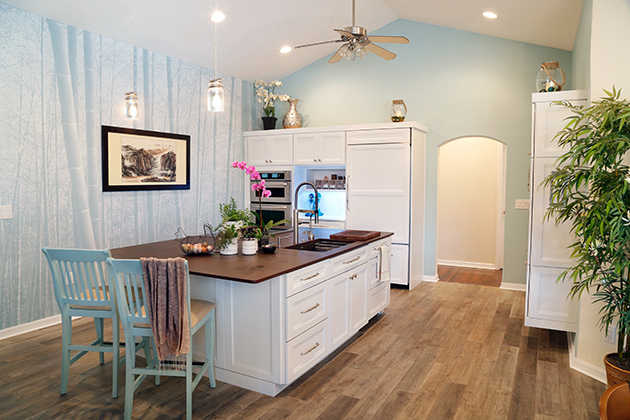 Finally, our kitchen reveal! We started this major renovation of our kitchen last year, under the guidance of Susan Serra an award-winning, certified kitchen designer. I met Susan years ago, at a kitchen event, and fell in love with her elegant, simple kitchen designs that focused not just on how a kitchen looks, but how our family utilizes the space.
As a mom of 2 boys, 3 dogs, and a work-at-home professional, I was looking for a multi-use kitchen design. Both my husband and I work at home as publishers of SteamyKitchen.com, and on my recipe development days, I'm often spread out with dozens of ingredients in all stages of prep, at least 3 pots are simmering away at the same time, and of course I also need my laptop and photography equipment staged in the kitchen as well.
When work is done and the kids come home, the kitchen transforms into homework central. The boys can stay nearby while I'm prepping dinner so that I can check homework and answer questions. On the weekends, we love to garden, cook together and entertain – and our kitchen transforms into an energetic, all-hands-on, creative experience with our guests.
BEFORE:
By opening up the walls and taking down the soffets, Susan created a wide, open area that connects seamlessly into our family room. The area is so spacious and airy! There's enough room everywhere in the kitchen, so that people aren't in each other's way and it allows good flow of energy and traffic (even with 3 large dogs milling about in the kitchen, hoping for a morsel.)
The appliances we chose from KitchenAid blend seamlessly into the kitchen. My previous posts (1, 2 and 3) highlighed the induction cooktop, retractable downdraft system and the refrigerator. Susan designed appliance and cabinet placement so that one half of the kitchen is prep (with the sink, KitchenAid® 6-Cycle/7-Option Dishwasher and Built-In Bottom-Freezer Refrigerator) and the other side for cooking (with the KitchenAid® Convection Combination Microwave Wall Oven and 5-Element Induction Cooktop).
Our flooring looks like wood….but it's really tile! The material is from Crossville, and it's the SpeakEasy Collection. We really loved the look of wood, but with all our critters and messy kids, we were afraid to invest in wood floors. These porcelain tiles have the look of an American barnwood style, but are a cinch to maintain and clean.
The island, made of Dekton material, is only 3/4″ thick, but is one of the most durable materials in the world. I love the sleekness of the thin material – it looks like a table, rather than a "kitchen countertop." The island is huge – 5.5 ft wide by 8.5 ft long, eliminating need for wall counter space.
Because the KitchenAid® 5-Element Induction Cooktop and the Retractable Downdraft System are also sleek and slim, it allows the kitchen to look like and function as part of our living space.  The photo below is of the cooktop and the vent, that raises up with a push of a button! Of all the features of the kitchen, it's this retractable downdraft that is the most oooh'd and aaah'd over.
Having the KitchenAid® 5-Element Induction Cooktop makes such a difference in how clean the kitchen stays. No more cleaning grates, trying to get into the nooks and crannies of a gas stovetop. I also love how efficient (boils water in seconds) and powerful (my wok gets crazy hot!) the Induction Cooktop is.
Our cabinetry is KraftMaid, we chose a simple style and designed the cabinets to look like furniture pieces, rather than just kitchen cabinets. I love the whisper-soft close doors (no more slamming doors in my kitchen!) and the unlimited configuration opportunities to custom-design organization that's personalized, just for us.
On our large wall, we worked with Laurie from Customized Walls to create a large mural that's made of eco-friendly fabric! I knew I wanted the look of a bamboo forest in the kitchen, but was afraid of the wall becoming too dark and too much of a distraction from the peaceful design we've created.
Laurie suggested we match our paint color, and turn the bamboo forest mural into a more subtle texture. It worked beautifully, and added dimension and interest without distraction. The painting we chose was hand-painted Chinese artwork that my parents had gifted to me years ago. I finally found a place for it.
The flow in kitchen prep is so important – so I'll share with you how we designed the space to be most efficient in prep.
I generally prep everything all at once, so that when I'm at the stove, I've got everything I need at my fingertips. Like many kitchens, the dishwasher is next to the sink. I'm right handed, so having the dishwasher to my right is most convenient.
I like to keep my kitchen area clean, with no dishes in sight (so no drying rack on the counter), but sometimes little things here and there are just easier to hand wash and let drip dry (like my knives), the sink includes a small raised area with a wire basket for those small items.
The sink, faucet and compost bin are from Blanco. We are avid gardeners on our homestead, and compost fuels our raised bed gardens. The tall, flexible hose of the faucet gives me room to fill up big pots.  It's held in place by a strong magnet.
The built-in compost bucket is virtually no-odor and super-convenient to use.  So, as I prep, vegetable scraps go into the compost bin, dirty dishes go in the dishwasher and knives get washed and dried in the basket.
Since we use the garbage disposal quite a bit, we installed a on/off switch button right into the counter. It's so convenient! Another great convenience is the instant hot water dispenser to the right of the sink. In 1-second, I have 145°F hot water, perfect for tea.
The KitchenAid® 6-Cycle/7-Option Dishwasher has a cabinet front, so that it blends seamlessly in with the island. In our old kitchen, we had to wash the dishes prior to putting them in the dishwasher. It was ridiculous! We ended up using that old dishwasher as a drying rack, as I just didn't see the sense in washing dishes twice. Our new KitchenAid® Dishwasher has a ProScrub® Trio feature that uses 40 spray jets to wash the dishes thoroughly, no pre-washing or soaking needed!
In our old kitchen, our dishwasher was so loud I would have to close my office door to take phone calls! This new KitchenAid® Dishwasher is whisper quiet. Several times, I've opened the dishwasher door, not knowing it was active and running! That's how quiet it is.
We're thrilled with our kitchen renovation, and are so grateful for Susan's thoughtful design and KitchenAid's powerful appliances. Our new kitchen has changed our lives and has made our family so happy!
*The Contributor of this post has been compensated by KitchenAid for this post, but this post represents the Contributor's own opinion.*