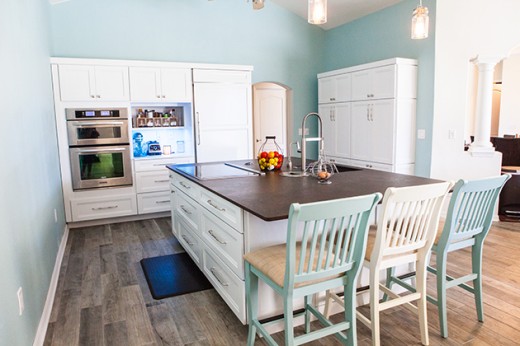 I'm excited to share the journey to designing and completing my brand new kitchen, fully equipped with KitchenAid® major and small appliances. KitchenAid asked us a few questions about this exciting process, and my designer, Susan Serra of The Kitchen Designer, and I share our answers below. Follow along in this post and two more coming soon to read about our experiences, my thoughts on the new appliances and even a few recipes you can make at home.
Pre-renovation
KITCHENAID: What's your favorite thing about the new kitchen?
JADEN: My answer will be a shocker to anyone who knows me well — it's the new KitchenAid® 5-Element Induction Cooktop! Growing up, I was in love with my mom's gas stove. In college, when I first went apartment shopping, I chose the apartment based on the availability of gas. When I got married to Scott, and built a custom home, the number one thing on my list is gas stove. I even bribed the gas man a few dollars to do a little adjustment for me so that I would have bigger, stronger, flames.
When we found this new property three years ago, it was the perfect home for us, except that for the first time in my life, I had an electric stove. We continued with the purchase of this home, with the hope that we would be able to pipe in gas to the kitchen.
During the kitchen remodel design process, we had several consultants tell us that it wouldn't be feasible. Oh, I can't even tell you how disappointed I was!
We selected the KitchenAid® 5-Element Induction Cooktop and I absolutely love it. The speed really impresses me. Just today, I wanted to warm up a big pot of soup that we had stored in the refrigerator. Even starting with a large, cold, pot from the refrigerator, it took less than 2 minutes to heat up!
Another benefit is that the induction technology keeps my house cool. I live in Florida, where it's still 93F in the middle of November! The induction does not heat up our kitchen like gas or electric does.
KITCHENAID: What design inspiration did you pull from for this kitchen? 
SUSAN:  Jaden's lifestyle as well as work life is one in which she prefers to cook in an open setting, that is, open to family activity and to beautiful outdoor views. Jaden's Asian heritage guided me to design the major elements to work together for a simple, stylish yet super functional kitchen. The kitchen has both an organic and cohesive quality to it.
JADEN: We love what Susan created for our family! As you can see from the before photos, our kitchen was very closed off. We also had a "bar" that our guests would sit behind, to watch while I cooked. While it was great to have them watch me cook, it felt like my guests were spectators.
When Susan and I began talking about the new design "wish list," I answered that we wanted something more open, no high areas. A kitchen that would inspire my kids and our guests to come into the kitchen and join in on the fun of cooking.
KITCHENAID: What were the best and worst things about remodeling the kitchen?
SUSAN: One of the worst things about remodeling the kitchen is product and/or tradespeople delays. Delays are the last thing you want to deal with when in the midst of a kitchen remodel! The best thing about a kitchen remodel is a good plan, one that addresses all of your needs and desires.
JADEN: The remodel delays for sure! Especially, since my business relies on the kitchen! I had this schedule in my mind, and set business projects based on having a working kitchen by that date.
The best part about remodeling, other than the finished result, is the designing. Working with Susan to choose the cabinets, the different appliances, and even the kitchen bling – the handles and knobs for the cabinets!
KITCHENAID: How has the new kitchen changed your life?
JADEN: The center of our home is now the kitchen island. We have seats at the island, so that my boys can do their homework while I'm cooking dinner. And they can jump in and help out at any time. Cooking, eating, being together in this amazing space has brought our family closer together. I love that there's no longer a high bar that separates me from the rest of the house. Energy just flows well now.
KITCHENAID: What was the first thing you made in your new kitchen?
JADEN: Breakfast! We had Chinese sausage (lap cheong), diced with a little green onion in scrambled eggs. Savory, sweet, smoky. Chinese sausage is my kids' #1 favorite food item in the world. It's even better than bacon!
KITCHENAID: Were there any design trends you specifically wanted to avoid?   
SUSAN: All of them! One trend, maybe two, is ok. Incorporating multiple trends into the kitchen design will quickly date the kitchen. Jaden was attracted to expressing her and her family's unique vision rather than follow trends, and as a result, the kitchen, in my opinion, is virtually timeless in its design.    
JADEN: I knew I didn't want the heavy, stainless steel, industrial kitchen look. Because the family room and kitchen opens up to each other, I wanted the kitchen to feel like a natural extension of the room. In fact, Susan specifically chose and designed the cabinetry to look like a piece of furniture, with it being wall-mounted and off the floor.
KITCHENAID: Did you break any cardinal rules when it came to kitchen layout guidelines?
JADEN: As of this post, we still have a blank canvas that has no cabinets, no appliances. In this area, we are thinking about having a wall mural, soft bamboo silhouette, or something relaxing and Asian-influenced. I'm excited to begin planning that wall!
We also went with less is more. I think many people want to pack their kitchen with as many cabinet space as possible to hold all of their kitcheny things. I decided to simplify. Instead of having a jumble of plastic containers and lids that never matched, I only needed a small set of microwave-safe, glass storage containers. We got rid of the four salad spinners and the kitchen gadgets that weren't multi-purpose. That helped us create a more clean, simple, uncluttered kitchen — and as a result, we went with fewer cabinets.
KITCHENAID: What advice do you have for others planning a kitchen remodel in the near future?  
SUSAN: Find a kitchen design professional. Interview the design professional and see whether the designer listens intently to your needs, respects your budget and provides you with ample choices in design work and products.
JADEN: I can't agree more! Susan was able to collect all of the ideas that we discussed, and organized them into just the essentials, based on our lifestyle. The kitchen is the center and the soul of a home. It deserves a professionally designed layout, something that supports a thriving family.
*The Contributor of this post was provided with a full suite of KitchenAid® appliances, but this post represents the Contributor's own opinion.*