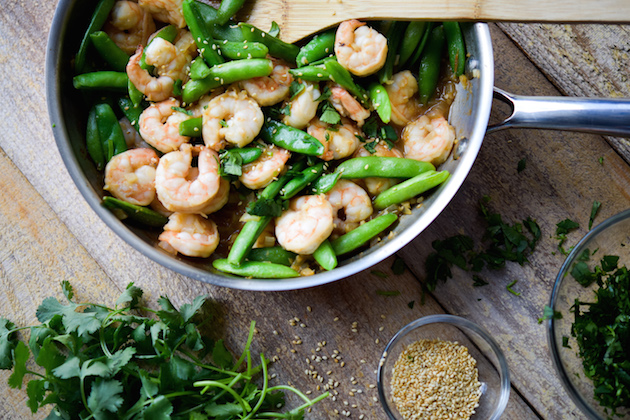 Spring has arrived and the thing we look forward to all year is stir-frying crisp sugar snap peas with shrimp. It's a seasonal dish we devour in seconds because it's simple to make on our KitchenAid® 30" 5-Burner Gas Cooktop.
The Gas Cooktop has great power for stir-frying and quick searing of veggies to keep them crisp, tender and delicious. In fact, stir-frys are made all year long in our kitchens because they're an easy and satisfying way to make a quick dinner for a busy weekday or for team lunches at the studio.
Stir-frying is an easy technique, but at the same time, it's an art that requires the proper tools in order to take the dish from just ok to really, really good.
The powerful Gas Cooktop makes cooking on high heat a breeze for a perfect and quick stir-fry. It also has an excellent Professional Dual Ring Burner in the center that has an ideal inner flame function for the low heat cooking required of perfect braises, sauces and anytime you need precise simmering.
Need low consistent heat to make a brown butter to braise your toughest meats? You can use the inner low heat burner ring of the Dual Ring Burner to get the job done. Need high intense heat cooking for times when you're needing power to sear meats and veggies? Use the both burner rings on the Dual Ring Burner to cook your heart out. This Gas Cooktop can handle all your cooking needs.
The function of the dual ring middle burner allows for quick transitions from low to high. When you need a quick sear, the power of both burner rings will give you the hot temperature quickly, while the inner flame ring will easily provide a low simmer to finish cooking at lower temperatures for longer periods.
That's why this stir-fry is so perfectly crisp with each bite of the sugar snap peas. The shrimp isn't overcooked, leaving you with a meal made from high heat without using a wok or the complicated wok-ring. Use the gorgeous KitchenAid® Tri-Ply Copper 10-Piece Cookware Set instead! The combination of the sleek Copper Cookware with the power of the Gas Cooktop results in a modern twist to the classic stir-fry method.
Another great feature is the CookShield Finish. It keeps the Gas Cooktop looking clean and brand new between all the busy and multifunctional types of cooking you'll use it for in your kitchen. All the spills and stains that occur during high temperature cooking don't show. Which is perfect because when we're shooting at the studio with this Gas Cooktop, the shots are still gorgeous without any messy stains splatters.
Be sure to share your take on this Spring Sesame Shrimp and Sugar Snap Pea Stir-Fry recipe with us on Instagram using #MadeWithKitchenAid for a chance to be featured.
Spring Sesame Shrimp and Sugar Snap Pea Stir-Fry
Makes 2 servings
INGREDIENTS
1 pound sugar snap peas
1/2 pound shrimp, shells removed and de-veined
1 teaspoon sesame seed oil
1 tablespoon rice vinegar
1/2 teaspoon oyster sauce
3/4 teaspoon soy sauce, or to taste
1 tablespoon water
1 tablespoon olive oil
1 small onion, diced
2 cloves garlic, minced or crushed
Salt, to taste
Fresh cracked black pepper, to taste
Sesame seeds, for garnish
Fresh cilantro, chopped for garnish
DIRECTIONS
In a bowl, combine the sesame seed oil, rice vinegar, oyster sauce, soy sauce and water. Set aside.
Heat a large skillet from your KitchenAid® Tri-Ply Copper 10-Piece Cookware Set over medium-high heat on your KitchenAid® 30" 5-Burner Gas Cooktop. Add olive oil, onions and garlic. Cook until soft, about 1 minute.
Increase heat to high, add shrimp and sear until it turns pink. Add the sugar snap peas and cook until the peas are tender, about 1 minute.
Add the sauce mixture and stir the mixture until everything is combined and cooked through.
Add additional salt and pepper if needed, to taste.
Top with sesame seeds and chopped cilantro. Serve as a side dish or with rice.
Print
*The Contributor of this post has been compensated by KitchenAid for this post, but this post represents the Contributor's own opinion.*