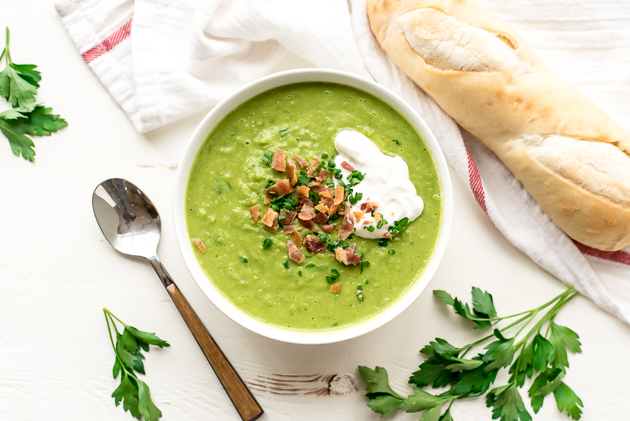 Spring in Wisconsin is a fickle creature. On any given day in April, I'm as likely to be scooping ice cream as I am to be stirring a mug of hot chocolate. This Spring Pea Parsley Soup is the ideal meal for spring's temperamental temperatures. It's warm and comforting enough for the chilly days, but with its vibrant flavor and happy hue, it tastes and looks like the freshness of spring.
The ingredients for my Spring Pea Parsley Soup are simple: peas, onions, garlic, and parsley. Don't be deceived by the ingredients' modesty. Together they create a wonderful spring soup that I would be proud to serve at any meal.
The soup begins by sautéing onions with garlic and olive oil. I use the 8.0-Quart Stockpot from my KitchenAid® Stainless Steel 8-Piece Set. I love how evenly it cooks and how easy it is to clean.
Once the onions are soft, add the peas, chicken stock, salt, and pepper. You can use fresh peas, but frozen ones work just as well—and you don't even need to thaw them first. Let the soup simmer for five minutes, then stir in the parsley.
From here, it's time to transform the dish from a simmering pot of veggies into a creamy, smooth, and satisfying soup. I love pureed veggie soups, but I was often deterred from making them, due to the difficulty of transferring the softened vegetables and liquid to my food processor. The KitchenAid® Pro Line® Series Cordless Hand Blender was a life-changing product for me. With this powerful tool, I can blend soups right in the pot, without any fuss or mess. Plus, the Hand Blender is a single gadget that you can easily clean in seconds, saving you time on washing dishes later!
The Spring Pea Parsley Soup is delicious on its own, but to make it even more special, I added a dollop of sour cream (crème fraiche would also be incredible) and a handful of crumbled bacon. Serve it with a side of crusty bread, and you'll have spring dinner on the table in less than 30 minutes!
Be sure to share your take on this Spring Pea and Parsley Soup recipe with us on Instagram using #MadeWithKitchenAid for a chance to be featured.
Spring Pea and Parsley Soup
Makes 4 servings
INGREDIENTS
4 slices bacon (optional, for serving)
2 tablespoons extra virgin olive oil
1/2 yellow onion, diced (about 1 cup)
5 small/medium green onions, sliced with white and green parts divided
1 clove garlic, minced
3-4 cups low sodium chicken stock
24 ounces fresh or frozen peas
1 teaspoon kosher salt
1/2 teaspoon freshly ground black pepper
1 cup lightly packed fresh flat leaf parsley leaves
Sour cream or crème fraiche, for serving
DIRECTIONS
Place a rack in center of the oven and preheat to 400 degrees F.
Line a large rimmed baking sheet with foil, then place an oven-proof baking rack on top. Lightly coat the rack with cooking spray and arrange bacon slices in a single layer on the rack.
Bake bacon for 12-15 minutes, until crispy. Once cooked, set the bacon between two paper towels and pat dry. When cool enough to handle, dice and set aside.
In the 8.0-Quart Stockpot from your 8.0-Quart Stockpot from my KitchenAid® Stainless Steel 8-Piece Set, heat the olive oil over medium heat. Add the yellow onion and cook for 3 to 5 minutes, stirring occasionally, until soft and lightly browned. Add the white and light green parts of the green onions (reserve the dark green tops for serving) and the garlic, then cook for 1 additional minute. Add 3 cups of the chicken stock, peas, salt, and pepper, then bring to a boil. Once boiling, lower the heat and simmer for 5 minutes.
Stir in the parsley, then puree with the KitchenAid® Pro Line® Series Cordless Hand Blender until smooth. Taste and add additional salt and/or pepper as desired. Serve warm, topped with sour cream, bacon, and chopped green onion tops.
Print
*The Contributor of this post has been compensated by KitchenAid for this post, but this post represents the Contributor's own opinion.*