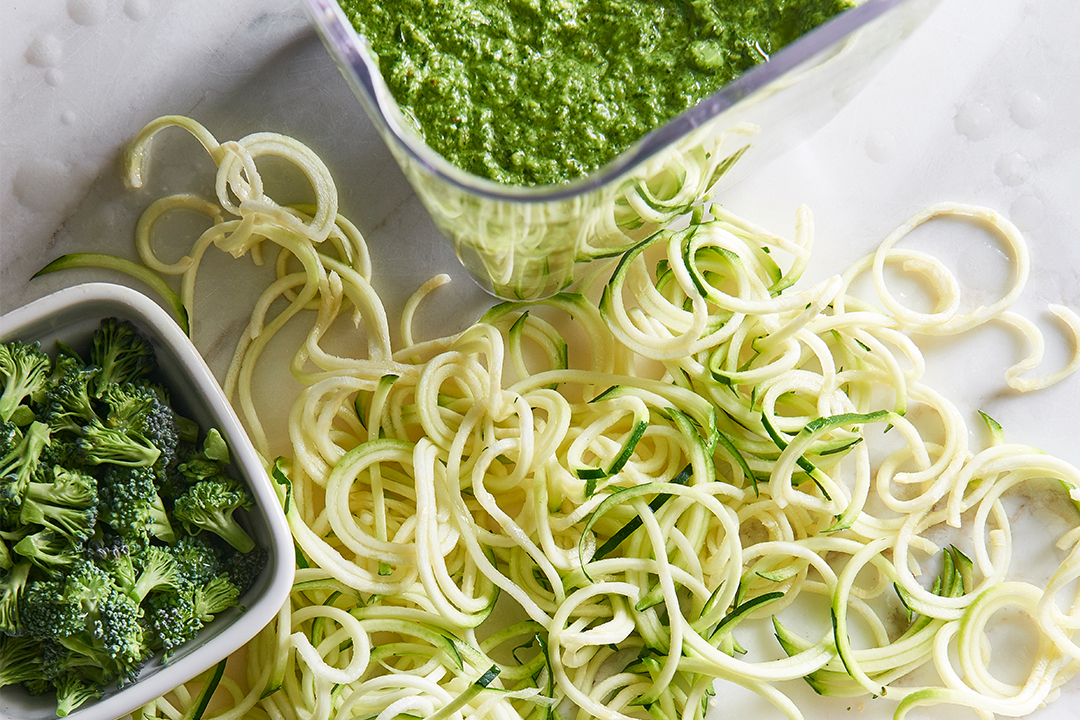 Spiralized Zucchini Pasta with Basil Pesto
Makes 4 servings
INGREDIENTS
For the pesto (makes 1 1/2 cups (345g))
1/2 cup (120ml) extra-virgin olive oil
3 tablespoons fresh lemon juice
2 cups (50g) firmly packed fresh basil leaves
1 cup (75g) raw broccoli florets (1/2 medium head broccoli)
1/2 cup (70g) pine nuts, blanched slivered almonds, or raw walnuts
2 teaspoons white miso paste or 1/2 cup shredded parmesan, plus more to taste
2 teaspoons minced garlic (2 cloves)
3/4 teaspoon sea salt, plus more to taste, plus more to serve
1/4 teaspoon freshly ground black pepper, plus more to serve
For the pasta
2 large or 4 small zucchinis, spiralized to make zoodles
1 cup (140g) finely diced English cucumber
1 cup (75g) finely chopped raw broccoli florets (1/2 medium head)
1/4 cup (30g) shelled hemp seeds
DIRECTIONS
To make the pesto, throw the olive oil, lemon juice, basil, broccoli, pine nuts, miso (or parmesan), garlic, salt, and pepper into your KitchenAid® Pro Line® Series Blender. Secure the lid, remove the center lid cap, and insert the tamper. Turn the variable speed dial to 11, and process for 20 to 30 seconds, using the tamper to guide the ingredients through the blades until rustically combined but not completely smooth.
In a large bowl, use your hands to lightly toss the zucchini noodles with the diced cucumber and broccoli until well combined.
Gently massage 1 cup (230g) of the pesto through the zucchini noodles until evenly coated, and add additional pesto gradually to your preference. As you massage the fruits and vegetables will release water, making the pesto easier to work with. Season with salt and pepper to taste. Set out four plates, and swirl equal portions onto plates, and toss with hemp seeds. Serve immediately passing any remaining pesto at the table.
Prep Notes: The pesto may seem a little sharp, tart, and salty when tasting out of the blender. However, it will mellow when tossed through the noodles. You can also use this with 1 packet of traditional cooked pasta.
If serving this recipe as a dip with raw veggies or crackers, or on sandwiches or wraps, hold back on 1/2 tablespoon of the lemon juice and 1/4 teaspoon of the salt, add to taste.
Print
*The Contributor of this post has been compensated by KitchenAid for this post, but this post represents the Contributor's own opinion.*