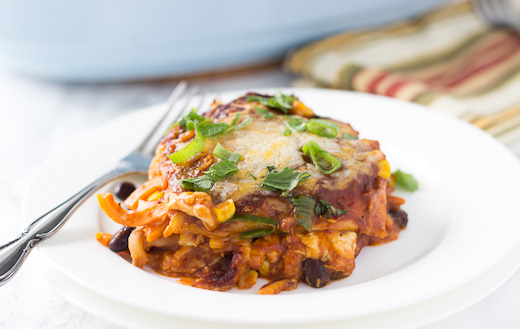 Now that we're only a week away from fall, we're all craving those beloved warm and comforting flavors of the season; hello cinnamon, ginger and nutmeg. Comforting dishes are also making a comeback as we trade the fresh berries and peaches of summer for apples, pumpkin and sweet potatoes.
This Spiralized Sweet Potato and Apple Enchilada Casserole was inspired by all that's great about the fall. A comforting baked casserole filled with sweet potatoes, apples, cotija cheese and Mexican flavors. It's a great combination of warm and spicy flavors, and it's also on the lighter side as we use spiralized vegetables to make a meatless meal that the whole family will enjoy.
I recently got the new KitchenAid® Spiralizer Attachment for the Stand Mixer and I was excited to start making 'noodles' of all my veggies. If you have yet to make veggie noodles, it's extremely easy with this Spiralizer Attachment. Equipped with multiple blades and a peeler, you can peel, core and spiralize just about any vegetable you like (think zucchini, apples, sweet potatoes, peppers, squash). I just love how it makes veggies fun to eat in different ways!
Let's get to the recipe, shall we? This enchilada casserole starts with spiralizing sweet potatoes with the attachment.
Look how beautiful they are!!
Next we spiralize some fresh apples. The attachment peels, cores and slices apples into different sizes. I chose to not peel my apples in this recipe and sliced them thinner.
To make the layers of the casserole, start by spraying and layering your KitchenAid® Ceramic 4-Piece Nesting Casserole Set with a layer of enchilada sauce.
Next add your tortilla and a first layer of black beans and corn.
Add your spiralized sweet potato and apple mixture.
Top with cotija cheese and a Mexican cheese blend.
Repeat these layers again and end with a topping of enchilada sauce and cheese.
Bake casserole until cheese is bubbly!
Serve this casserole with avocado (or guacamole), green onions and sour cream.
Spiralized Sweet Potato and Apple Enchilada Casserole
INGREDIENTS
2 large sweet potatoes, spiralized
2 medium apples, spiralized
1/2 cup chopped onions
2 garlic cloves, minced
3 cups enchilada sauce (homemade or store bought)
10-12 wheat tortillas
1 can (15-ounce) black beans, rinsed and drained
1 can (15-ounce) corn, rinsed and drained
2 cups cotija cheese, chopped
2 cups shredded Mexican cheese blend
Toppings: Sour cream, avocado/ guacamole, green onions
DIRECTIONS
Preheat oven to 400 degrees F. Spray a KitchenAid® Ceramic 4-Piece Nesting Casserole Set with cooking spray and set aside.
In a medium saucepan set over medium heat, combine the spiralized sweet potatoes, apples, onions and garlic. Cook stirring occasionally until onions are fragrant and sweet potatoes are tender, 3-5 minutes. Remove from heat.
Spread about 3/4 cup enchilada sauce in the prepared casserole dish to coat the bottom of the dish. Top with tortilla to cover the entire bottom (I cut the tortillas in half to help layering).
Next, top with about half of the black beans, half of the corn and half of the sweet potato mixture. Add a third of the cotija cheese and a third of the Mexican cheese blend. Repeat the layering with a second layer of tortillas, then sauce, beans, corns, sweet potato mixture and another third of cheeses.
Finally top with a final layer of tortillas and the rest of the sauce.
Cover the dish with aluminum foil and bake for 30 minutes, until the cheese is bubbly. Uncover the dish and top with the rest of the cheeses. Bake for additional 15-20 minutes until the sweet potatoes are cooked thoroughly and cheese is bubbly.
Let casserole cool for a 10 minutes before serving.
Top with sour cream, avocado (or guacamole) and green onions.

Print
*The Contributor of this post has been compensated by KitchenAid for this post, but this post represents the Contributor's own opinion.*