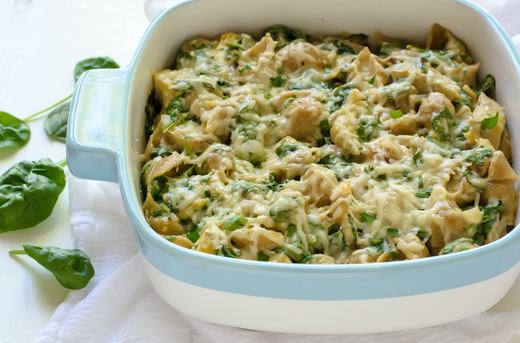 At the age of five, I could self-navigate to two distinct areas of the grocery store: the cereal aisle and the boxed macaroni and cheese aisle. While I haven't quite outgrown my fondness for Cinnamon Life or Honey Nut Cheerios, ever since I started making macaroni and cheese from scratch, those blue and yellow boxes have lost their luster.
Although I grew up loving my Grammy's homemade macaroni and cheese, I spent years avoiding cooking it myself. I assumed making from-scratch mac to be a long, laborious process involving copious quantities of heavy cream about which I preferred to remain blissfully ignorant. While the labor and heft may be true of some recipes, I'm pleased to report that with a few simple swaps, macaroni and cheese can be both easy enough and healthy enough to merit a spot in your weeknight dinner rotation.
To keep macaroni and cheese light without surrendering its comfort-food status, my favorite trick is to replace the traditional heavy cream with non-fat Greek yogurt. It adds body and richness without the fat, and it keeps the macaroni and cheese ultra creamy too. My other healthy-mac tips include: selecting cheeses that pack a big flavor punch so that you can use less without sacrificing taste, stirring in plenty of fresh veggies, and using whole wheat pasta in place of white.
Although plain macaroni and cheese may be enjoyable as a side dish, by adding veggies, you can transform it into an all-in-one entree. Today's macaroni features spinach and artichoke, a classic combination that will leave you feeling as if you are getting away with eating spinach and artichoke dip for dinner, guilt-free. It's an excellent sensation.
To make the spinach and artichoke macaroni and cheese, I cooked both the pasta and the cheese sauce in pans from my KitchenAid® Stainless Steel 8-Piece Set. I love how evenly these pieces cook and how easy they are to clean. Once the sauce was ready, I simply stirred in the pasta and veggies, ensuring every bite received its proper share of the creamy, cheesy goodness.
To finish the spinach and artichoke mac and cheese, I transferred it to a baking dish, showered it with Parmesan, then placed it the oven until it became hot and bubbly and my kitchen smelled magnificent. My KitchenAid® Ceramic Casserole Dish is my go-to for both sweet and savory baked dishes like this macaroni and cheese. It's beautiful enough to do double duty as both a cooking piece and a serving dish, and it's a breeze to clean too.
From now on, say goodbye to boxed macaroni and cheese!
Spinach and Artichoke Mac and Cheese
Makes 4-6 servings
INGREDIENTS
8 ounces whole wheat pasta noodles, such as shells, penne, rigatoni, or elbow
1 tablespoon extra virgin olive oil
2 cans artichoke quarters, drained
2 tablespoons unsalted butter
1/2 cup diced yellow onion
2 cloves minced garlic
1/4 cup white whole wheat flour
2 1/2 cups non-fat milk
1/2 teaspoon kosher salt
1/4 teaspoon black pepper
1/3 cup plain Greek yogurt
3/4 cup freshly grated fontina, mozzarella, or other similar, melty cheese
8 ounces fresh spinach
1/3 cup freshly grated Parmesan cheese
DIRECTIONS
Bring large pot of salted water to boil. Add the pasta and cook until al dente, according to package directions. Drain, toss with a bit of olive oil to prevent sticking, and set aside.
Preheat the oven to 350°F and lightly grease a 3-quart casserole dish.
In a Dutch oven or large, deep stockpot, heat the 1 tablespoon olive oil over medium high. Add the artichokes and saute just until lightly browned, about 4 minutes. Remove from the pot and set aside.
Reduce heat to medium. Melt the butter, then add the onion and cook until the onion is softened and fragrant but not yet brown, about 2 minutes. Sprinkle in the garlic and flour and cook, whisking often, until flour turns golden brown, about 1 minute. Gradually pour in the milk, whisking constantly. Cook until sauce simmers and thickens, 5-7 minutes. Remove the pot from the heat and stir in the salt and pepper. Next, stir in the Greek yogurt and fontina. Add the drained pasta and artichokes, stirring gently to combine, then gently stir in the spinach, allowing it to wilt.
Transfer the mixture to the prepared baking dish, sprinkle the top with Parmesan, then bake the macaroni and cheese until hot and bubbly, about 20 minutes. Let rest 5 minutes before serving.
Print
*The Contributor of this post has been compensated by KitchenAid for this post, but this post represents the Contributor's own opinion.*