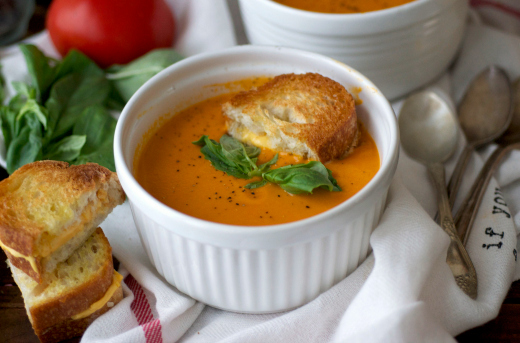 Soup is one of those things I can eat any day, any time, any season. I think I love it so much because of the nostalgia that comes with a warm bowl of soup. Whenever I was having a horrible day or life wasn't working out for me, my mom made soup. And she didn't just pop open a can and reheat it on the stovetop. She'd spend hours chopping, sautéing, mixing and blending to create the perfect recipe. Even on the worst days, the soup always cheered me up.
When I was thinking of a recipe to share here, I knew it had to be something from the heart. Something that warmed up my heart, soup and stomach. Something that would bring joy to anyone that made it, and my friends, that's why this tomato bisque was born.
You'll never find something more comforting than tomato soup and grilled cheese. This just takes it up a notch with the addition of fancier ingredients.
To make it, I used my handy dandy KitchenAid® 5-speed hand blender. This thing is magic. In just a few minutes my chunky vegetables and broth turned into a smooth, ultra creamy and spicy soup that paired wonderfully with some crispy grilled cheese croutons.
Even though it's springtime, this soup makes a great lunch option for those lazy Saturdays or a fantastic make-ahead dinner for busy weeknights. After one bite of this creamy, buttery and decadent soup, you'll want to make it for almost every meal!
Spicy Tomato Bisque with Mini Grilled Cheese
Makes 4-5 servings
INGREDIENTS
For the soup
2 tablespoons unsalted butter
1/2 medium onion, chopped
1 medium carrot, chopped
1/2 rib of celery, chopped
1/2 large bell pepper, chopped
1 large leek, chopped
1 1/2 tablespoons flour
2 tablespoons parsley, chopped
1 tablespoon dill, chopped
2 cups low-sodium broth
1 14 1/2 ounce can of diced tomatoes, drained
2 tablespoons heavy cream
1 teaspoons chili powder
1 teaspoon crushed red pepper
Salt and pepper
For the grilled cheese
16 slices of crispy French bread
3 tablespoons unsalted butter
8 thick slices of sharp cheddar cheese
2 tablespoons chopped basil
DIRECTIONS
To make the soup, heat the butter in a KitchenAid® saucepan or stock pot. Once butter is melted, add the onion, carrot, celery, bell pepper and leek. Add salt and pepper. Cook until vegetables are slightly softened, about 4 – 5 minutes. Stir in flour and heat another 1 – 2 minutes, stirring the flour into the vegetables.
Pour in the chicken both and diced tomatoes. Add in salt, pepper, chili powder and crushed red pepper. Bring the mixture to a boil and then reduce to low. Let simmer for about 6 – 7 minutes.
Remove from heat. Using a KitchenAid® 5-speed hand blender, star to blend the soup. Add in the cream and continue to blend until thick and smooth.
To make the grilled cheese, butter each side of each slice of bread. In a large skillet, add about 2 bread slices, butter side down, onto the pan. Add one thick slice of cheese per slice of bread and chopped basil. Top with another buttered slice. Cook for about 4 – 6 minutes on each side, or until golden brown and the cheese is melted.
Print
*The Contributor of this post has been compensated by KitchenAid for this post, but this post represents the Contributor's own opinion.*