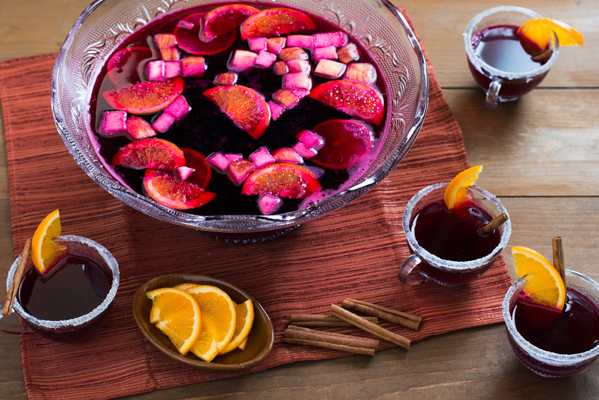 If you're looking to add a kick to a holiday party, and you're wanting it to be a jingling success, plan and prepare ahead of time, come up with a simple menu, delegate some of the dishes, and then create a fabulous party drink!
Using the new KitchenAid® Juicer and Sauce Attachment, I recently whipped up a fabulous Spiced Red Beet Sangria that our guests loved! It was spicy, with fresh ginger and cinnamon, and it really was the "talk of the party," especially when guests found out it was healthy with beets, fresh ginger, apples and oranges.
I love holiday entertaining because it's such a colorful season! The house is already cheerful, with holiday colors and decor, spirits are high, people are happy, music is playing, and it's just an awesome time to throw a festive party.
3 Holiday Party Planning Tips:
Plan and prepare. Plan a simple meal, making it potluck, so that everyone contributes, and get as much prep work done ahead of time as possible. Don't forget to delegate so you don't have to do it all!
Set the table (or buffet area) the day before, including the "drink station." Use the colors of the season by bringing in outdoor holiday branches and adding lighting with small red bulbs.
Create a signature drink. Think of one simple drink, with a bit of holiday bling (fruity, healthy, spicy, festive). Bring out the punch bowl and make it easy for guests to help themselves. Have a drink ready to hand to your guests as they walk through the front door!
This Spiced Red Beet Sangria recipe, made with the KitchenAid® Juicer and Sauce Attachment (which can be used on any size KitchenAid® Stand Mixer), was very easy to make.
Set up the Juicer and Sauce Attachment on the Stand Mixer.
Gather the ingredients–beets, fresh ginger and lemon.
Juice the beets, ginger, and lemon together.
 Take the juice and add to it wine, bourbon, apple cider, and club soda. Add in the spices and the fruit. Serve!
The KitchenAid® Juicer and Sauce Attachment features three pulp screens to allow you to adjust the level of pulp in juices, sauces, jams and more.
The attachment first slices and then processes the ingredients, extracting the liquid juice and separating the pulp.
Beyond being delicious, this easy festive sangria is appropriate for any adult holiday party!
Presentation is all about preparation. Have a tray set out with glasses, and coat the rim of the glasses with sugar. Ladle the sangria into the glasses and garnish with fresh fruit or a cinnamon stick!
Easy peasy, ever so breezy. Who knew holiday entertaining could actually be fun?!
Spiced Red Beet Sangria
Makes 8 servings
INGREDIENTS
1 bottle red wine
2 cups fresh apple cider
1 cup of club soda
1/2 cup bourbon
1/2 teaspoon cinnamon
1 cup fresh pressed beet juice (3-4 medium beets, peeled and sliced, juiced)
1 piece fresh ginger (1-inch)
1 lemon, cut in half (one half juiced, one half sliced)
2 honey crisp apples
1 orange
Cinnamon sticks
Sugar
DIRECTIONS
Press peeled and sliced beets, ginger and 1/2 lemon into KitchenAid® Juicer and Sauce Attachment; set aside.
In a large bowl or pitcher, add beet mixture to red wine, apple cider, club soda, bourbon, and cinnamon.
Leaving the skin on the apples, cut into 1/2 inch pieces. Slice the orange. Slice the other half of the lemon.
Add the fresh chopped and sliced apples, oranges, and lemon to the punch mixture. Refrigerate until serving (at least 1 hour).
Serve in a large pitcher or punch bowl filled with ice. Garnish with whole cinnamon sticks. Offer individual servings in sugar rimmed glasses, with an orange slice and a whole cinnamon stick!
Print
*The Contributor of this post has been compensated by KitchenAid for this post, but this post represents the Contributor's own opinion.*