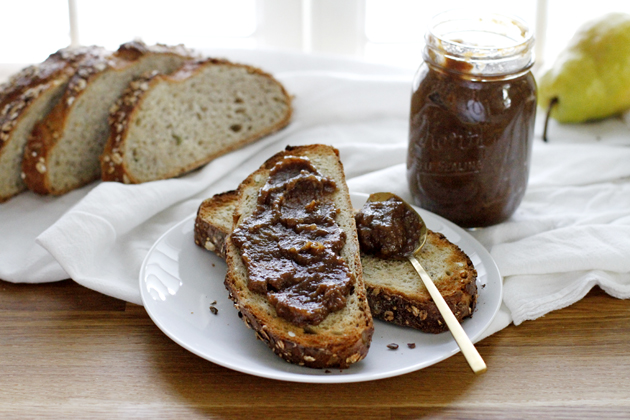 Peanut butter and jelly. Chocolate-covered pretzels. Spiced pear and caramelized shallot jam. If you love the savory-sweet combination as much as I do, this easy and delicious jam recipe is about to become one of your new favorites. Just add a couple slices of bread to your KitchenAid® 4-Slice Long Slot Toaster, spread on some of this homemade jam and be prepared for savory-sweet bliss.
I used to shy away from making my own homemade jam, thinking it was too complicated, time-consuming or just not as good as the store-bought varieties. But after a few tries, I've discovered that all of those fears aren't true. Not only is homemade jam incredibly delicious and flavorful, all it takes are a few ingredients (most of which you probably already have on hand) and a little patience and you'll have the perfect spread to put on toast, sandwiches or in yogurt or oatmeal.
Yes, even this savory and sweet spiced pear and caramelized shallot jam tastes great in anything! The warm spices of ginger and cinnamon pair well with the savory notes of shallot and chili powder. Once the jam is cooked down and the flavors marry, you'll be surprised how versatile this unique jam is.
To start, prepare and measure all of your ingredients. You'll need about 4 or 5 large pears (I used Bartlett, but any variety could work), as well as shallots, brown sugar, golden raisins, chopped nuts, apple cider vinegar and spices.
Cook the chopped shallot in olive oil for a few minutes in a KitchenAid® Sculptured Stainless Steel Stockpot until well caramelized, then add in the remaining ingredients. Give everything a good stir so it is well combined, then cover and simmer for about an hour, stirring occasionally. This will allow the flavors to marry and the pears to become tender enough to mash with a spoon.
Once the mixture is cooked down, uncover the saucepan and let the mixture cook until most of the liquid is evaporated. Then, use your KitchenAid® Pro Line® Series Cordless Hand Blender to blend the mixture into a smooth jam.
Meanwhile, use your KitchenAid® 4-Slice Long Slot Toaster to toast a couple slices of long, crusty artisan bread or whatever bread you enjoy. What I love about this toaster is not only its ability to handle long slices of bread, but that it also has a "keep warm" setting so I can keep my toast heated while I'm preparing the rest of my food.
Spread the fresh jam on your toast, and enjoy. Feel free to use the jam in your own favorite creation, from grilled cheese sandwiches to pizzas to hot cereals. And because this recipe makes enough jam for 2 pints, I love to freeze one pint for later or give it to a friend.
You can use this sweet and savory jam in so many different ways, but one thing is for sure: homemade jam is something anyone can make.
Share your homemade jam recipes with us on Instagram using #MadeWithKitchenAid for a chance to be featured.
Spiced Pear and Caramelized Shallot Jam
Makes 32 servings (about 4 cups)
INGREDIENTS
1 tablespoon olive oil
1/2 cup finely chopped shallot (about 2 shallots)
6 cups peeled, cored and chopped Bartlett pears (about 4 to 5 pears)
1 cup packed light brown sugar
3/4 cup golden raisins
1/2 cup chopped walnuts
2 tablespoons grated fresh ginger
2 teaspoons cinnamon
1 teaspoon fine sea salt
1/2 teaspoon chili powder
1/2 teaspoon cloves
1 cup apple cider vinegar
1 cup water
DIRECTIONS
Heat oil in a KitchenAid® Sculptured Stainless Steel Stockpot or large saucepan over medium-low heat. Add shallot. Cook 5 to 7 minutes, stirring often, until shallot is golden brown.
Add remaining ingredients to pot. Stir, then cover. Simmer over medium-low heat 1 hour, stirring occasionally, until pears are very soft. Uncover and increase heat to medium. Cook uncovered 10 minutes, stirring often, until most of water evaporates and mixture is cooked down.
Use a KitchenAid® Pro Line® Series Cordless Hand Blender or regular blender to blend mixture until mostly smooth.
Transfer to sealable jars. Store in refrigerator up to 2 weeks or freeze up to 3 months.

Print
*The Contributor of this post has been compensated by KitchenAid for this post, but this post represents the Contributor's own opinion.*