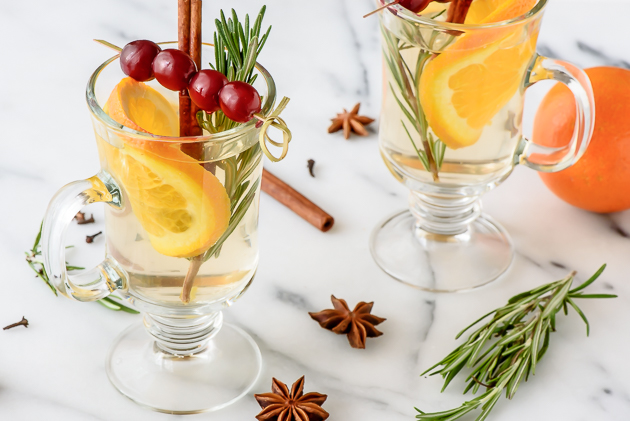 Although I'm all for a cozy fire, this holiday season, I'm gathering my friends around my slow cooker for warm cups of Mulled White Wine.
Mulled wine, a classic drink throughout Europe in the colder months, is a warm drink I look forward to making every fall and winter. Infused with cinnamon and cloves, balanced and sweetened with fruit juice and citrus, and fortified with a bit of liquor, this cozy drink is both supremely comforting and somewhat dangerous. Once you taste its smooth, soul-warming flavor, it's nearly impossible to stop at just one glass.
Although red spiced wine is classic, I decided to see if I could create a white version, both for those who prefer white wine, and because its light, sparkling hue is perfect to dress up with festive red cranberries and green rosemary. The drink's holiday look, combined with the fact that it can easily be made in large batches, makes it ideal for large parties and entertaining.
Most American mulled wine recipes combine a dry wine (I used Pinot Grigio), spices, citrus, a spirit, and sugar. Instead of adding granulated sugar (I find the idea of pouring baking sugar into my wine rather off-putting), I opted for white cranberry juice. I reduced it on the stove for a few minutes in my 1.5-quart saucepan from the KitchenAid® Stainless Steel 8-Piece Set, along with a sprig of rosemary, to infuse the juice with a little of the herb's flavor. Its fruity sweetness blends beautifully with the crispness of the wine.
From there, the rest of the mulled wine making is as simple as stir and heat. While mulled wine can be made on the stovetop, for a hands-off approach that's ideal for entertaining, I love using my KitchenAid® 6-Quart Slow Cooker. The spices, wine, and juices can simmer away while I finish my party prep, and guests can help themselves throughout the duration of the evening.
Once the wine is warm, the spices have infused, and the cranberries turn the wine a pale shade of pink (the shade may be more or less pronounced depending upon the juiciness of your cranberries), the mulled wine needs only one more ingredient: rum. It's just the splash to fortify and balance the drink, plus it adds a little extra spirit (literally and figuratively!).
Garnish the wine with a sprig of rosemary, cinnamon sticks, and a few floating cranberries, and you'll have a pretty cocktail that could win best-dressed at any holiday gathering. Cheers!
Be sure to share your mulled wine with us on Instagram using #MadeWithKitchenAid for a chance to be featured.
White Cranberry Mulled Wine
Makes 3-4 servings
INGREDIENTS
2 rosemary sprigs, plus additional for serving
1 cup white cranberry juice, divided
1 orange
1 (750 ml) bottle dry white wine, such as Pinot Grigio
1 cup fresh or frozen cranberries, rinsed, plus additional for serving (do not use dried)
5 whole cloves
2 cinnamon sticks
1 whole star anise pod
1/4 cup light rum, such as Bacardi
Cinnamon sticks, for serving
DIRECTIONS
Place the rosemary sprigs in the bottom of a 1.5-quart saucepan from the KitchenAid® Stainless Steel 8-Piece Set with 1/2 cup white cranberry juice. Bring to a boil. Let boil for 3 minutes, then strain into the bottom of the KitchenAid® 6-Quart Slow Cooker. Discard the rosemary stems.
With a vegetable peeler, gently scrape away the rind of the orange so that you have orange peelings, being careful not to get any of the white pith, which is bitter. Add the peels to the Slow Cooker.
To the Slow Cooker, add the remaining 1/2 cup white cranberry juice, bottle of white wine, cranberries, cloves, cinnamon sticks, and star anise. Cook on low for 1 hour, until warm. Stir in the rum. Serve warm garnished with additional rosemary, cranberries, and cinnamon sticks.

Print
*The Contributor of this post has been compensated by KitchenAid for this post, but this post represents the Contributor's own opinion.*