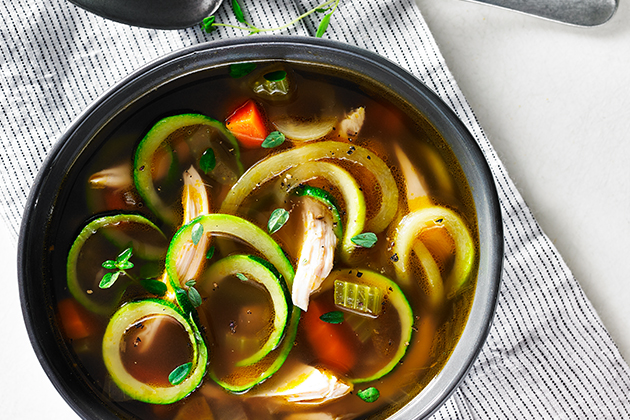 Simple Chicken Soup with Zucchini Noodles
Makes 6 servings
INGREDIENTS
2 teaspoons olive oil
1 small onion, chopped
2 stalks celery, chopped
3 carrots, chopped
1 clove garlic, minced
8 cups chicken broth
1 teaspoon minced fresh thyme or 1/2 teaspoon dried thyme
2 medium zucchini, cut in half
1/2 rotisserie chicken, cut into bite-size pieces (about 1 cup)
Salt and freshly ground black pepper
DIRECTIONS
Heat 2 teaspoons olive oil in large saucepan or stockpot. Add onion, celery, carrots and garlic; sauté 5 minutes or until onion is translucent and vegetables are softened. Add broth and thyme. Bring to a boil over high heat. Reduce heat to medium-low; simmer 20 minutes.
Attach Spiralizer Attachment to KitchenAid® Stand Mixer. Center one zucchini half on fruit and vegetable skewer; attach to Spiralizer. Attach medium spiralizing blade and position at end of zucchini. Place medium bowl below blade to catch zucchini. Turn stand mixer to speed 6 and process until blade reaches end of zucchini. Repeat with remaining zucchini. Cut zucchini noodles into shorter lengths, if desired.
Add chicken to soup; cook 5 minutes. Add zucchini noodles; cook 1 to 2 minutes or until softened.

Print
*The Contributor of this post has been compensated by KitchenAid for this post, but this post represents the Contributor's own opinion.*