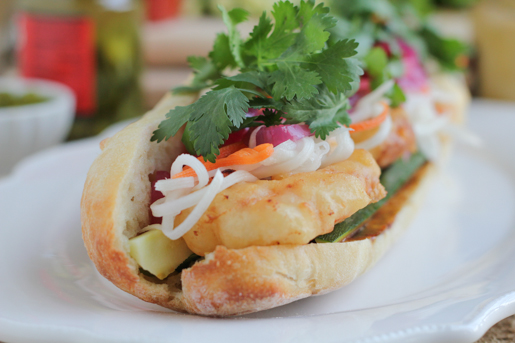 Recently I was on a personal mission to find the best Banh Mi sandwich. I started in Madison, where I live, and continued in Dallas, Texas when I was there for Spring Break. This little Banh Mi food eating spree got me thinking: what makes a good Banh Mi sandwich great? It is the meat, the French baguette or the fresh veggies?
After trying several of what tasted like the same ole thing I got to thinking. What if I combined a little Japanese with Vietnamese and put one of my favorite Japanese foods inside?


A Shrimp Tempura Banh Mi!! What could be better?
I love texture and crunch in my food, so adding the shrimp tempura was perfection for me. And the veggies have to be thinly sliced and pickled perfectly. I think some Vietnamese restaurants leave the pickled veggies in their Banh Mi sandwiches sliced a little too thick so I prefer to julienne mine, throw them in a mason jar and I pickle them myself.
And my KitchenAid® 9-Cup Food Processor made the julienning part a breeze. I simply inserted and used my julienne disc attachment and got the carrots and radishes exactly how I wanted them in no time at all! I also used my slicing disc which came with my KitchenAid® 9-Cup Food Processor to slice my red onions and I pickled those too. Because when it comes to a great Banh Mi sandwich, the toppings have to be just as tasty as the main ingredient inside the sandwich.
You can start julienning, slicing and pickling your vegetables the day before and leave them in the refrigerator overnight. This is highly encouraged as this gives the veggies plenty of time to soak in the pickling juice and tastes delicious.
And now comes the best part. Making your shrimp tempura! If you've never made shrimp tempura at home, don't fret. A quick trip to the Asian Market to pick up a bag of pre-made tempura batter mix (all you do is add water) and your shrimp and you are ready to go.

Now, because we are putting our shrimp tempura into our Banh Mi, we want to remove the shrimp tails. So, after you have cleaned and deveined your shrimp, go ahead and remove the tails too.
Now that you have your cleaned shrimp with the tails removed, you are ready to go! When frying, make sure you have all of the right equipment. I like to use cast iron when frying because it warms evenly and holds the heat so I used my KitchenAid® Streamline Cast Iron 4-Quart Casserole dish and it worked perfectly.

As you finish frying the shrimp tempura, place onto a paper towel lined plate to soak up any additional oil. Grab your French bread baguette and you are ready to assemble and devour your Shrimp Tempura Banh Mi! See the recipe card below for full instructions. Enjoy!
Shrimp Tempura Banh Mi
Makes 6 servings
INGREDIENTS
For the pickled vegetables
1/2 large red onion, peeled with the ends cut off and cut in half lengthwise
2 carrots, peeled and cut in half crosswise
1/2 Korean radish or daikon, cut in half lengthwise
3 cups white vinegar or apple cider vinegar
1 1/2 cups water
1 1/2 teaspoons kosher salt
1 1/2 cups granulated sugar
Special Equipment: 3 Mason jars with lids
For the hoisin sauce mixture
4 tablespoons hoisin sauce
1 teaspoon sesame oil
1/2 teaspoon Mirin
1 clove garlic minced
1 teaspoon honey
For the shrimp tempura
1/2 to 1 pound shrimp; cleaned, deveined and tails removed
1 1/2 to 2 cups Tempura batter mix
1/2 to 1 cup water
Peanut, grape seed or canola oil for frying
Special equipment suggested:
Cast iron casserole dish
Cooking thermometer
Spider frying utensil or frying skimmer tool
For the Banh Mi sandwich
2 (12-inch) French bread baguettes, sliced open and lightly toasted
1 Green bell pepper, cut in half and sliced thin lengthwise
1 medium sized zucchini, cut into thin strips lengthwise or julienned
Mayonnaise; optional
Fresh cilantro
Sriracha
Jalapeños
DIRECTIONS
For the pickled vegetables
Using your KitchenAid® 9-Cup Food Processor fitted with the slicing disc, and adjusted to the size you want your onions, place your 1/2 red onion in the largest opening of the wide mouth food tube. Turn on food processor on LOW and press the onion down into the food tube. Remove the onions and blanch the sliced red onions in a saucepan of boiling water for about 2 minutes only. Drain and place directly into a mason jar.
Going back to the KitchenAid® 9-Cup Food Processor, replace the slicing disc with the julianne disc and place your carrots (as shown in the photo above) into the largest opening of the wide mouth food tube. Turn on food processor on LOW and press the carrots down into the food tube. Remove the julienned carrots, place into a separate mason jar and repeat with the Korean radish.
Heat the vinegar, water, salt and sugar in a medium-sized saucepan over high heat, whisking until all of the sugar is dissolved. Bring to a light boil and then pour over the red onions, carrots and radishes, individually in their mason jars. Let sit until the liquid has cooled, for about 25-30 minutes and place into the refrigerator overnight. The pickled vegetables will keep for several weeks in the refrigerator in the covered Mason jars.
For the hoisin sauce mixture
Place the hoisin sauce, sesame oil, mirin, minced garlic and honey into a small bowl and whisk until thoroughly incorporated. Taste and adjust any ingredients as necessary. Set aside.
For the shrimp tempura
Using a large mixing bowl, combine the tempura batter mix with a 1/2 cup of water and mix well. The consistency should be similar to a pancake batter. Add another 1/4 cup more of water if needed. Mix and set aside.
Using your KitchenAid® Streamline Cast Iron 4-Quart Casserole dish or large stainless steel pan, heat your oil (peanut, grape seed or canola) over high heat. The oil temperature for frying should be between 350-365 degrees. (Tip: if you do not have a thermometer, place the end of a wooden spoon into the oil. If you see bubbles form around the wood and they start to float up, your oil is hot enough to cook with.) Prep a paper towel lined plate, along with your spider-frying utensil and begin frying.
When your oil is ready, dip your clean, deveined, tail-less shrimp (one at a time) into the tempura mix batter and directly into the hot oil. Repeat until you have a single layer of shrimp in your pan, none overlapping each other. You want each shrimp to have plenty of room in the pan. You can now turn the heat down slightly to medium-high. Allow the shrimp to cook, on each side and remove when the golden crunchy exterior has formed and you can see that the shrimp is cooked and has turned pink. Remove from the oil and onto the paper towel lined plate. Repeat until all of your shrimp has been cooked.
To assemble your Shrimp Tempura Banh Mi
If using, spread on some mayonnaise and then the hoisin sauce mixture in the toasted French bread baguette. Top with the fresh green bell pepper and zucchini strips. Layer on the shrimp tempura and top with the pickled vegetables and fresh cilantro. Serve with sriracha sauce and jalapeños if desired.
Slice and enjoy!
Notes for the Cook:
-If you are not able to pickle the vegetables the day before and refrigerate overnight, leave them in the pickling juice for at least 1-2 hours before using.
– If you have leftover tempura batter mix, coat some carrots, green bell pepper strips or zucchini strips and fry them up!
Print
*The Contributor of this post has been compensated by KitchenAid for this post, but this post represents the Contributor's own opinion.*