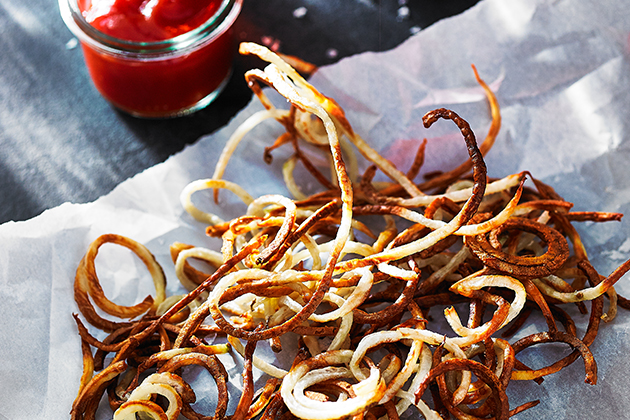 Shoestring Potatoes
Makes 2 servings
INGREDIENTS
2 russet potatoes
2 teaspoons vegetable oil
1/2 teaspoon coarse salt
For sriracha mayo
1/4 cup mayonnaise
1 teaspoon sriracha
For parsley and pepper mayo
1/4 cup mayonnaise
1 teaspoon chopped fresh parsley
1/2 teaspoon freshly ground black pepper
DIRECTIONS
Preheat oven to 400°F.
Attach Spiralizer Attachment to stand mixer. Center one potato on fruit and vegetable skewer; attach to Spiralizer. Attach peeling blade and fine spiralizing blade and position at end of potato. Place medium bowl below blade to catch potatoes and peel. Turn stand mixer to speed 4 and process until blade reaches end of potato. Repeat with remaining potato.
Remove peel from bowl. Add vegetable oil; toss to coat. Spread potatoes in single layer on large baking sheet.
Bake about 18 minutes or until potatoes are golden, stirring once.
Meanwhile, combine 1/4 cup mayonnaise and sriracha in small bowl. Combine 1/4 cup mayonnaise, parsley and black pepper in another small bowl. Sprinkle salt over potatoes; serve immediately with desired dipping sauce.

Print
*The Contributor of this post has been compensated by KitchenAid for this post, but this post represents the Contributor's own opinion.*