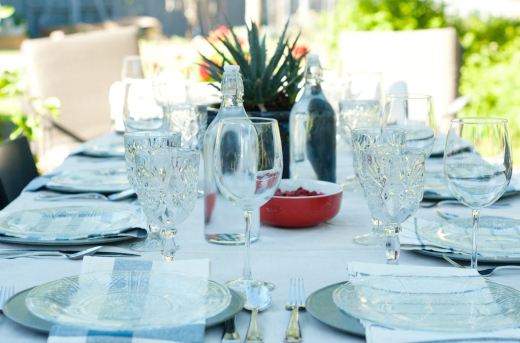 Taking advantage of the warm weather and long hours of sunshine, it's fun to plan a dinner party in the great outdoors. What I love about summer entertaining is the fresh produce that is accessible, either in the garden or at the local Farmer's Market, and how easy it is to plan a dinner party and bring friends together, even if it's last minute.
Starting with my canvas drop-cloth tablecloth, I set the table with a simple blue and white theme, using IKEA dishtowels as napkins and glass plates and clear wine glasses.
The center of the table had an aloe plant in a blue pot, and we set fresh garden raspberries in bowls and jars around the table.
Using the fruits of our labor, from our city garden, is a generous way of sharing it with our friends at a dinner party.
Easy tips to setting a summer table:
1. Start with a theme and build the table around it. I knew I wanted blue and white, and wanted to accent it with raspberries.
2. Use a canvas drop cloth that you can purchase at your favorite home store. You can reuse these over and over again.
3. Think light dish towels for a larger napkin, especially if you're serving a dish that requires a lot of wiping of your hands (grilled ribs?).
4. Serve a variety of drinks, maybe even a signature drink, but don't forget the water bottles glasses, bottles or pitcher on the table. When it's all said and done, water is the beverage of choice.
5. Have the table set when the guests arrive. At first sight, it sets the stage for a great gathering to come!
My philosophy of entertaining is to keep it simple, plan ahead, get the table set early, make sure the grill is ready and the food is prepped when the guests arrive. Of course it's okay if things are not perfect, and you give a job or two to your guests to wrap up the prep work in the kitchen. Guests love to mingle in the kitchen or around the KitchenAid® Grill.

Summer entertaining is about being happy, casual, and cooking with freshest ingredients. You can always hit the farm stands and pick up produce for that night's dinner. Toss it together right at the KitchenAid® Grill.
It all comes together for an elegant, delicious, most flavorful summer meal.
The kind of party that your guests can't stop talking about!
*The Contributor of this post was provided with the appliance mentioned above free of charge, but this post represents the Contributor's own opinion.*