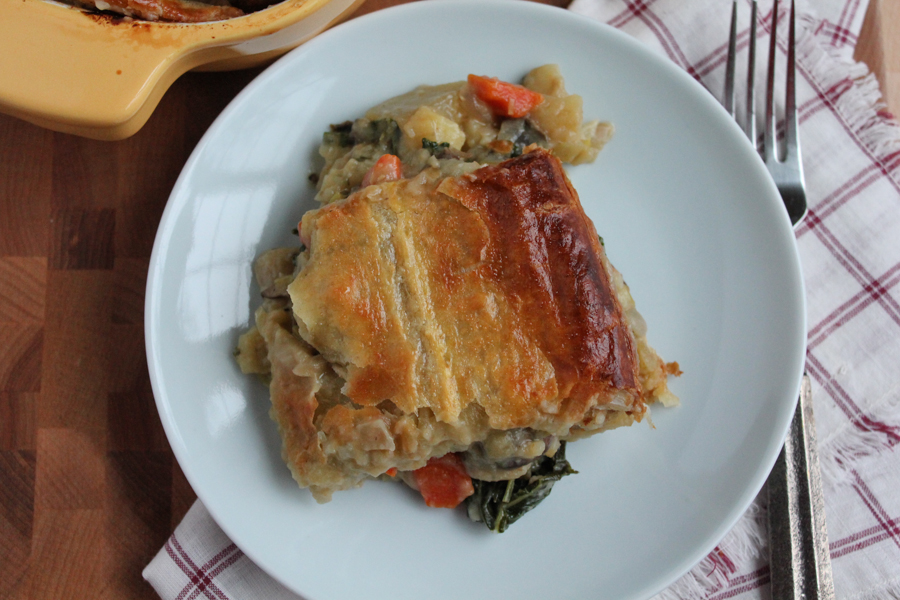 Even though my husband and I love meat, we have learned over the years what eating too much meat (or anything for that matter) does to our bodies and energy levels. We spent the holidays in Dallas with my parents and had our fill of steak, Korean barbecue and more. We love meat but now we know what our limits are, and after even just one or two days filled with meat, I have to give my body a break and fill up with some greens, roughage and vegetables.
My husband's main complaint when it comes to vegetarian food is that it's not filling. He is wrong. So wrong. There are certain vegetables and other forms of protein, that, when prepared the right way, can be as filling and hearty as meat. Portobello mushrooms for example, or tofu and beans or even, sweet potatoes.
Enter this glorious seasonal vegetarian pot pie. Now, we are in the dead of winter here in Wisconsin and it's cold. I mean crazy cold. So, food has to be really warm and filling. And for me, I like weeknight dinners to be a bit easier so this veggie pot pie fits the bill in all categories. It's filled with sweet potatoes, carrots, onions, leeks, mushrooms and kale, some of my favorite seasonal winter vegetables. And I used ready-made frozen puff pastry sheets (defrosted) for this pot pie because, come on, when it comes to pot pie anything, the crust has to be buttery, flaky and everything good.
I used a casserole dish from my KitchenAid Nesting Ceramic 4-Piece Set. These beautiful, contemporary-styled casseroles retain heat longer than standard bakeware and are ideal for lasagnas, noodle casseroles, shepherd's pie and more! I love the different sizes and the fact that they can be easily stacked and stored away. They are freezer and microwave safe and won't absorb oils, odors, or sauces. They also resist staining, chipping, and cracking.
After my vegetable filling was ready, I simply laid the defrosted puff pastry dough into my KitchenAid® Nesting Ceramic Casserole dish and poured the filling in.
Then, I used the second puff pastry sheet to cover the top, trimmed off the excess and pierced the puff pastry dough to allow steam to escape while baking.
There were no complaints of being hungry 30 minutes after dinner and in fact, my meat-loving husband went for seconds. This one is definitely going into our winter dinner rotation and I hope you give this seasonal vegetarian pot pie a try!
Seasonal Vegetarian Pot Pie
INGREDIENTS
1 cup plus 1 tablespoon vegetable broth
1 large sized sweet potato, peeled and chopped
1 large sized carrot, peeled and chopped
1 small onion, peeled and chopped
8 ounces cremini mushrooms, sliced
1 large leek, tender white and light green parts only, sliced thin
Salt and pepper to taste
2 to 3 cups kale, chopped
1/2 cup milk
2 tablespoons all-purpose flour
1/2 to 1 tablespoon Dijon mustard
1 tablespoon mascarpone
2 frozen puff pastry sheets, defrosted
1 egg + 1 teaspoon water, beaten for egg wash
DIRECTIONS
Preheat the oven to 400 degrees. Using a large sized saucepan, bring the vegetable broth to a boil. Add the sweet potatoes, carrots, onions, mushrooms and leeks. Season with salt and pepper and let simmer for about 10 to 15 minutes, or until the vegetables are tender. Add the kale in for the last 5 minutes only.
Meanwhile, using a small bowl, whisk together the milk and flour until there are no lumps. After the vegetables are tender, slowly pour in the flour mixture to the pan, stirring until everything thickens.
Season with a little more salt and pepper, remove from the heat and mix in the Dijon mustard and mascarpone. Taste and adjust any ingredients as needed.
Lay one defrosted puff pastry sheet into your KitchenAid® Nesting Ceramic Casserole, adjusting to fit the dish. Pour the vegetable filling into the dish, onto the puff pastry sheet and cover with the second puff pastry sheet, trimming off any excess and piercing the puff pastry dough on top to allow steam to escape while baking.
Using a pastry brush, brush on the egg wash over the top of the pot pie and bake for about 25 to 30 minutes, or until golden brown and heated through.
Print
*The Contributor of this post has been compensated by KitchenAid for this post, but this post represents the Contributor's own opinion.*