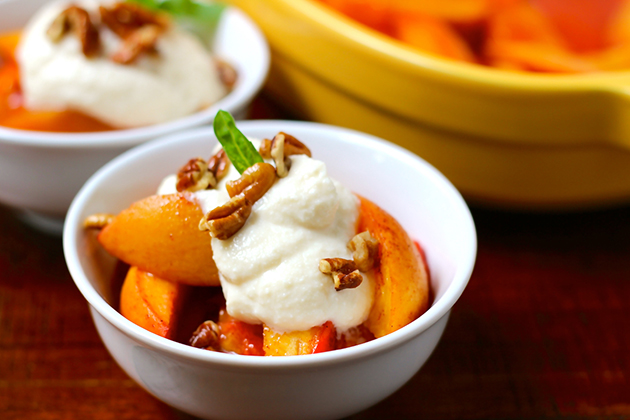 Living in Georgia, I hear about peaches all year long – but now is this fuzzy fruit's real time to shine. July and August present some of the best growing conditions for peaches from the Deep South up to New Jersey in the northeast and California to the west.
Sought after for their distinctive flavor, peaches are a good source of vitamin C and fiber. The perfect sweet snack for waist management, one medium peach contains just under 60 calories.
Peaches can be enjoyed fresh, frozen, dried or even canned but nothing compares to the smell and flavor of a fresh ripe peach. Here in Georgia, peach season peaks in July and August. This is when these fuzzy drupes have the best taste, texture and cost.
There are over 300 different varieties of peaches that fall into one of three types. With a pit that clings to the flesh making it hard to remove, Clingstone peaches are available early in the season. Available through late August, Freestone peaches are the ones you're probably most familiar with – the pit pops right out of these. And then there are semi-freestone peaches that are somewhere in the middle. All are delicious but Clingstone peaches are best for canning, preserving and freezing. Freestone varieties are great in your favorite desserts, salads and as a snack.
To pick the perfect peach, use your senses. Look for those with tight, smooth skin – no wrinkles. It's okay to discriminate here… those wrinkles may mean it's been sitting around a little too long. Smell the peach. Choose peaches with a fragrant, fruity, peachy aroma. Finally touch it. Choose firm peaches – avoiding those with soft spots.
With so much flavor, peaches are incredibly versatile. Try them in salads, frozen fruit pops, as a base for a fruity vinaigrette and a number of delicious desserts. Use very ripe or too ripe peaches in jams and jellies. Use firm, just ripe enough peaches in cobblers, pies and recipes like my Vanilla Roasted Peaches below.
This recipe is easy enough for a weeknight dessert and sophisticated enough to serve at a dinner party. Add some granola or Greek yogurt to enjoy the leftovers for breakfast the next day. Here's the incredibly easy recipe…
Preheat oven to 450°F. Lightly butter or oil your 1.5-quart KitchenAid® Ceramic Nesting Casserole Set and put aside.
Pit and slice the peaches. I sliced 4 medium sized peaches into eighths. This size held up well in the hot oven. If you slice them any smaller, adjust the cooking time to avoid overly soft peaches.
Toss the sliced peaches with brown sugar, lemon juice, cinnamon, vanilla and salt. Pour into the prepared casserole dish. Roast at 450°F for about 12 minutes.
While the peaches roast, whip the ricotta and honey using your KitchenAid® 3-Speed Hand Blender.
Whip to desired consistency.
By now, your kitchen smells amazing – an irresistible blend of vanilla, cinnamon and sweet peaches. Check the roasted peaches for doneness after about 12 minutes. Remove from the oven and serve with the honey whipped ricotta and pecans.
Vanilla Roasted Peaches with Honey Whipped Ricotta, Pecans & Basil
This simple dish doubles as dessert and the base for a quick breakfast.
Makes 4 servings
INGREDIENTS
4 fresh peaches, pitted
2 tablespoons brown sugar*
Juice of 1/2 a lemon
1 teaspoon vanilla extract
1/2 teaspoon ground cinnamon
Pinch of salt
1/2 cup ricotta cheese
1 tablespoon honey
2 tablespoons toasted pecans
2 tablespoons fresh basil, chopped (optional)
Butter or coconut oil to oil the dish
* Adjust based on the sweetness of your peaches.
DIRECTIONS
Preheat the oven to 450°F. Prepare your 1.5-quart KitchenAid® Ceramic Nesting Casserole Set  by lightly greasing with butter or coconut oil. Set aside.
Pit the peaches. Slice into eighths.
In a medium bowl, combine the peaches, brown sugar, lemon, vanilla, cinnamon and salt.
Lightly butter or oil the casserole dish. Add the peaches. Roast at 450°F for 12 minutes or until peaches are cooked through but not soft.
While the peaches cook, whip the ricotta with the honey. Set aside.
Remove the cooked peaches from oven. Portion into 4 small bowls. Top with 2 tablespoons of honey whipped ricotta and sprinkle with pecans and basil. Serve warm.

Print
*The Contributor of this post has been compensated by KitchenAid for this post, but this post represents the Contributor's own opinion.*