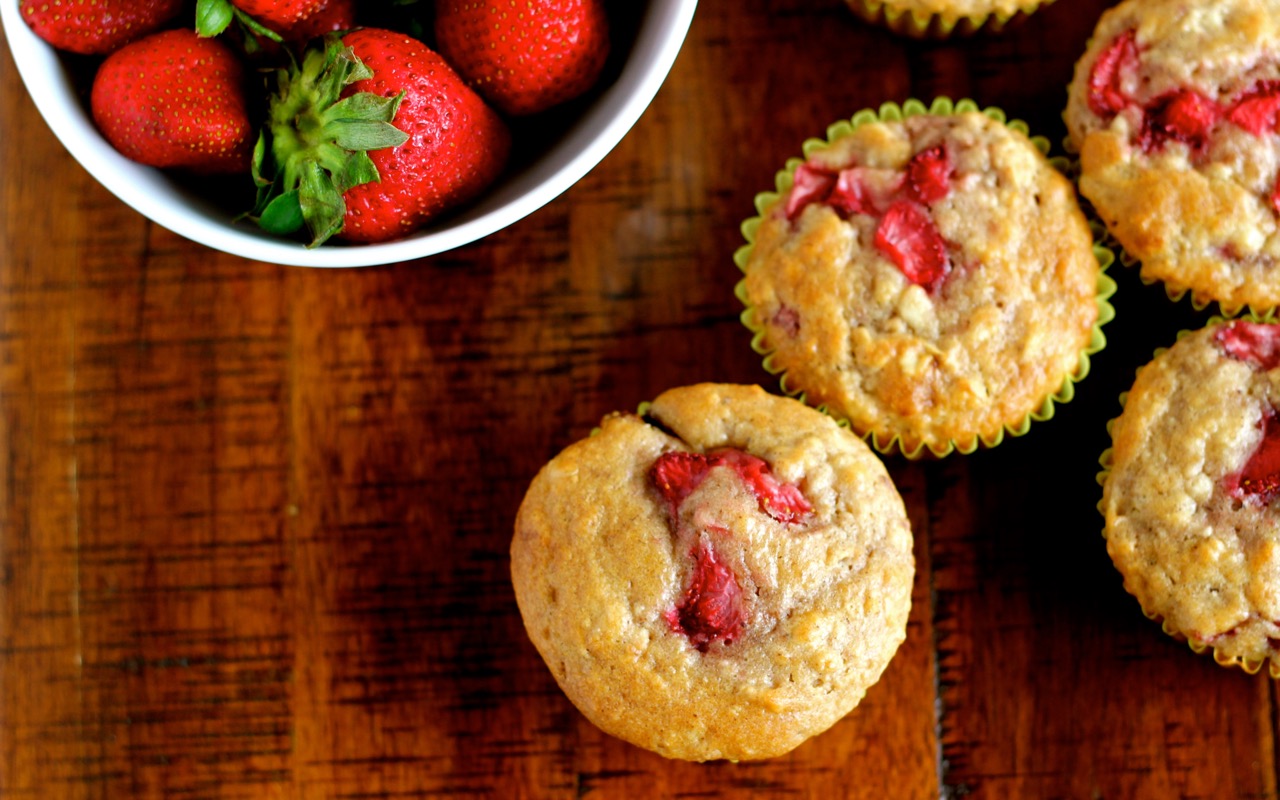 If you're craving something sweet, fresh strawberries in springtime are the perfect pick.
Strawberries are a nourishing treat that weigh in at only 45 calories per cup. With a healthy dose of vitamin C, folate, potassium and other vital nutrients, these heart-shaped gems are the perfect heart-healthy snack. Even more, research suggests that compounds in raw strawberries might help in the fight against cancer and may slow down how quickly the nervous system ages.
Though frozen strawberries are always available, few things compare to a fragrant fresh strawberry in the spring.
In most of the United States, strawberry season peaks in May. This is when they taste best and usually cost the least. Strawberries should be fragrant but not overly so. Choose strawberries with smooth, tight skin and true red color. Skip wet looking berries with soft spots. Strawberries tend to mold quickly. To stretch the life of your strawberries, wash them just before you eat them – not days ahead.
My favorite way to enjoy strawberries is simply with a dollop of fresh whipped cream or honeyed ricotta. But strawberries are quite versatile. Add strawberries to a green salad, roast them, puree them into a sauce for dessert or pancakes, blend them into a smoothie and add them to desserts or muffins as I did in these Strawberry Oatmeal Breakfast Muffins.
Spring is a busy time of year. These easy muffins make the perfect grab and go breakfast. Let's get to the recipe…
Preheat your KitchenAid® 12" Convection Digital Countertop Oven to 400°F (with convection on) using the bake setting.
Prep the wet and dry ingredients in two separate bowls. When ready, add the dry ingredients into the wet.
Gently fold the strawberries into the batter.
Spoon the batter equally into the prepared KitchenAid® Professional-Grade Nonstick 6-Cavity Regular Sized Muffin Pans. (This recipe makes 12 regular muffins.)
Bake 12 minutes or until a toothpick comes out clean.
Let the muffins hang out in the pan for about 5 minutes before you bite into one. Transfer the rest of the rest to a cooling rack.
Strawberry Oatmeal Breakfast Muffins
Perfect with Greek yogurt or a smear of natural peanut butter, these strawberry oatmeal breakfast muffins are a healthy and satisfying start to the day.
Makes 12 muffins
INGREDIENTS
1 cup uncooked old fashioned oats
1 cup buttermilk
1 cup all purpose flour (can sub up to ½ cup whole wheat or almond flour)
1/2 teaspoon salt
1 teaspoon baking powder
1/2 teaspoon baking soda
1/2 cup packed light brown sugar
1 egg, beaten
1/4 cup oil (grapeseed, melted coconut, etc.)
1 teaspoon vanilla extract
1/2 teaspoon ground cinnamon
1 1/2 cup diced fresh strawberries
DIRECTIONS
Using the "bake" setting with convection on, preheat your KitchenAid® 12" Convection Digital Countertop Oven to 400°F. Lightly spray or grease the muffin tin. Set aside.
In a large bowl, combine oats and buttermilk to soak 15 minutes. In a second bowl, whisk together flour, salt, baking soda, baking powder, salt and cinnamon.
Stir the oil, egg, brown sugar and vanilla into the soaked oat mixture. Add dry ingredients. Stir just until combined. Do not overmix. Gently fold strawberries into the batter.
Spoon the batter into the prepared KitchenAid® Nonstick Muffin Pans. Bake 12 minutes.
Remove from the oven. Let the muffins cool in the pan 5 minutes then transfer to a cooling rack.
These muffins are best served warm but also freeze and reheat well.
NOTE: I don't recommend using paper muffin cups in this recipe. Baking directly on the muffin tin produced the best results – keeping the moisture in and creating a nice crust on the outside. Besides, the pan is very easy to clean.

Print
*The Contributor of this post has been compensated by KitchenAid for this post, but this post represents the Contributor's own opinion.*