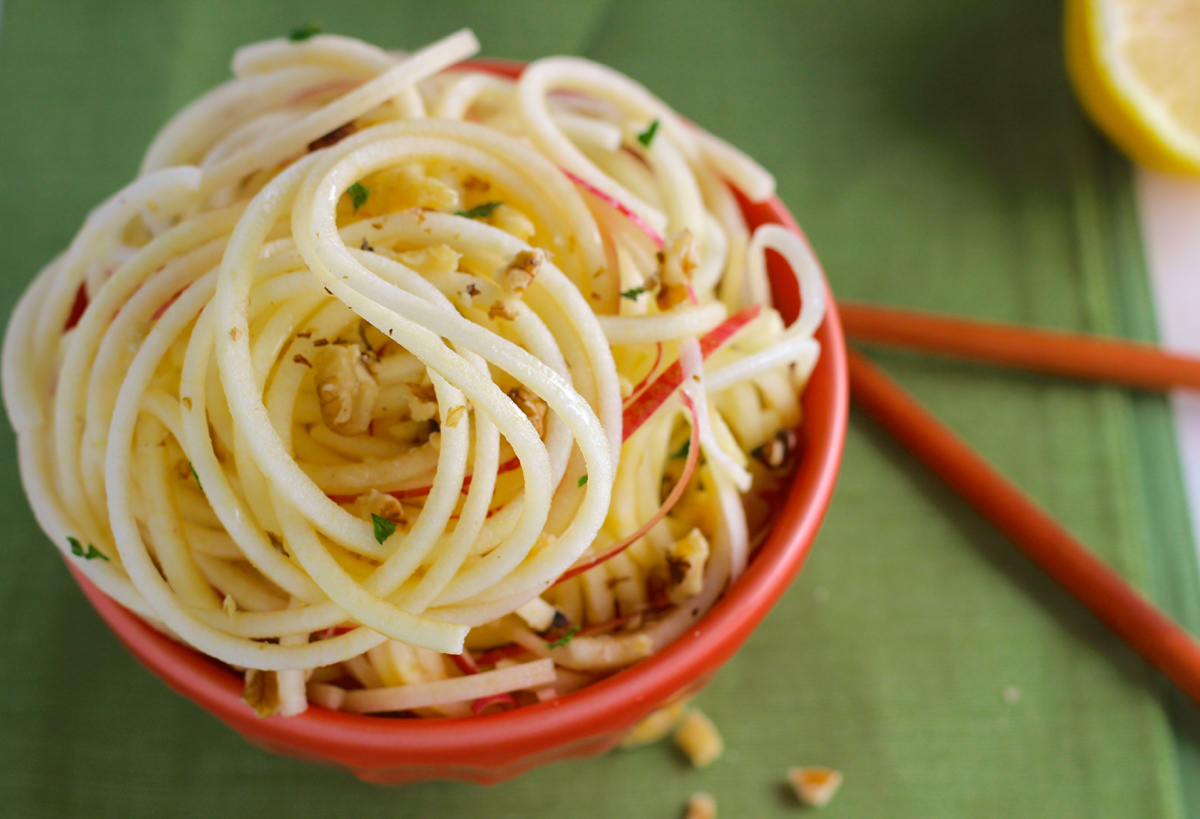 With over 2,500 known varieties grown in the United States, apples are as versatile as they are delicious and nutritious.
A medium apple counts as a cup of fruit and delivers just 95 calories. It's a good source of immune-boosting vitamin C and satisfying fiber. Though apples don't get the superfood status of many other fruits, apples are a great choice for heart health. Its soluble fiber has been shown to lower bad cholesterol levels and white-fleshed fruits, like apples, have been associated with a lower risk of stroke. And with so much fiber, apples are a satisfying snack for weight management.
Apples are perfectly portable too. Feel free to stock up when they go on sale. Apples can be stored for at least 3 weeks in the refrigerator and still maintain that fresh, crisp texture. Crunchy and sweet, apples can be used in many ways in the kitchen.
For this recipe, I was excited to use the KitchenAid® Spiralizer Attachment to create my Spiralized Apple Walnut Basil Salad.
First I created the walnut vinaigrette for the salad by whisking together the walnut oil, vinegar, shallot, salt and pepper. Then I washed and de-stemmed two apples. Using my KitchenAid® Stand Mixer fitted with the Spiralizer Attachment with the fine spiralizing blade, I mounted an apple on the Spiralizer.
Be sure to use firm apples. Soft, overripe ones will break into smaller pieces and not have the same crunch and color as those of a firm apple. Save your overripe apples for applesauce or apple bread.
The fruit is firmly nestled in the Spiralizer, ready to go for a spin. No coring necessary.
Spiralizing the apple couldn't be easier. Once the fruit is in place, simply turn the Stand Mixer to the slowest setting to start spiralizing. If you're in a hurry, you can speed it up but it's cool to see the strands pile up in a bowl.
I used the fine blade to create long, thin noodles about the size of spaghetti.
I love that I can easily incorporate the peel into the recipe. Not only does it provide color for visual appeal, but it also doubles the fiber from the apples and adds slightly more vitamin A, vitamin C and potassium to the final dish. But if you have picky eaters, the Spiralizer Attachment is also equipped with a peeling blade to get rid of the skin.
This simple recipe idea is just one way you can enjoy spiralized apples. To add even more color and nutrition to this dish, you could add a few ribbons of spiralized carrots or beets.
This new gadget is fun and easy to use. The options are endless:
Create a cute crudité. Spiralize beets, carrots, apples and arrange the beautiful noodles on a platter for your next dinner party with a light vinaigrette.
Kids will love this new way to enjoy apples that look like spaghetti. Drizzle the apples with a cinnamon spiked peanut sauce for a fun play on apples with peanut butter.
Making a pie? Use the Spiralizer Attachment to easily core, peel and slice the apples in just a few minutes.
So what are you inspired to make? Share your take on this recipe with us on Instagram using #MadeWithKitchenAid for a chance to be featured!
Spiralized Apple Walnut Basil Salad
Makes 2 servings
INGREDIENTS
3 tablespoons roasted walnut oil
1 tablespoon apple cider vinegar
1 tablespoon minced shallot
Salt and pepper to taste
2 medium apples such as Honeycrisp, Fuji or SweeTango
2 tablespoons chopped, toasted walnuts
1 tablespoon fresh basil, julienned
DIRECTIONS
Whisk together the walnut oil, vinegar, shallot, salt and pepper. Set the vinaigrette aside.
Prep and spiralize the apples using your KitchenAid® Stand Mixer fitted with the Spiralizer Attachment with the fine spiralizing blade.
Lightly dress the apples with the walnut vinaigrette. Garnish with chopped walnuts and fresh basil leaves.
* Note: If you will not be eating your apple salad immediately, you can dip the apple spirals in a 1:3 lemon to water mix to help prevent browning.
Print
*The Contributor of this post has been compensated by KitchenAid for this post, but this post represents the Contributor's own opinion.*