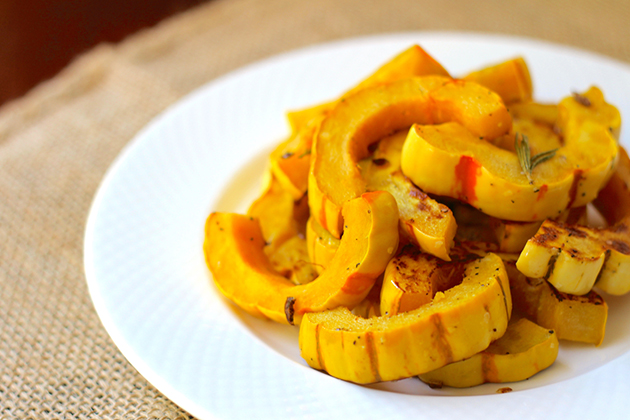 Delicata squash is the perfect fall into winter vegetable. The yellow, orange and green colors immediately bring autumn thoughts to mind. If you haven't tried this beautiful winter squash, now is the perfect time.
Thanks to Melissa's Produce for providing plenty of delicata squash, shallots and the most fragrant fresh rosemary I've ever had to test my Rosemary Roasted Delicata Squash recipe.
Delicata squash is bursting with vitamin A and is a good source of vitamin C. A ripe delicata squash can be any shade of pale yellow or orange with green, orange or red striations. The flavor should be smooth and sweet.
Choose delicata squash that's firm with no soft spots and slightly heavy for its size. Dull or wrinkled skin or squash that's unusually light for its size is a telltale sign that it is a little old. Like other winter squash, delicata can be stored in a cool, dry spot for up to 3 months. You can enjoy it as long as it's cool outside!
You should wash all produce whether you'll eat the skin or not but pay close attention to the outside of the delicata squash.
Though it's hard to the touch, the delicata squash skin is completely edible. Compared to other winter squash varieties, this makes it much easier to prepare – plus there's less waste. Unlike some other unwieldy gourds, this one is small enough to slice into easily with a chef's knife. No microwaving, baking, boiling or steaming required to cut it up.
As intimidating as it looks, getting into the delicata squash is not that hard. Just trim the ends, slice in half and scoop out the seeds with a spoon. For this Rosemary Roasted Delicata Squash recipe, the squash is cut into 1-inch strips. Using the same size strips ensures even cooking – plus it looks pretty.
There's no need for cooking spray if you're using a KitchenAid® Professional-Grade Nonstick Half Sheet Pan. Simply dress the squash with olive oil, rosemary, shallots and coarse salt and pepper to taste.
Roasting intensifies the sweet flavor of the squash. The shallots add a subtle onion flavor without overpowering the dish and the rosemary smells incredible as it roasts and flavors the squash in the oven. This short list of flavorful ingredients combine to create sweet and savory caramelized perfection.
Roasting is one of the simplest ways to enjoy delicata squash. Delicata squash can stand on it's own as a side dish but it's also perfect for stuffing with whole grains or pureed into a smooth and creamy fall soup.
Rosemary Roasted Delicata Squash
Makes 6 servings
INGREDIENTS
2 medium delicata squash
1 tablespoon olive oil
1 shallot finely diced
4 fresh rosemary sprigs
Coarse salt and pepper to taste
DIRECTIONS
Preheat oven to 425°F.
Wash, slice and scoop the seeds from the delicata squash.
Cut the halves into 1-inch strips. Add the cut squash to your KitchenAid® Professional-Grade Nonstick Half Sheet Pan leaving plenty of space between the pieces. Drizzle with olive oil and sprinkle with the shallots and rosemary, salt and pepper. Toss to coat.
Roast about 20 minutes, turning once.
Enjoy warm as a side dish or chop into bite size pieces to enjoy over kale or other greens with your favorite vinaigrette for a sweet and savory fall salad.

Print
*The Contributor of this post has been compensated by KitchenAid for this post, but this post represents the Contributor's own opinion.*