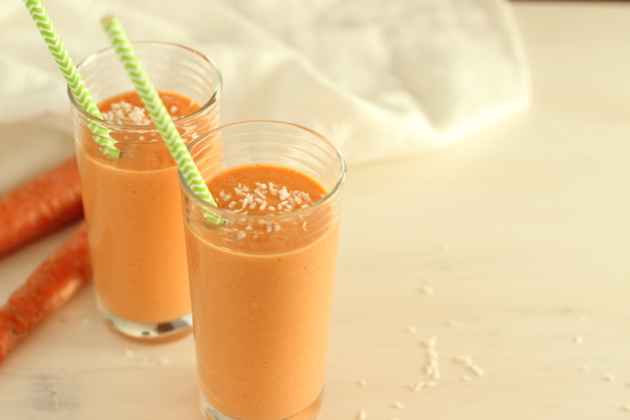 Aside from its cheerful color, the beauty of this Carrot Cake Mango Smoothie recipe is that it comes together with a few simple ingredients you probably already have in your kitchen. This recipe is also gluten-free, dairy-free, and vegan, making it the perfect treat for anyone with food allergies. Plus, the ingredients are packed with tons of health benefits: the carrots provide an excellent source of vitamin A & C, while the sweet mangos pack in fiber and even more vitamin A & C. It's a recipe for glowing skin and a happy belly!
This smoothie couldn't be easier to put together. Start by slicing some carrots. You'll need around two cups of carrots for two 8-ounce smoothies. I used 4 skinny carrots, but 2 medium sized ones should work. Add them to your KitchenAid® 5-Speed Diamond Blender.
Then add the frozen mango, coconut milk, coconut flakes and walnuts to your Diamond Blender. Top with a dash of your favorite spices. I used ginger, cinnamon and the tiniest bit of nutmeg to bring a carrot cake-like flavor to the smoothie.
Using the Puree setting on your Blender, puree the ingredients until smooth – about 30-60 seconds.
This setting makes it a breeze to make smoothies, and it easily purees your smoothie to an ideal consistency. After pureeing, add a drizzle of maple syrup to taste.
Pour into your favorite glass or travel mug. Top with coconut flakes or crushed walnuts and enjoy!
This recipe is a healthy and fun way to eat your fruits and veggies. How would you switch it up? Be sure to share your take on this Carrot Cake Mango Smoothie recipe with us on Instagram using #MadeWithKitchenAid for a chance to be featured.
Carrot Cake Mango Smoothie
Makes 2 servings
INGREDIENTS
1 cup plain or unsweetened coconut milk (or other milk of choice)
2 cups sliced carrots (about 4 slim carrots)
1 cup frozen mango
1 tablespoon chopped toasted walnuts
2 tablespoons coconut flakes plus more for topping
Ground cinnamon, nutmeg and ginger to taste
Maple syrup to taste (optional)
DIRECTIONS
Add all ingredients to your KitchenAid® 5-Speed Diamond Blender. Puree until smooth, about 30-60 seconds.
Add a drizzle of maple syrup to taste, as much or as little as you'd like depending on your preference.
Top with leftover coconut flakes. Enjoy immediately.
Print
*The Contributor of this post has been compensated by KitchenAid for this post, but this post represents the Contributor's own opinion.*