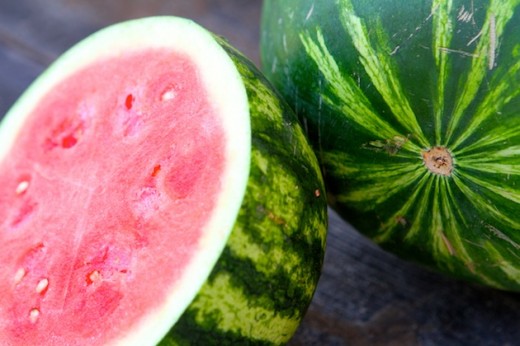 Nothing recalls summertime fun like a fresh watermelon and it's hard not smile when you have the sweet and sticky juice running down your chin. It's one of summers sweetest and most fun treats to eat. Sliced, pureed, cubed or scooped, watermelon is juicy and delicious. It not only quenches your thirst but it can satisfy a sweet tooth as well! Don't feel too guilty if you eat too much watermelon, it not only tastes great but it's healthy too and since its packed full of water it can be that guilt-free snack anytime. So summon up those blissful summer memories gone by and enjoy a watermelon slice, or two, or three, while they are in season.
The Basics
Watermelon is typically round, spherical or oblong in shape. They can range in size from small to very large with a thick green outer skin that is either striped or spotted that ranges in color from light green to deeper green shades. The flesh of watermelon is crunchy and sweet. It is usually pinkish-red and has either black or white seeds but some watermelon flesh can be orange, yellow or white in color.
In Season
Watermelon is at its peak season from June-August.
What to Look For
When looking for the perfect watermelon, make sure that it does not have any deep open cuts, bruising or large dents on its outer skin. The rind should be fairly smooth and dull. It should be firm and feel heavy for its size since most of its weight comes from water. Watermelons will have a creamy yellow spot on the outer skin from where it sat on the ground growing and ripening, so don't be concerned about the discoloration.
How to Store
Store your uncut watermelon in temperatures ranging from 50-60 degrees Fahrenheit. Storing it at room temperature will increase the decay process. Do not store watermelon near high ethylene producing fruit such as apples or peaches since watermelon can become very ripe very quickly.
When you are ready to cut your watermelon be sure to wash the outer rind to prevent bacterial contamination. If it is too big to place in the sink, simply wash it with a wet paper towel. Once your watermelon is cut, keep it in the refrigerator in a container with a lid and store for up to 3 days.
Watermelon can be cut into chunks or pureed and placed in an airtight container for up to 3 months in your freezer.
Nutrition
Watermelon is rich in vitamins and low in calories. Every 1 1/2 cups of watermelon contains roughly 91 calories. It contains levels of vitamin A, B6 and C, all of which help boost immunity. It is also a good source of potassium. Watermelon also has high levels of lycopene, which is important to cardiovascular health.
Helpful Tips
Try giving your watermelon a thump when purchasing. The deeper and hollower the sound the riper the watermelon will typically be.
Try roasting the watermelon seeds for a snack.
The rind of the watermelon is also edible and can be pickled and enjoyed. If pickling the rind be sure to buy a certified organic watermelon to decrease the risk of any pesticide residue on the skin.
Try pureeing the flesh of your watermelon and freeze it in ice cube trays to use in beverages to keep them cool.
Looking for watermelon recipes? Give these a try:
Watermelon Feta Salad from Two Peas and Their Pod
Watermelon Lemon Coconut Drink from KitchenAid
Red, White, and Blue Salad from FoodieCrush
Spicy Watermelon Bomb from Heather Christo
Thai Watermelon Salad from Shutterbean
Watermelon Blueberry Salsa from Love and Olive Oil
Watermelon Gazpacho from A Couple Cooks
Ginger Watermelon Italian Ice from Oh My Veggies
Blueberry Watermelon Smoothie from Add a Pinch
Watermelon Sorbet from Leite's Culinaria
*The Contributor of this post has been compensated by KitchenAid for this post, but this post represents the Contributor's own opinion.*