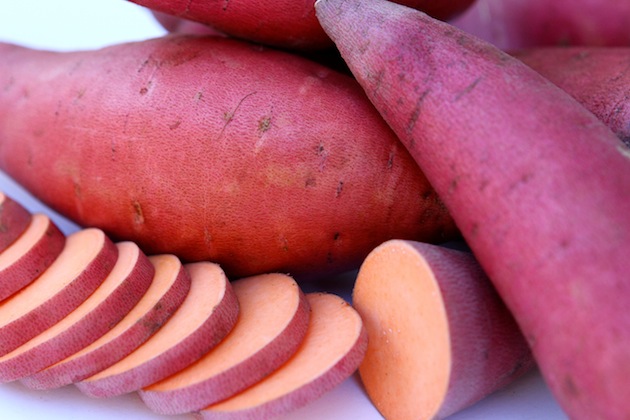 Sweet potatoes are delicious, cheap, and available year round; what's not to love! They add a great vibrant color to any dish and are loaded with health benefits, leaving you feeling guilt free. And these days they are for more than just smothering with brown sugar and marshmallows or using once a year as a Thanksgiving side. Sweet potatoes are great steamed, baked, pureed, sautéed or even dehydrated and eaten as chips. They are even delicious used in sweet dishes as well, like pies, breads, bread pudding, muffins and cookies. Since they are packed full of health benefits they are a great substitute for regular potatoes in almost any recipe. So pick up some sweet potatoes today and enjoy the flavor and nutrition they have to offer.
The Basics
Sweet potato skin and flesh can range in color from cream to purple although the orange and cream fleshed ones are most common. Their shape can be similar to that of a potato or can be longer in form with a large middle section that becomes skinnier towards the ends.
In Season
Peak season for sweet potatoes is typically the fall to winter months though they can be found in grocery stores year round.
What to Look For
When selecting sweet potatoes be sure to look for ones that are firm and feel heavy. Make sure they do not have any rubbery ends, soft spots or any signs of sprouting. Also try to avoid any that have deep or open cuts. The skin of a sweet potato should be tight and not wrinkled. Be sure to check the tips of the sweet potatoes for decay, as this is where it usually begins.
How to Store
Sweet potatoes should be stored preferably loose, in a cool and dark place away from any heat sources. It is best not to refrigerate them, as refrigerator temperatures will actually alter their flavor and texture. Try to use your sweet potatoes within two weeks of purchase.
Nutrition
Sweet potatoes contain a good amount of beneficial antioxidants, contain anti-inflammatory benefits and have the potential to improve blood sugar regulation. They are high in vitamins A and C, packed with calcium and potassium and contain about 114 calories per 1 cup. Sweet potatoes are a good source of fiber and low in fat.
Helpful Tips
If you are not buying organically grown sweet potatoes, be sure to peel their skin before eating as they are often treated with unwanted chemicals or wax.
To keep the color of your sweet potatoes from turning brown once cut, try soaking them in a bath of water until you are ready to use them.
To quickly and easily peel sweet potatoes, place them in boiling water then quickly immerse them into an ice bath and the skins will practically fall off.
Sweet potatoes can be substituted for regular potatoes in almost any recipe.
Do not bake sweet potatoes wrapped in foil. Instead bake them without wrapping them and they will caramelize while cooking.
Cooked sweet potatoes will actually freeze quite well. To do so, cook your sweet potatoes whole using your preferred method, with skin on. Let cool and remove skin. Either slice or mash your sweet potatoes and place in an airtight container in your freezer for up to 12 months.
Looking for sweet potato recipes? Give these a try:
Loaded Sweet Potato Nachos from Two Peas and Their Pod
Spicy Sweet Potato Fries with Avocado Dip from Shutterbean
Sweet Potato and Green Onion Biscuits from Heather Christo
Sweet Potato and Black Bean Salad from Two Peas and Their Pod
Sweet Potato Gnocchi with Balsamic Brown Butter from Just a Taste
Sweet Potato Kale Pizza from Two Peas and Their Pod
Crab Salad Sweet Potato Chip Bites from FoodieCrush
Southwestern Sweet Potato Salad from Two Peas and Their Pod
Roasted Whipped Sweet Potatoes with Browned Butter from Simple Bites
Sweet Potato Pie from Joy the Baker
*The Contributor of this post has been compensated by KitchenAid for this post, but this post represents the Contributor's own opinion.*