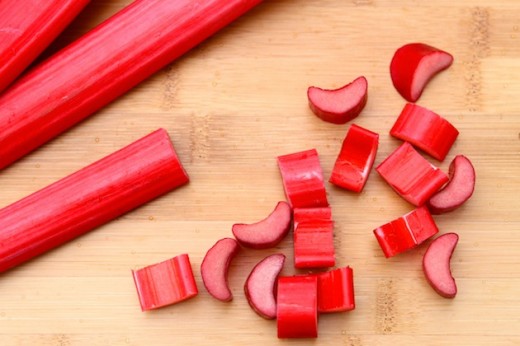 Get ready to pucker up, its rhubarb season! Pies, muffins, bars, cookies, cakes and breads; rhubarb is perfect for them all! This red beauty can also be paired with other delicious fruits or used in additional variations like pizzas, toppings for chicken and fish or even pickled. It's the perfect canvas for both savory and sweet dishes. So if you've been avoiding rhubarb, its time to grab a bundle and try adding it as a little tart surprise in one of your favorite dishes.
The Basics:
Rhubarb, often called the "pie plant" because of its common use as a pie filling, is a leafy stalked vegetable with a crisp stem similar to celery. The stalks are bright red in color and have a strong tart taste. It is often paired with sugar to offset the tartness. The leaves of rhubarb, cooked or raw, are quite toxic so it is important to avoid consuming them.
In Season:
Rhubarb's peak season is from April to June though it can typically be found in grocery stores from January through June.
What to Look For:
When buying rhubarb from your local grocery store or farmers market, be sure to look for firm, shiny stalks that are bright red in color. Other variations of rhubarb also include stalks varying in color from pink to speckled or green. The color variation has no bearing on the ripeness, although the deeper red the color the richer the flavor. Steer clear of any stalks that are bruised, have cuts or major blemishes. Try to choose stalks that are not limp or curled. The stalks that are smaller in diameter are younger and generally more tender. If the rhubarb stalks have leaves still attached, they should look fresh, although they should never be eaten!
Nutrition:
1 cup of uncooked rhubarb is about 26 calories. Rhubarb is fat, cholesterol and sodium free. It contains small amounts of potassium, fiber, vitamin K and calcium. The red stalks of the rhubarb provide a good source of vitamin A and beta-carotenes, which can help with healthy eyesight and fight against lung and oral cavity cancers.
How to Store:
Rhubarb can be kept in the refrigerator for up to 1 week if tightly wrapped in a plastic bag and left unwashed. When you are ready to use your rhubarb you will want to trim the ends off, including any remaining leaves and brown spots. Wash the stalks under cold running water and follow your recipes instructions.
To freeze rhubarb, wash it and remove any leaves. Cut it into 1-2 inch pieces and store in airtight containers or bags for up to 9 months.
Helpful Tips:
If you sweeten rhubarb after it is cooked you will need less sugar to offset the tartness.
Refresh your rhubarb by standing it in a pitcher of cold water. Let it stand for at least an hour.
One pound of uncooked rhubarb will yield about 2 cups of chopped cooked fruit or 3 cups of chopped raw fruit.
Rhubarb can be used as a substitute in most recipes that call for cranberries.
Try substituting rhubarb for half of the fruit in your favorite cobbler recipe to reduce the amount of sugar you will need to sweeten the dish.
Try enjoying rhubarb raw and dipping it in honey or sugar for a simple snack.
Try sweetening you rhubarb with honey, maple syrup or corn syrup instead of the usual granulate sugar.
Looking for rhubarb recipes? Give these a try:
Strawberry Rhubarb Baked French Toast from Two Peas and Their Pod
Strawberry Rhubarb Margaritas from Heather Christo
Honey Roasted Rhubarb from Two Peas and Their Pod
Roasted Salmon with Rhubarb and Red Cabbage from Love and Olive Oil
Rhubarb Applesauce from Two Peas and Their Pod
Easy Rhubarb Jam from Leite's Culinaria
Strawberry Rhubarb Shortcake from Two Peas and Their Pod
Rhubarb Strawberry Crumb Bars from White on Rice Couple
Rhubarb Apple Bread from Two Peas and Their Pod
Upside-Down Peach-Rhubarb Polenta Cake from Aida Mollenkamp
*The Contributor of this post has been compensated by KitchenAid for this post, but this post represents the Contributor's own opinion.*