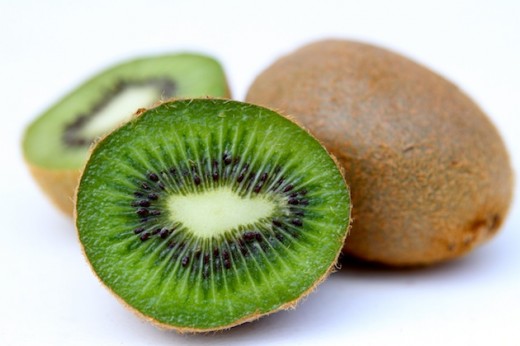 There is no other fruit like the kiwi. With a brown fuzzy outer skin and a brilliantly bright green creamy flesh, it is both sweet and tart and refreshingly distinctive from any other fruit. Because they are so delicious they are perfect to add to smoothies, green salads or in chutneys. And for a beautiful pop of color add them to a fruit salad or your favorite tart. The best part about kiwis is that they not only taste great but this tiny little fruit is also packed full of health benefits making it a super fruit all on its own. So go ahead enjoy a kiwi, or two, or maybe a whole bowl!
The Basics
The kiwi is one of the most beautiful fruits boasting a brown fuzzy outer skin, and a bright green flesh that is dotted with tiny black seeds. It is a small oval fruit and typically weighs about 4 ounces.
In Season
Kiwis can typically be found all year long in grocery stores but are most prevalent Fall through Spring.
What to Look For
Be sure to avoid buying any kiwis that are too soft, bruised, withered or contain any blemishes on the skin. A perfectly ripe kiwi should give slightly under pressure when pressed between your fingers. Don't worry about kiwi size as this has no barring on its ripeness.
How to Store
Kiwis can be kept at room temperature for a few days, away from any sun exposure, to help them ripen, or placed in the refrigerator and stored for up to four weeks until ready to eat. Once kiwi fruit has been cut, it is best to eat it right away, as it will become over ripe and soggy quite quickly.
Peeled slices of kiwi can be frozen individually by placing the cut pieces onto a cookie sheet then storing them in an airtight bag or container for up to 1 year.
Nutrition
Kiwi fruit is packed with antioxidant protection, has a great source of dietary fiber and can even help fight against macular degeneration.  Kiwi fruit is loaded with vitamin C and E, potassium, magnesium, folate and zinc to name a few. It has no fat, cholesterol or sodium and contains approximately 42 calories per kiwi.
Helpful Tips
Kiwi can act as a natural meat tenderizer. Either rub a cut kiwi on your meat or mash it with a fork and spread over your meat and let stand for 10-15 minutes.
Try placing your kiwis in a paper bag with a banana or apple to help them ripen faster.
Although the skins of kiwis can be eaten, if you are not a fan of the outer fuzz you can actually rub it off before consuming.
Try dehydrating your kiwi fruit in 120 degree oven until pliable and leathery or puree the pulp and mix with sugar to taste and dry in thin sheets in the sun or oven to make fruit leather.
Try using kiwi, accompanied by another fruit, in a pureed and chilled soup. Adding yogurt can also give it a creamy consistency.
If you are looking to add more fiber to your diet, try eating a kiwi. They contain more fiber than 1 cup of bran flakes and four times than a cup of chopped celery.
Looking for kiwi recipes? Give these a try:
PeaWee Kiwi Popsicles from Weelicious
Crab Cake Sliders with Pineapple Kiwi Salsa from How Sweet It Is
Kiwi Mango Quinoa Salad from Iowa Girl Eats
Kiwi Grape Apple Juice from Shutterbean
Strawberry Kiwi Tartlets from Love and Olive Oil
Kiwi Salsa from Simply Recipes
Spinach, Kiwi, and Chia Seed Smoothie from Joy the Baker
Kiwi Gelato from bell'alimento
Strawberry Kiwi Pavlovas from Skinnytaste
*The Contributor of this post has been compensated by KitchenAid for this post, but this post represents the Contributor's own opinion.*