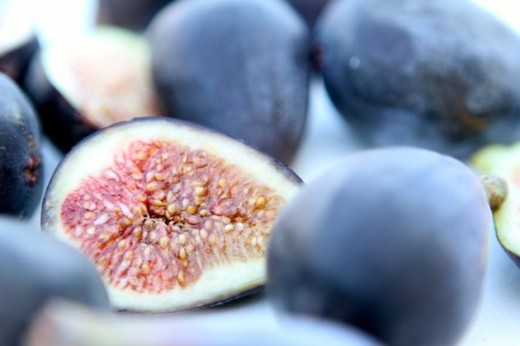 Figs are perfectly plump, sweet and bite sized! A perfect fruit that requires no cooking, just a beckoning to enjoy its naturally sweet and intense flavors! If your only encounter with figs has been with a fig Newton then its time to grow your palate and savor the full-bodied and sugary flesh of a fresh fig. Of course figs are a perfect pairing in desserts since they are so sweet but try using them in savory dishes paired with meats or in salads. Fresh fig season is fleeting but they are plentiful in the summer and you should be sure to add them to your grocery list, I know this summer I will be eating them any way I can!
The Basics
Fresh figs are a soft fruit filled with small seeds. Their skin is smooth, and their flesh is chewy with tiny crunchy seeds. They can be eaten raw, including the skin and seeds. Most varieties are sweet and range in color from green to dark blue-purple. Since the skin of a fig is so delicate, it often accrues scars during growth but the scarring does not affect the flesh of the fruit.
In Season
Fresh figs are at their peak season from late May early June through September, but dried figs can be found year round in the grocery store.
What to Look For
Figs are very delicate so you wont often find a perfect unmarred one. However you never want to buy any that are weeping or leaking from any scrapes or from the stem. Avoid any that are too mushy.  Color is not an indicator of ripeness. Instead look for curvy and plump figs. They should feel heavy for their size and should yield to light pressure. Their stems should have some bend to them and they should have a slightly sweet aroma.
How to Store
Figs are very perishable. Once purchased it is best to eat them within a day or two.  They are best left at room temperature but they can be stored in the refrigerator in a single layer, making sure that they have plenty of space and air circulation, for up to 3-4 days. When you are ready to use your figs, simply wash them under cool water, remove their stems and gently wipe them dry.
You can always freeze figs and use them as needed. To do so, wash them thoroughly and remove any that are too soft. Arrange the figs onto a baking sheet and place in the freezer until frozen. Remove them from the pan and place into an airtight container and freeze for up to 3months. To use them, remove the amount you need from the container and thaw.
Nutrition
Figs are a good source of potassium, helping to fight against high blood pressure and include a good source of fiber, iron, magnesium and vitamins B and K.  They contain antioxidants, which have been shown to decrease heart disease and the development of cancer. Fig leaves are also healthy and have been shown to reduce heart disease and prevent diabetes. 1/2 cup of raw figs contain approximately 90 calories.
Helpful Tips
When purchasing your figs be sure to look on the underside of the container they are stored in to make sure that there isn't any mold.
To make dried figs plumper, simply simmer them for several minutes in water or fruit juice.
Figs can have a small laxative effect so be sure not to overindulge.
Figs help hold in moisture in baked good, keeping them fresher.
Fig puree can be used as a replacement for fat in baked goods
Looking for fig recipes? Give these a try:
Brown Sugar Roasted Fig Oatmeal from Joy the Baker
Goat Cheese Stuffed Fig, Melon, and Prosciutto Salad from FoodieCrush
Fig Jam Four Ways from Love and Olive Oil
Raspberry Fig Prosecco Punch from Heather Christo
Cardamom Panna Cotta with Honeyed Figs from Bellalimento
Homemade Fig Bars from Weelicious
Brown Sugar Fig and Gorgonzola Crisp from How Sweet It Is
Roasted Fig and Goat Cheese Ice Cream from White On Rice Couple
*The Contributor of this post has been compensated by KitchenAid for this post, but this post represents the Contributor's own opinion.*