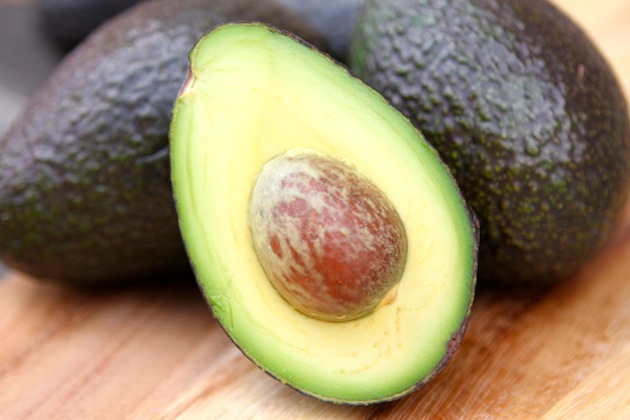 Some say it's the world's healthiest food, I say it's the world's yummiest food!
Avocados are divine for so many reasons; taste, texture, nutritional benefits…need I go on! These days they are for more than just guacamole. They can be eaten for breakfast, lunch or dinner and used in soups, salads, pastas, casseroles, salsa and even in desserts. Avocados are so creamy and rich, it will only seem like you're caving in to a guilty pleasure, but with all of their health benefits you won't feel guilty at all adding a few more to your diet.  So go ahead fill your basket with some avocados and garner both the health and flavor benefits.
The Basics
Depending on the variety, avocados can range in color from having dark green/black skin to a brighter green skin. The skin is thin and pliable but can range from ruff to smooth and they can weigh anywhere from 6 ounces to 3 pounds. They can be pear-shaped, round, or oblong. The flesh of an avocado is greenish yellow and has a buttery texture. They have one large and heavy center seed.
In Season
Peak season for avocados is Spring through Fall.
What to Look For
When selecting an avocado avoid any that have dark recessed spots or cracks on the skin or are over-soft. Look for avocados with a rounded top and that are slightly soft to the touch.
How to Store
If the avocados you have purchased are ripe, store them in the refrigerator for up to 1 week. If your avocados are on the firmer side, let them sit at room temperature for a few days until they become ripe, then store them in the refrigerator.
Always store cut avocados covered in plastic wrap or in a bag. Try sprinkling the exposed flesh with lemon juice to help prevent the avocado flesh from turning brown.
To freeze avocados, puree them first and add 1 tablespoon of lemon juice per 1-2 avocados. Store the puree in an airtight container for 4-5 months. Defrost and use in guacamole, soups, smoothies or baked goods.
Nutrition
Avocados are sodium and cholesterol free. They are a good source of fiber, potassium, B6, vitamins C, K and folate. Although avocados are high in fat, the majority of it is unsaturated fat and contains many health benefits. Eating avocados can promote heart health, support cardiovascular health and promote blood sugar regulation. Avocados also have anti-inflammatory and anti-cancer benefits.
Helpful Tips
If you have purchased avocados that are on the firmer side, try putting them in a bag on your counter for a few days to speed the ripening process.
You can help prevent the browning of exposed avocado flesh by sprinkling it with fresh lemon juice or vinegar.
Try spreading smashed avocado onto a sandwich as a healthy replacement for mayonnaise.
Try using avocados in a dressing recipe to make it creamy and rich.
If you need a ripe avocado instantly, try sticking it in the microwave for about 10 seconds to soften it up.
Try replacing half of the butter in a baking recipe with pureed avocado.
Looking for avocado recipes? Give these a try:
Creamy Avocado Yogurt Dip from Two Peas and Their Pod
Pomegranate Guacamole from Just a Taste
Cucumber, Avocado, and Feta Salad from Two Peas and Their Pod
Avocado Caprese Salad from FoodieCrush
Chicken Flautas with Spicy Avocado Sauce from Heather Christo
Smashed Chickpea and Avocado Salad Sandwich from Two Peas and Their Pod
Avocado and Bacon Grilled Cheese from Table for Two
Avocado Caesar Salad from What's Gaby Cooking
Vegan Chocolate Avocado Cookies from Two Peas and Their Pod
Avocado Shake from Weelicious
Avocado Chocolate Chip Cookies from KitchenAid
*The Contributor of this post has been compensated by KitchenAid for this post, but this post represents the Contributor's own opinion.*