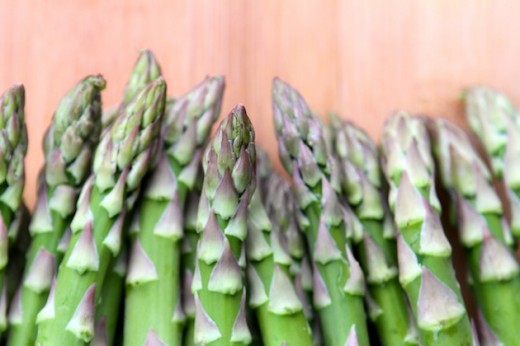 One of the best parts of spring is seeing the produce isle in your local grocery store lined with beautiful and crisp asparagus. It's all I can do but to load up my shopping cart with bundles and bundles of this vibrant vegetable. It is the perfect veggie for any meal and requires very little prep work. It is incredibly versatile and can be prepared in so many different ways. No matter how I cook it: grilled, roasted or baked, I can't seem to ever get enough! Not to mention Asparagus is not only a delicious option but also a nutritionally wise choice. So join me in my zeal for this veggie and lets get this month started off right with some asparagus!
The Basics:
Asparagus is comprised of green spears with a compact head. The most common form of asparagus is green in color, however white and purple asparagus are also varieties that are available both fresh and canned. Most of the asparagus spear, including the tops, is tender and edible but they do have woody, tough ends that should be cut off before consuming. Asparagus can come in either thin or thick spears and is not necessarily an indication of quality but instead a sign of when it was harvested. However, the larger the stalk the woodier the asparagus ends can be.
In Season:
Asparagus season typically runs from April to May but can be found harvested a few months earlier and later in some states.
What to Look For:
When picking out the perfect asparagus look for stems that are straight and firm. They should be deep green in color and their tips should be closed with no flowering. Avoid any wilted, shriveled, dry or damaged asparagus.
How to Store:
Store your asparagus in the refrigerator for a few days at most before using. To help keep them fresh, wrap the ends in a damp paper towel.
If you plan to freeze your asparagus you will need to trim off the woody ends of each stalk before blanching them in boiling water. Transfer the asparagus into a bowl of ice water, immediately after blanching, to prevent further cooking. You can then chop your spears into 1-2 inch pieces and store in an airtight container for up to 1 year. Do not thaw your frozen asparagus before cooking; simply add it frozen to your recipe.
Nutrition:
Asparagus is a well-balanced vegetable packed full of important nutrients like potassium, fiber, vitamin B6, and folic acid to name just a few. Asparagus has anti-inflammatory and antioxidant benefits, helps regulate heart health and blood sugar and contains anti-cancer properties. It is low in sodium and contains less than 4 calories per spear.
Helpful Tips:
• Try storing your asparagus in a glass of water and refrigerate to keep fresh.
• To break off the woody ends of the asparagus, hold the top of the stalk in one hand and place your other hand at the bottom of the spear. Bend the stalk and it should snap where the tough section begins. Discard the tough end pieces.
Give these asparagus recipes a try!
Quinoa Salad with Asparagus, Peas, Avocado, & Lemon Basil Dressing from Two Peas and Their Pod
Asparagus and Ricotta Pizza from Just A Taste
Asparagus, Spinach, and Feta Quiche from Two Peas and Their Pod
Shaved Asparagus Salad with Parmesan from A Couple Cooks
Baked Halibut with Olives, Asparagus, & Potatoes from With Style and Grace
Lemon Orzo Salad with Asparagus, Spinach, and Feta from Two Peas and Their Pod
Egg and Asparagus Gratins from Shutterbean
Grilled Prosciutto-Wrapped Asparagus from Three Many Cooks
Roasted Broccoli and Asparagus Salad from Love and Olive Oil
*The Contributor of this post has been compensated by KitchenAid for this post, but this post represents the Contributor's own opinion.*