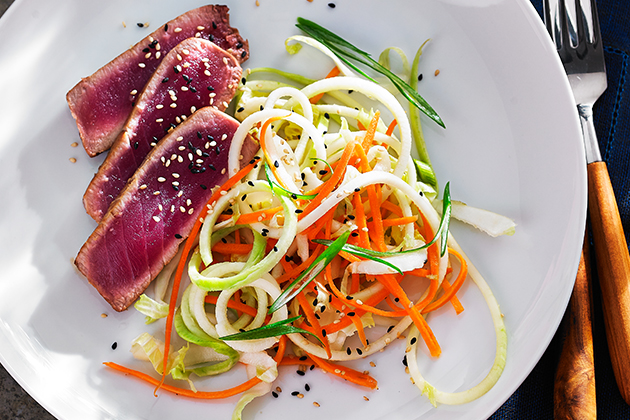 Seared Tuna with Kohlrabi Carrot Slaw
Makes 4 servings
INGREDIENTS
2 medium kohlrabi, peeled
2 medium carrots, julienned
1 cup shredded celery cabbage or savoy cabbage
2 green onions, sliced
3 tablespoons unseasoned rice vinegar
2 tablespoons wasabi powder
2 tablespoons fresh lime juice
1 tablespoon dark sesame oil
1 1/2 teaspoons agave nectar
1/2 teaspoon grated lime peel
1/2 teaspoon salt
1/4 cup soy sauce
1 clove garlic, minced
1 teaspoon hot Chinese mustard
2 tuna steaks (6 ounces each)
1 tablespoon vegetable oil
1 teaspoon sesame seeds
DIRECTIONS
Attach Spiralizer Attachment to KitchenAid® Stand Mixer. Center one kohlrabi on fruit and vegetable skewer; attach to Spiralizer. Attach medium spiralizing blade to stand mixer and position at end of kohlrabi. Place medium bowl below blade to catch kohlrabi. Turn stand mixer to speed 6 and process until blade reaches end of kohlrabi. Repeat with remaining kohlrabi. Add carrots, cabbage and green onions to bowl. Refrigerate until ready to use; can be made up to 6 hours ahead.
For dressing, combine vinegar, wasabi powder, lime juice, sesame oil, agave, lime peel and salt in small jar with tight-fitting lid; shake until well blended. Refrigerate until ready to use; can be made up to 2 days ahead.
Combine soy sauce, garlic and mustard in shallow glass dish. Add tuna; turn to coat. Marinate at room temperature 10 minutes.
Heat vegetable oil in medium skillet over medium-high heat. Add tuna; cook about 2 minutes per side or until desired degree of doneness. Transfer to cutting board; let stand 5 minutes. Cut into 1/4-inch slices.
Divide kohlrabi mixture among 4 serving plates. Top with tuna and drizzle with dressing. Sprinkle with sesame seeds.

Print
*The Contributor of this post has been compensated by KitchenAid for this post, but this post represents the Contributor's own opinion.*