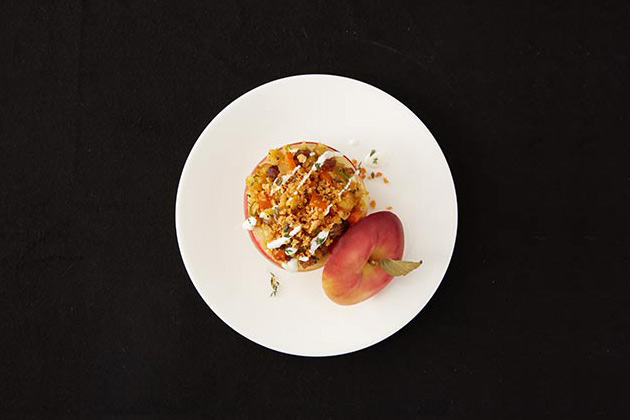 Savory Stuffed Apples with Sausage, Sweet Potatoes, and Goat Cheese by Emily Lum
Makes 6 Apples, serves 4
INGREDIENTS
For stuffed apples
6 Fuji apples
2 tablespoons oil
1 pound (bulk) breakfast sausage
1 medium Red Garnet sweet potato, finely chopped (approx. 2 cups)
1 yellow onion, finely chopped
5–6 sprigs fresh thyme, stripped
2–3 fresh sage leaves, finely chopped
1–2 large sprigs fresh rosemary
3–4 tablespoons real maple syrup
¼–½ cup coarsely chopped celery leaves, plus some for garnish
¼ cup pine nuts, coarsely chopped
3 ounces goat cheese (chèvre)
¼ cup pine nuts, coarsely chopped
Pepper and salt to taste
Dash dried sage and thyme
2 cups Italian panko or regular bread crumbs
3 eggs
1–2 cups chicken or vegetable stock
For bread crumb topping
3 tablespoons butter
½ cup Italian panko bread crumbs
2 ounces goat cheese
For optional sauce
5 ounces goat cheese
2 tablespoons milk
DIRECTIONS
Cook sausage on medium heat in a medium cast iron skillet, drain, add chopped sweet potato, onion and herbs and cook for five minutes.
Carve out centers of apples, leaving about a quarter to half inch of flesh on the inside of the apples. Put apples in a muffin tin to keep them from tipping over. Finely chop the apple flesh and add it to the sausage and sweet potato mixture. Simmer covered on medium-low until the sweet potato is cooked, but not overcooked. After the sweet potato is softened, add the maple syrup, pine nuts, and celery leaves and let the leaves briefly wilt. Finally, remove the skillet from heat and fold or cut in two ounces of goat cheese.
Combine the bread crumbs and eggs separately, add to sausage mixture. If mixture still appears dry, add stock 1 tablespoon at a time until moistened.
Put a few crumbles of goat cheese in the bottom of each apple, then spoon in stuffing and pack down.
Bake covered for 30–35 minutes at 350 degrees.
While apples are baking, make bread crumb topping mixture by melting butter and mixing in crumbs. Add dried and chopped fresh herbs as needed.
Also make optional sauce with 5 ounces of goat cheese and 2 tablespoons of milk; melt the cheese with the milk over medium heat, stirring constantly. Then remove from heat and cover.
After apples are done baking, uncover and top each apple with breadcrumb topping and a few crumbles of goat cheese. Broil for 4–5 minutes or until evenly browned.
Serve chopped in half, with celery leaves for garnish and optional sauce.

Print