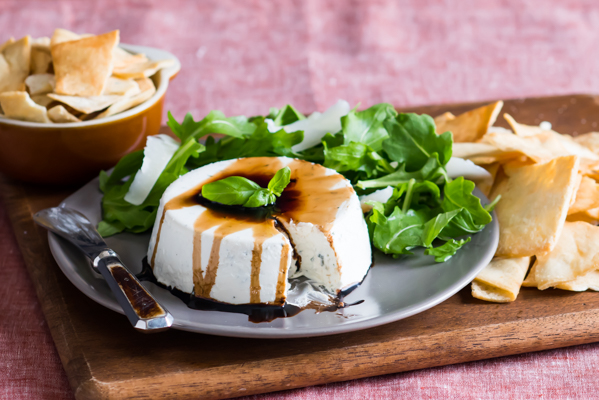 Recently, at a dinner party, we served this delicious Savory Panna Cotta with Basil Appetizer. The guests went crazy over the delicious flavor, served on a bed of arugula with a drizzle of balsamic glaze.
Panna Cotta is a cream mixture, most commonly served as a dessert. But with the right mix of savory flavors of herbs and cheese, it can also be perfect as an appetizer!
When I host a dinner party, I like to start with the freshest ingredients with the help of my KitchenAid® Architect® Series II French Door Refrigerator. This fridge ties in so well with entertaining and feeling confident with my cooking thanks to the Preserva® Food Care System, which keeps food fresher longer!
Here are some reasons why I love our fridge, and some secrets behind the "freshness":
There are two independent cooling systems in the Preserva® Food Care System. Dual Evaporators prevent the freezer's air from mixing with the air in the refrigerator, creating the perfect environment for keeping food fresh. Sometimes a family member will put something in the fridge uncovered, but the next day it's still fresh!
Then there is the FreshFlow™ Produce Preserver, which delays over-ripening of produce by absorbing ethylene gas, and can also help keep foods like lettuce or arugula fresh longer.
The FreshFlow™ Air Filter is great for absorbing the aromas from the refrigerator. I'm so happy to not have unwanted odors transferring from one food to another in our fridge!
When I reached for the fresh ingredients to make my panna cotta appetizer, I knew all the ingredients would be nice and fresh.
On the stove I lightly cooked cream, gelatin and a tiny amount of sugar.
Add in the creme fraiche and chopped basil. Place the mixture in ramekins or a panna cotta mold.
After setting, it's time to garnish and serve.
You can flip it out onto a plate like I did, or even serve it in shot glasses for individual servings. It's rich, so you don't need big portions.
Don't forget the glaze, lemon slices, and a side of arugula, which add a nice touch.
Serve with a baguette or side of light crackers.
What a great appetizer to get the party started!
Savory Panna Cotta with Basil
INGREDIENTS
3/4 teaspoon unflavored gelatin
1 cup heavy whipping cream
1 tablespoon sugar
1 pinch of salt
Fresh ground pepper
2-3 tablespoons fresh basil, finely chopped
1/4 cup of creme fraiche
Arugula
Parmigiano, shaved (optional)
1-2 teaspoons balsamic glaze (thinned)
DIRECTIONS
In a small saucepan, warm the cream; add the sugar, salt, pepper, and basil and lightly stir. Continue stirring and simmer for 15 minutes; remove from heat.
Place the gelatin in a small bowl and add 1 tablespoon of water; stir. Stir the gelatin and creme fraiche into the cream; mix until the gelatin is dissolved.
Pour into a ramekin and refrigerate until the panna cotta has set.
Serve cold with a drizzle of balsamic glaze on top, with baked chips or crackers on the side. (If you need to thin the balsamic glaze, add 1 teaspoon of water and gently whisk.)
Garnish the plate with arugula, shaved Parmesan, lemon slices, and salt and pepper.
Print
*The Contributor of this post has been compensated by KitchenAid for this post, but this post represents the Contributor's own opinion.*