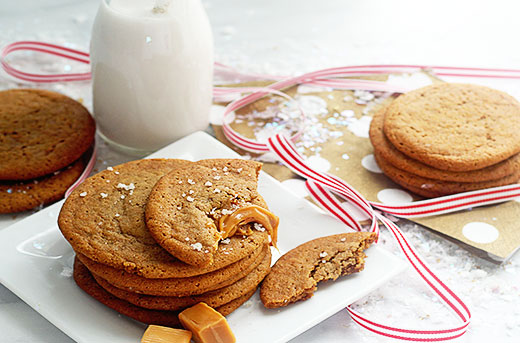 The holiday season should be renamed cookie season. It is the time of the year where you can eat as many cookies as possible in all shapes, colors and sizes without a shred of guilt. The guilt is left for January and that's exactly where it belongs.
For me, each year, I try to top the innovation of the previous year's holiday cookies. While I love the classic gingerbread, gingersnaps and sugar cookies, they can get a little stale (figuratively and literally) after a while. These Soft Salted Caramel Ginger Cookies are sure to liven up holiday cookie swaps everywhere.
These cookies start with a easy ginger cookie batter that is perfectly chewy and delicious. You begin by creaming together the sugar and butter until light and fluffy in the Ceramic Bowl of your KitchenAid® Stand Mixer.
Next add your eggs followed by dry ingredients in intervals at a slower speed. Once everything is combined, finally pour in your molasses and mix until just combined. Because this cookie dough is very moist and tender, it helps if you refrigerate it for at least 30 minutes. An hour is even better.
The assembly process for these cookies is quite simple. Begin by preheating your oven to 350 degrees. Measure tablespoons of ginger cookie dough and place on a parchment paper lined baking sheet. Next press an unwrapped caramel candy to the center of each tablespoon of dough and sprinkle with sea salt.
Lastly place another tablespoon of cookie dough over each caramel candy and form both tablespoons of dough into a ball with your hands.
Bake for 12-15 minutes until the center caramel has melted and cookies have perfectly spread. The results are really incredible. These cookies are perfectly soft and chewy, and the salted caramel inside is the most sensational match for the spiced ginger flavors throughout. These are sure to become a holiday favorite for you and yours for years to come!
Be sure to share your take on this Salted Caramel Ginger Cookie recipe with us on Instagram using #MadeWithKitchenAid for a chance to be featured.
Salted Caramel Ginger Cookies
Makes 12-18 cookies
INGREDIENTS
3/4 cup unsalted butter, room temperature
3/4 cup granulated sugar
1 large egg
2 cups all-purpose flour
1 teaspoon baking soda
3/4 teaspoon salt
1/2 teaspoon ground cinnamon
1/2 teaspoon ground cloves
3/4 teaspoon ground ginger
1/4 cup molasses
Wrapped Caramel Candies
Sea Salt
DIRECTIONS
Cream together butter and sugar on high speed in the Ceramic Bowl of your KitchenAid® Stand Mixer using a flat beater attachment until light and fluffy. Next, add egg and mix until incorporated.
Turn Stand Mixer down to low speed and carefully add flour, baking soda, salt, cinnamon, cloves, and ginger to bowl in intervals until well combined.
Lastly, add molasses and mix until batter has formed.
Add batter to a plastic zip bag and refrigerate batter for 30-45 minutes.
Preheat oven to 350, remove dough from refrigerator and line a baking sheet with parchment paper.
For each cookie, measure two tablespoons of dough. Add one tablespoon of dough to parchment paper. Place one caramel in center of dough and sprinkle with sea salt. Lastly top with remaining tablespoon of dough and roll into a ball. Repeat with remaining dough.
Bake for 12-15 minutes until the center caramel has melted and cookies have perfectly spread.
Cool for a few minutes, then enjoy.

Print
*The Contributor of this post has been compensated by KitchenAid for this post, but this post represents the Contributor's own opinion.*