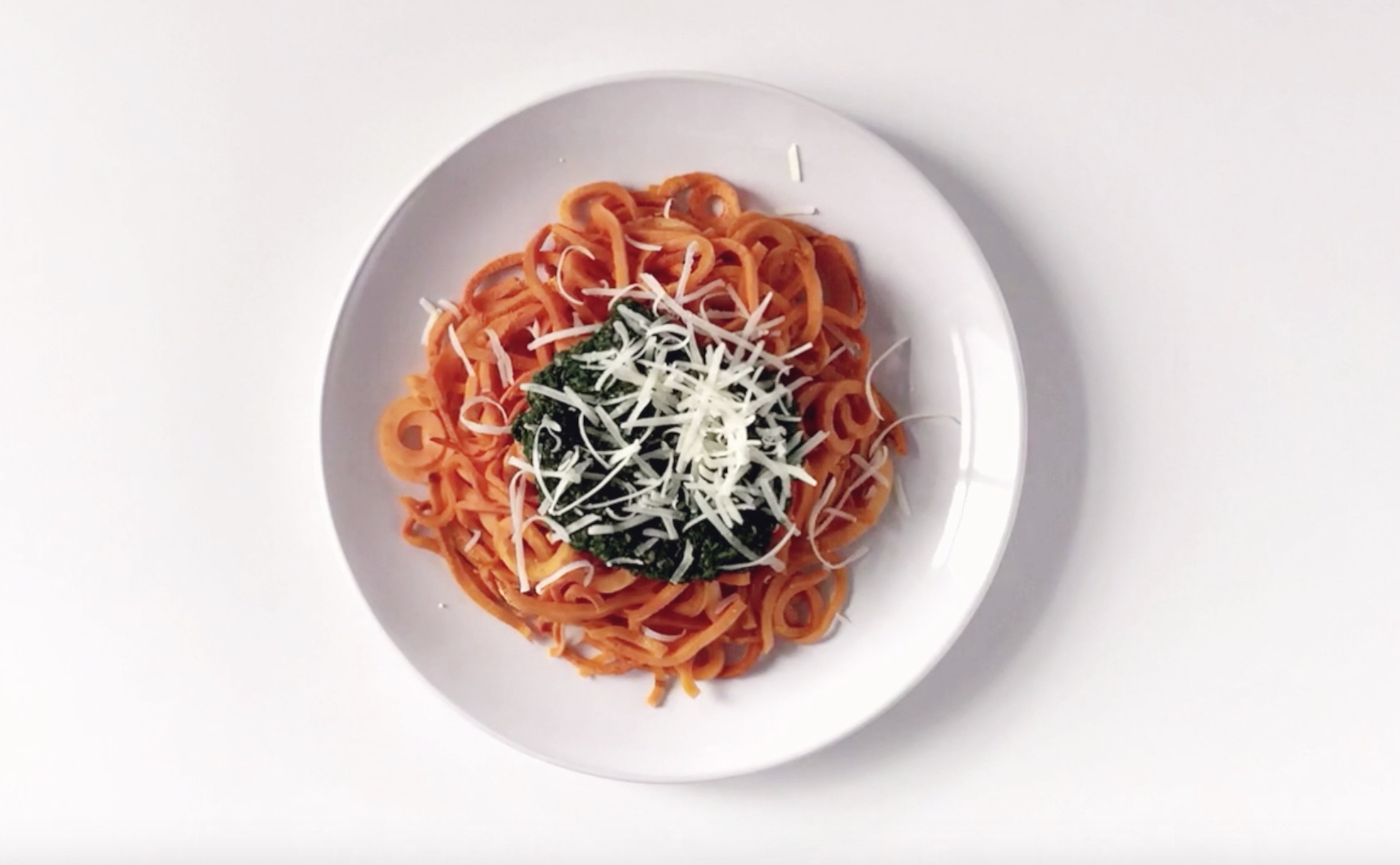 Roasted Sweet Potato Noodles with Kale Pesto
INGREDIENTS
4 large sweet potatoes, peeled
3 Tablespoons plus 1/2 cup olive oil, divided
8 stalks kale
1/3 cup toasted almonds
3 cloves garlic, roughly chopped
1/3 cup shredded Parmesan cheese
DIRECTIONS
Attach the KitchenAid® Spiralizer attachment to the KitchenAid® stand mixer then attach the Fine Spiralizing Blade to the Spiralizer.
Place a large bowl beneath the Spiralizer. Cut off a small portion of the end of each sweet potato. Press the cut side of the sweet potato into the skewer then turn the stand mixer to "Stir" to allow the blade to catch before changing the stand mixer to speed 4 to spiralize each of the sweet potatoes into the bowl.
Drizzle the noodles with 3 tablespoons olive oil, sprinkle them with salt and pepper, and toss to combine. Roast the noodles at 400 degrees F for 25 to 30 minutes, tossing them halfway through, until they are fork tender.
While the noodles roast, make the pesto by stripping the kale leaves from the stalks. Discard the stalks and blanch the leaves in boiling water for 15 seconds. Remove the leaves from the boiling water and immediately plunge them into a bowl of ice water. Transfer the leaves to a colander and press out all of the water.
Add the kale leaves, toasted almonds, chopped garlic and Parmesan cheese to a blender. With the blender running, stream in 1/2 cup olive oil and continue blending until the pesto is puréed. (Adjust the consistency of the pesto by adding additional oil to thicken it or hot water to thin it as needed.)
Remove the noodles from the oven and transfer them to a serving bowl. Add the pesto and toss to combine. Serve immediately.
Print