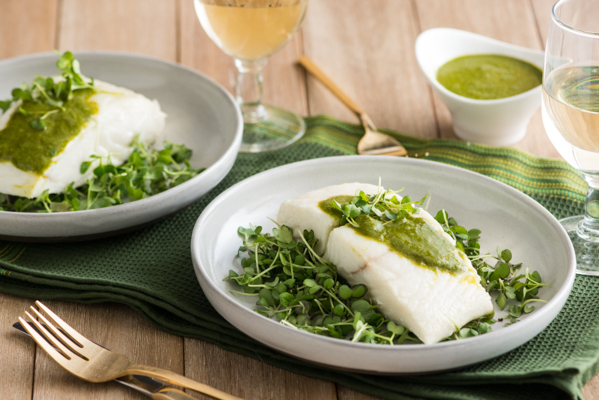 We are deep into spring here in the Blue Ridge Mountains. The rolling slopes are covered with the budding hue of lime green and I see butterflies flitter by everywhere I look. The warmth of spring is a relief after such a long weary winter, lifting the spirit and providing inspiration in all areas of life.
Our farmers markets have also opened for the season, offering fresh vibrant inspiration for the kitchen!
I love walking the long rows of white tents at the farmers market, swinging my basket, taking in the aromas, friendly chatter, and surrounding color. Newly grown produce in every shape and hue line the tables, making me feel like there are a thousand undiscovered dishes yet to be made.
One of my favorite farmers market finds are microgreens. These tiny vegetable shoots picked after the first leaves form, are bigger than sprouts yet smaller than baby greens, making them delicate in appearance, but packed with concentrated flavor. Microgreen shoots are often picked from various lettuces and greens like arugula or collards. Although they can also be harvested from other vegetables like broccoli, radishes, beets, carrots or kohlrabi.
Although restaurants use them regularly as garnishes, microgreens have the potential for so much more.
KitchenAid recently challenged me to develop a recipe that would Max Out on Microgreens. Obviously, this was an opportunity to create a recipe that was light and healthy for spring, with a distinct punch of flavor and visual appeal.
Microgreens vary in flavor from a peppery essence to a note of lemon or anise. Yet they often come in mixed containers so you get a well-rounded blend. I used a mix of kale, collard and broccoli microgreens in today's recipe, but you can use any microgreen variation you like.
I decided to make a microgreen puree to serve over light flaky halibut. I combined the microgreens with a hint of cashew butter to provide a rich undertone to the puree, along with ginger, garlic, rice vinegar, sesame oil and chile sauce.
The smooth green Asian-inspired puree pairs perfectly with mild and tender white fish served on top of a bed of peppery microgreens.
This healthy and zesty dish is gluten free, paleo friendly, and packed with itty bitty green goodness!
Start by blending the oil, lemon juice and garlic for the halibut.
Pour the mixture over the fish and then sprinkle the tops with salt and pepper.
Bake the halibut for 15-20 minutes in your KitchenAid® 30-Inch Steam-Assist Double Oven until it is firm on the outside, yet just cooked through on the inside.
Meanwhile, add microgreens and the rest of the puree ingredients to the KitchenAid® Diamond Blender. Puree until smooth.
Once the fish is perfectly roasted, place each piece over the top of a generous pile of microgreens. Then spoon the microgreen puree over the top and serve warm.
This is a dish I will make again and again while microgreens are available in the farmers markets. I love that I'm able to keep the fish fillets, and the microgreens, fresh in my KitchenAid® Counter-Depth Side-by-Side Refrigerator with the Preserva® Food Care System.
In the winter months, you could continue making the recipe with more commonly available (but larger) peas greens or alfalfa greens.
Roasted Halibut with Microgreen Cashew Puree
Makes 4 servings
INGREDIENTS
For the halibut
4 halibut fillets (about 1 1/2 pounds)
2 tablespoons lemon juice
1/4 cup grape seed oil (or avocado oil)
1 clove garlic, minced
Salt and pepper
6-8 ounces microgreens
For the puree
4 ounces microgreens
8-10 fresh Thai basil leaves
1 tablespoon fresh grated ginger
1 clove garlic
3 tablespoons rice vinegar
1/3 cup grape seed oil (or avocado oil)
1 tablespoon sesame oil
1 tablespoon cashew butter
1 teaspoon chile garlic sauce
1/2 teaspoon sea salt
DIRECTIONS
Preheat the KitchenAid® 30-Inch Steam-Assist Double Oven to 400 degrees F. Line a rimmed baking sheet with parchment paper and place the halibut fillets on it. Whisk together the lemon juice, oil and minced garlic. Pour the mixture over the halibut, then sprinkle each fillet with salt and pepper. Roast in the KitchenAid® 30-Inch Steam-Assist Double Oven for 15-20 minutes, until firm and flaky.
Meanwhile, add all the ingredients for the microgreen puree to the KitchenAid® Diamond Blender. Puree until smooth and silky.
To serve, place each halibut fillet on a bed of microgreens. Then drizzle the sauce over the top.
Print
*The Contributor of this post has been compensated by KitchenAid for this post, but this post represents the Contributor's own opinion.*