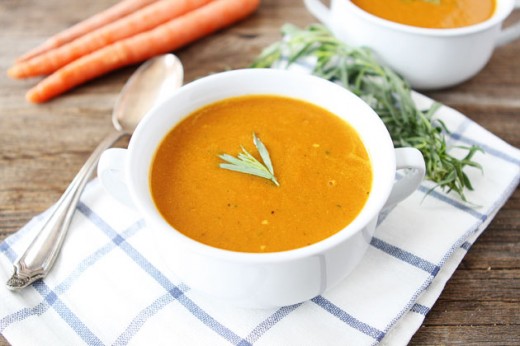 For most of us winter is officially sending chills through our bones. There's nothing like a good soup to feed the body and warm the soul. There are endless possibilities and I am always looking for a new creation to try. My new favorite soup is this Roasted Carrot Soup. It is silky, smooth, and will warm you up on a cold day.
The flavor combination is killer and roasting the carrots and onions to a caramelized perfection with garlic and butter adds richness to this soup that will definitely leave you licking your bowl. This is a simple, hearty and down to earth carrot soup, good enough to warm my body and keep me coming back for more; and I know it will be for you as well.
Carrots are chock-full of amazing flavor and health benefits. They are one of the sweeter root vegetables, especially when drizzled with melted butter and roasted in the oven. Carrots are available year round and are full of vitamin A, potassium, and fiber. Not to mention this is a delicious and cost saving meal that will still keep you satisfied. A soup that is good for you and delicious, now that's a winner!
The KitchenAid® Pro Line® Series Cordless Hand Blender will be your best friend when making this soup. I can no longer count on my hands the amount of times that I have had to clean soup and other hot pureed goods not only off of myself, but the walls of my kitchen, from using a standard blender to puree hot ingredients. Not the case with the KitchenAid® Pro Line® Series Cordless Hand Blender! This is a countertop appliance with limitless options and versatility. For starters, there is no transferring your soup in batches to a blender to puree. Instead, the blending arm reaches perfectly into deeper pots which; makes blending this carrot soup a breeze.
The KitchenAid® Pro Line® Series Cordless Hand Blender also has 5 attachments that offer limitless culinary opportunities. You can blend, chop, whisk, shred, froth and puree ingredients all with one appliance. The KitchenAid® Pro Line® Series Cordless Hand Blender has a rechargeable 12V Lithium-Ion battery and delivers premium performance. I love that I don't have to mess with a cord while making my soup. I just turn on my hand blender and get to work!
With the help of the The KitchenAid® Pro Line® Series Cordless Hand Blender paired with the simplicity of this recipe, you can have a delicious meal whipped up in no time. This soup is essentially a two-step recipe. First roast your veggies and second, puree them with vegetable broth and cream and there you have it; it doesn't get much easier than that. The soup can be made a day or two in advance, making your life that much easier when its time to serve this delight up for a dinner party or a cozy meal with the family. Just store your pureed soup covered in the refrigerator until the day you plan to serve it. This soup also freezes well. I like to make a double batch so I can freeze soup for a snowy day.
This Roasted Carrot Soup is packed full of hearty veggies and great flavors. It will warm you up on a chilly day. Serve it with a salad or crusty bread and you have yourself the perfect meal and a new winter favorite.
Roasted Carrot Soup
INGREDIENTS
8 large carrots, peeled and cut into ½ inch rounds
1/2 onion, cut into 8 wedges
3 garlic cloves, skin left on
2 tablespoons of butter, melted
1/2 teaspoon salt
1/4 teaspoon pepper
5 cups vegetable stock
2 sprigs tarragon, leaves removed
1/3 cup heavy cream
DIRECTIONS
Preheat your oven to 400 degrees F. Place carrots, onions and garlic onto a baking sheet and drizzle with melted butter. Toss together the vegetables and butter then sprinkle with 1/2 teaspoon of salt and 1/4 teaspoon of pepper.
Bake in the oven for 30-40 minutes until carrots are tender and caramelized. A few minutes before your vegetables are ready to be removed from the oven, heat up your vegetable stock and tarragon leaves in a stockpot over medium high heat. When the vegetables are done, squeeze the garlic out from its skin and add it and the rest of the veggies to the stock.
Use a KitchenAid® Pro Line® Series Cordless Hand Blender to blend the soup until smooth. Lower the heat and add the cream and additional salt to taste. Serve warm.

Print
*The Contributor of this post has been compensated by KitchenAid for this post, but this post represents the Contributor's own opinion.*