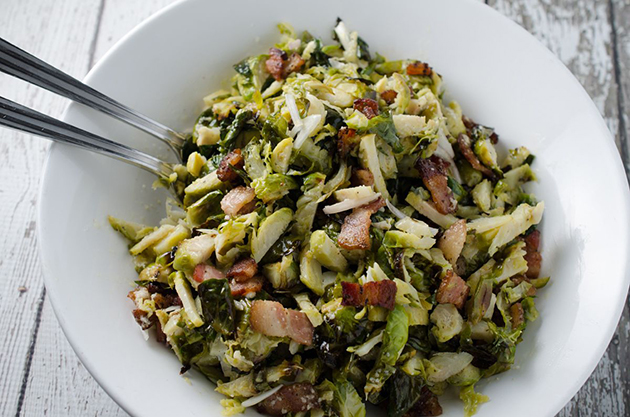 One of my favorite things about getting kids in the kitchen is getting them interested in new and different foods, especially vegetables. My three year old likes to go grocery shopping with me. We talk about and pick out different vegetables that we want to try and then we go home and make something with them. Recently, we chose brussels sprouts.
I know, I know brussels sprouts are kind of a long shot with kids, even with some adults I suppose. But when cooked just right with the proper amount of seasonings, brussels sprouts can be a real crowd pleaser. And they definitely are in this Roasted Brussels Sprouts Salad with Creamy Parmesan Vinaigrette.
To start I had my son toss some brussels sprouts in olive oil, salt and pepper. Then I placed them in the oven and we roasted them.
Meanwhile, I diced some thick cut peppered bacon and had my son help me cook it.
Next up we made the dressing, which started with grating some fresh Parmesan cheese. Grating cheese is another great way for the kiddos to help out.
After grating the cheese, we added the other ingredients and used the KitchenAid® Pro Line® Series Cordless Hand Blender to blend everything together.
This was my son's favorite part. And it was super easy to do. All he had to do was push one button.
After the dressing was made, I sliced the brussels sprouts, we mixed everything together, and our salad was ready to go. And my little guy was ready to dig in because he wanted to taste what he made. I am so enjoying spending time with my son in the kitchen. And the fact that his exploring also creates an interest in trying all kinds of vegetables is a total win in the mom department. I'm sure the bacon helped a little too.
Roasted Brussels Sprouts Salad
Makes 4 servings
INGREDIENTS
1 pound brussels sprouts
4 slices thick cut bacon
2 tablespoons thinly sliced shallots
1/4 cup plus 1 tablespoon olive oil
1 tablespoon lemon juice
1 tablespoon white wine vinegar
1/4 cup freshly grated Parmesan cheese
1 clove garlic
Pepper
DIRECTIONS
Preheat oven to 425 degrees. Line a baking sheet with aluminum foil.
Toss brussels sprouts with 1 tablespoon olive oil and salt and pepper. Place on prepared baking sheet. Roast in preheated oven for 15 – 20 minutes or until softened and slightly charred. Remove from oven and allow to cool.
Cook bacon over medium heat until cooked through. Transfer to a paper towel lined plate and set aside.
While bacon and brussels sprouts are cooking, make the dressing by combining 1/4 cup olive oil, lemon juice, white wine vinegar, parmesan cheese and garlic together in the pitcher that comes with the KitchenAid® Pro Line® Series Cordless Hand Blender. Using the blend attachment on medium speed, blend the dressing until emulsified.
Once the brussels sprouts have cooled, chop. Place brussels sprouts, bacon and shallots together in a bowl.
Pour dressing over the top and toss once more to coat. Season to taste with salt and pepper. Serve.
Print
*The Contributor of this post has been compensated by KitchenAid for this post, but this post represents the Contributor's own opinion.*