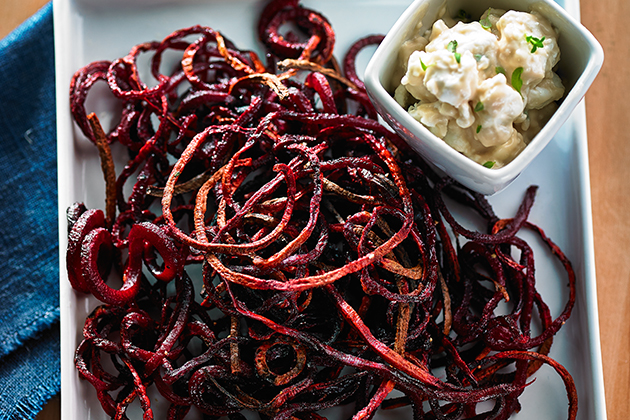 Roasted Beet Strings with Balsamic Goat Cheese Dip
Makes 4 servings
INGREDIENTS
2 medium fresh beets (3 inches x 2 inches)
2 tablespoons + 2 teaspoons oil, divided (safflower or canola)
1 teaspoon kosher salt
1/4 teaspoon pepper
For balsamic goat cheese dip
4 ounces goat cheese, crumbled
1⁄3 cup light mayonnaise
2 teaspoons balsamic vinegar
2 teaspoons honey
1 teaspoon fresh thyme leaves
1/4 teaspoon kosher salt
1⁄8 teaspoon pepper
DIRECTIONS
Preheat oven to 400°F.
Arrange 2 oven racks to bottom third and upper third of oven.
Attach Spiralizer Attachment to the KitchenAid® Stand Mixer. Trim ends of beets. Center one beet on fruit and vegetable skewer. Attach peeling blade and fine spiralizing blade and position at end of beet. Turn stand mixer to speed 4 and process until blade reaches end of beet. Repeat with remaining beet. Cut spiralized beets into managable lengths, about 10 to 12-inches. Toss the beets in a large bowl with 2 tablespoons oil, salt and pepper.
Rub 1 teaspoon oil on each of two large baking sheets and place in hot oven to preheat for 3 minutes. Carefully remove one preheated baking sheet, spread evenly with half the beets. Repeat with the other baking sheet. Bake for approximately 20 to 30 minutes. Time will vary depending on size of beets. Rotate baking sheets every five minutes. Use tongs to toss beet strings as they soften and shrink. Remove from oven when a few start to char. Allow to cool slightly on the baking sheet.
While the beets are roasting, make Balsamic Goat Cheese Dip. Attach bowl and flat beater to mixer. Placing all the dip ingredients in bowl and combine on low speed and then whip on medium-high until the dip is whipped and well combined. Serve roasted beet strings with dip.

Print
*The Contributor of this post has been compensated by KitchenAid for this post, but this post represents the Contributor's own opinion.*