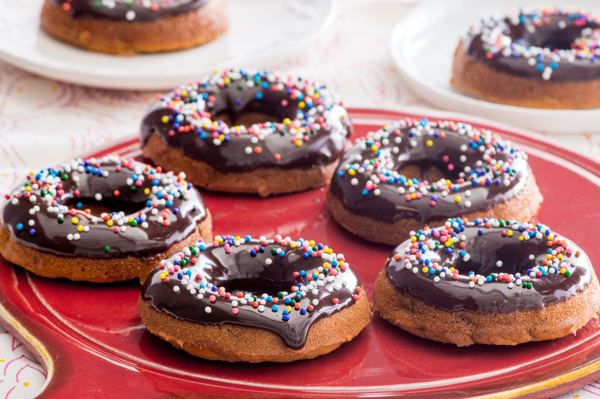 Making your own doughnuts has never been more fun.  It's always a pleasure teaming up with KitchenAid for these challenges. I developed a gorgeous baked doughnut for you today that has roasted bananas throughout the batter, a chocolate ganache on top and colorful fun and festive sprinkles.
There are so many way to make and top doughnuts.  As much as I love fried traditional doughnuts, I also love the simplicity of baked doughnuts.  So much less mess and time involved, not to mention you feel less guilty eating a baked doughnut.
You'll need to invest in a doughnut pan like the KitchenAid® Nonstick 6-Cavity Mini Doughnut Pan.
Let's take a look at how to make these doughnuts.
Place the flour right into your KitchenAid® stand mixer bowl.
Sugar up next!
Slowly stir in the buttermilk.
Add a nice large egg.
Time to add the roasted bananas.  You take a ripe banana, slice it and top with brown sugar and butter.  Bake until bubbly and browned.  Let cool, mash and add right into the stand mixer.
Once the batter is mixed, you will spoon it right into your doughnut pan, filling about half full.  Bake until cooked through.
Once the doughnuts are cool, dip in a lovely gananche and top with sprinkles.  Simple and great for entertaining.
Arrange your doughnuts onto your favorite serving tray or cake stand and enjoy 🙂
Next time you are in the mood for doughnuts, try making your own with my simple yet festive baked doughnuts.  You'll be surprised how easy they are to make.
Roasted Banana Chocolate Sprinkle Baked Doughnuts
Makes 12 servings
INGREDIENTS
1 large ripe banana, sliced
2 tablespoons cubed butter
2 teaspoons packed light brown sugar
1/4 teaspoon cinnamon
1 cup all-purpose flour
1 teaspoon baking powder
1 teaspoon baking soda
1/4 teaspoon kosher salt
1/4 cup granulated sugar
1 large egg
3/4 cup buttermilk
1 cup chocolate chips
2-3 tablespoons heavy cream
DIRECTIONS
Preheat oven to 400 degrees F. Place sliced banana into a small baking dish and top with cubed butter, brown sugar and cinnamon. Bake for 20 minutes, until roasted and caramelized. Remove and stir to smash slightly.  Reduce oven temperature to 350 degrees F.
In a stand mixer, add your flour, baking powder, baking soda, salt and sugar, beating to combine. Add egg, buttermilk and caramelized bananas, beating until just combined. Place batter into a doughnut baking pan and bake for 15 minutes or until baked through. Remove and let cool.
Melt chocolate chips over a double boiler until melted and smooth. Stir in heavy cream until combined and shiny. Dip tops of doughnuts in chocolate gananche then sprinkle with sprinkles if desired.
Print
*The Contributor of this post has been compensated by KitchenAid for this post, but this post represents the Contributor's own opinion.*