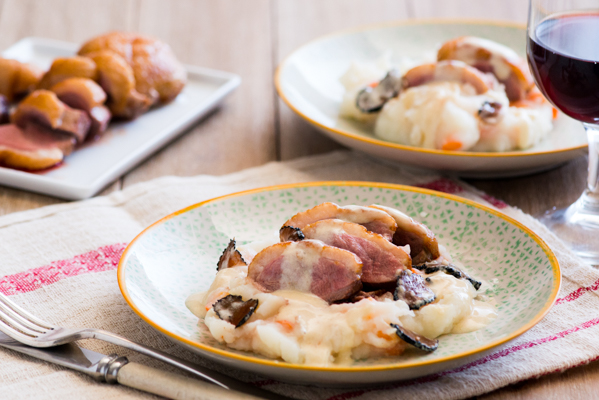 The challenge is to make a roast duck breast with black truffles. I love both of these but I have to be honest, have never cooked either. I love that again, KitchenAid has challenged me to another true challenge. I have always wanted to cook duck at home and I have been obsessed with truffles ever since my trip to Italy last Fall.
Two things I learned from this challenge, cooking a duck breast doesn't take too long to make and it's not overly complicated. One thing I love about this is that it doesn't take very many ingredients to make this super sophisticated meal at home. If I can do it, you can do it.
KitchenAid has a fantastic new line of cookware and I was so lucky to receive a set to experiment with. This KitchenAid® Professional Cast Iron Casserole is perfect for pan-searing the duck breast and then going straight into the oven for roasting.
Here are the duck breasts after I thawed them. You want to cut each side of the breast so it can cook evenly.
Pat the duck breasts dry with a clean paper towel and cut diamond patters on the skin. You want to score through the skin, that's how we're going to get crispy skin. But be careful to not slice through the duck breast meat.
First, sear the non-skin side and then flip over. Sear the skin until the fat is rendered, about 10 to 12 minutes.
Then, place the KitchenAid® Professional Cast Iron Casserole into the KitchenAid® Electric Freestanding Double Oven Range. I love my blue oven and I love that I can bake two things at once! It definitely comes in handy during the holidays and throughout the year when I'm entertaining.
After you remove the casserole from the oven, be sure to remove the duck breasts and place on a clean cutting board or a plate. Allow the duck breasts to rest, about 6 to 8 minutes. You don't want to leave the meat in the casserole or they will continue to cook and the meat will be overcooked and dry.
After the breasts have rested, slice the duck breasts.
While the duck breasts are resting, make the black truffle cream sauce in the cast iron casserole. I love that it only takes one pot to make the duck breasts.
This challenge was worth it and I hope you try this soon! It's an amazing recipe and incredibly easy! Try this recipe with my Mashed Potatoes and Carrots recipe.
Roast Duck Breast with Black Truffle Cream Sauce
INGREDIENTS
For the duck
1 1/2 pounds duck breast(s), if frozen needs to be thawed
salt & pepper
For the black truffle cream sauce
2 tablespoons butter
1/2 cup heavy cream
1/4 cup milk
Salt & pepper
Shaved black truffles
DIRECTIONS
Heat oven to 350 degrees. Rinse duck breasts and wipe dry with paper towels. Using a sharp knife, cut diamond patterns in the fat. Be careful not to score the meat. Season with salt and pepper.
Heat an oven-safe heavy-bottomed stainless steel pan or a KitchenAid® Professional Cast Iron Casserole on medium high for 3 to 4 minutes. (If using a cast iron pot, add a couple of drops of olive oil and distribute with a paper towel by rubbing.) Cook duck, non-fat side down for about 60 to 90 seconds. Lower heat to medium or medium low and cook the duck fat side down for about 10 to 12 minutes until fat is rendered and the skin is browned. Remove the duck fat and place in a small bowl.
Move pot to the KitchenAid® Electric Freestanding Double Oven Range and allow the duck breasts to roast for about 6 to 8 minutes or until the meat is medium rare. Remove pot from oven and place duck on a plate or cutting board. Allow the duck breast to rest for at least 5 to 6 minutes before slicing.
After removing the duck from the pan, place pan back on medium heat and melt butter. Add heavy cream and milk and allow increase heat and bring to a boil. Reduce to simmer and allow the liquid to reduce, about 5 minutes. Remove from heat and add black truffles.
Serve duck breast with black truffle cream sauce and your favorite potato dish. I served this dish with a mashed potato and carrot side dish.

Print
*The Contributor of this post has been compensated by KitchenAid for this post, but this post represents the Contributor's own opinion.*