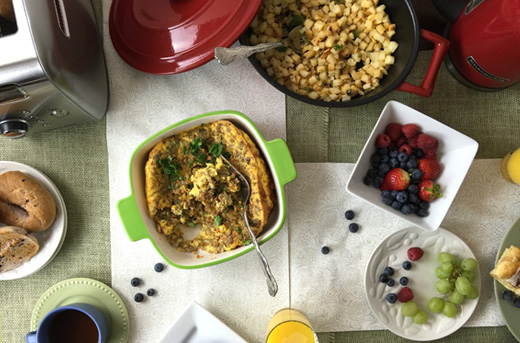 Spring is the perfect time for bringing friends and family together for a Sunday brunch of fresh berry recipes. With the warmer temperatures and fresh blooms all around who can resist throwing a Sunday brunch that is laid back and comfortable? I decorated my brunch buffet table with spring colored casserole dishes. I used the KitchenAid® Streamline Ceramic 1.9-Quart Casserole in Key Lime and the Traditional Cast Iron 3-Quart Casserole in Empire Red.
Using spring colored bakeware that coordinates with your spring table decor is the perfect way to bring the outdoors to your table and make your brunch recipes shine. Use the KitchenAid® 2-Slice Toaster with Digital Display to heat up everyone's fresh bagels and breakfast breads. Top off your Sunday brunch with hot mixed-berry tea in the Empire Red KitchenAid® Electric Kettle. Serve it alongside a savory sausage egg casserole and potatoes, and your brunch will be the best of the season.
Start your brunch table with spring colors
When planning your brunch table consider the colors of your food and think of a color palette that will complement nicely. I chose a palette of greens, blues, and red to make the ripe berries pop with the brunch recipes. I like using table runners that have rich texture and this sage green burlap layered with a simple paisley design on a neutral cotton runner makes a good backdrop for the dinnerware.
Choose colorful recipes to mimic your bakeware
After you have layered the table fabrics it's time to select colorful recipes that will complement the berry theme of your brunch. I chose an egg sausage casserole for the key lime colored ceramic casserole dish and cooked breakfast home fry potatoes in the empire red casserole dish. Pairing the red and green together complements the yellow egg casserole and marries beautifully with blue plates, cups, saucers, and of course fresh berries. For your breakfast breads try a mixture of blueberry bagels with mixed berry cream cheese, blueberry and cranberry muffins, and your choice of berry danishes cut in slices. Provide bowls of fresh strawberries, blueberries and raspberries for guests to grab along the side.
Top off your brunch with berry inspiration
When throwing a Sunday brunch carry the theme through to the end. Offer hot berry tea brewed from the Electric Kettle and serve orange juice for a punch of citrus color! If you plan to serve brunch on a hot Sunday afternoon consider making a berry sangria to drink or even a berry flavored iced tea would go well this meal. Now that spring is here it's time to bring out the color and freshness of the season with these simple ideas, and your guests will love spending a Sunday brunch amongst friends.
*The Contributor of this post has been compensated by KitchenAid for this post, but this post represents the Contributor's own opinion.*